Arts, Media, and Communications Cluster
Is creativity one of your hallmark attributes?
Many industries seek stand-out creatives in the arts, in media, and in communications.
Advertising
Marketing
Public relations
Journalism
Publishing
Media
Museums and historical preservation
Performing arts
Audio, visual, and media arts
Business
Government
Higher education
Non-profit and for-profit
Typical careers in arts, media, and communications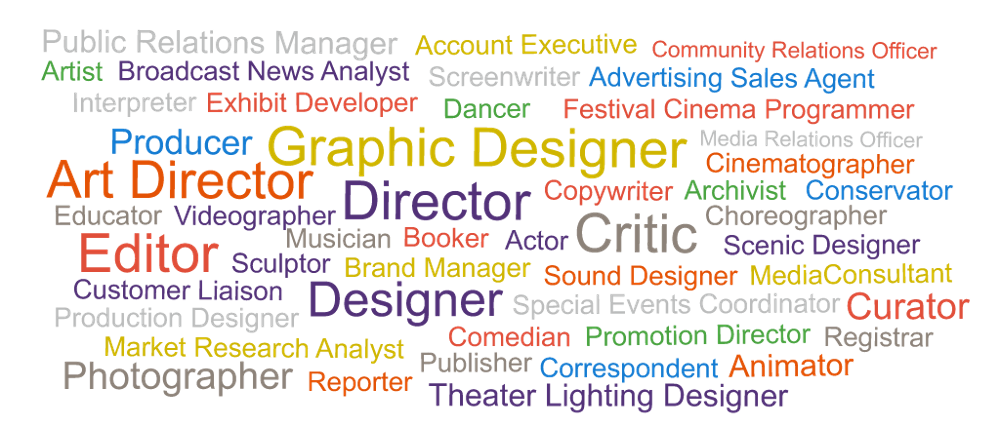 The following are just a few courses that you might consider while exploring the Arts, Media, and Communications pathway. Please note that course numbers and titles are subject to change. Consult the Course Catalog for current course information.
MUS 110–Music Theory I (1)
SOC 101–Sociological Thinking (1) OR SOC 102 - Topics in Sociological Thinking (1)
ANT 101–Cultural Anthropology (1)
ENG 201–Introduction to Literary Studies (1)
ENG 202–Introduction to Film Studies (1)
ENG 215–Introduction to Creative Writing (1)
THE 115–Basic Acting (1)
ART 100–Topics: Introduction to Ceramic Pottery (1)
General information about off-campus study, travel abroad, passport applications, and affiliated and non-affiliated study abroad programs are available from the Office of International and Off-Campus Studies. Students may participate in multiple off-campus study opportunities during their career at Cornell. In order to be eligible to participate in any off-campus study at Cornell students must:
have a cumulative GPA of at least 2.0 (unless a higher grade point average is specified)
be in good disciplinary standing with the College
be in good financial standing with the College
BOOM (literary magazine)
KRNL Radio Station
The Cornellian Newspaper
Art Interest Group
Lyrically Inclined (slam poetry and spoken word)
Slick Shoes (social dance)
Student Theatre Council
Performing Arts and Activities Council
Dance Team
Cornell Summer Research Institute
Internships
English
Independent Publishing Group, Chicago, Ill.
Fantagraphics Books, Seattle, Wash.
Department of Occupational and Environmental Health, College of Public Health, University of Iowa, Iowa City, Iowa
Communications Bureau, Iowa Department of Natural Resources, Des Moines, Iowa
Columbia University Press, New York
Theatre
First Stage Theatre, Tyson's Corner, Virginia
Glimmerglass Festival, New York City, New York
New London Barn Playhouse, New Hampshire
Touchstone Theatre, Bethlehem, Pennsylvania
Great Lakes Shakespeare Festival, Cleveland, Ohio
Puppet Kitchen, New York City, New York
Burning Coal Theatre, Raleigh, North Carolina
St. Croix Festival Theatre, St. Croix Falls, Wisconsin
Guthrie Theatre, Minneapolis, Minnesota
Creede Repertory Theatre, Creede, Colorado
Music
Job search resources
Art Search
College Art Association Jobs
Communications Jobs
Newspaper Careers
US Dept. of Labor resources
Fellowships and scholarships
Use the "See Alumni" button on the Cornell College page on LinkedIn to view alumni by major, geographic location, industry, etc.
Alumni Careers
Patron services associate, Creede Repertory Theatre, Creede, Colorado
Operations manager, Orchestra Iowa, Cedar Rapids, Iowa
Actor and director, Missoula Children's Theatre, Missoula, Montana
Technical director, Westford Academy Theater Arts, Boston, Massachusetts
Audience services manager, Windy City Playhouse, Chicago, Illinois
Lighting and controls project manager, BMI Supply, Queensbury, New York
Marketing associate, Victory Gardens Theatre, Chicago, Illinois
Education outreach coordinator, Writers Theatre, Chicago, Illinois
Light-board programmer, Broadway/TV, New York City, New York
Performer, Mock Turtle Marionette Theater, Bethlehem, Pennsylvania
Theatre arts faculty. Interlochen Center for the Arts, Interlochen, Michigan
Costume Coordinator, "Gotham," FOX Television, New York City, New York
Associate production manager, Goodman Theatre, Chicago, Illinois
Should I earn a postgraduate degree?
This depends on your career goals and what you'd like to practice:
Master's programs are designed to expand and deepen the knowledge and skills acquired as an undergraduate.
Although a graduate degree is not required for arts careers, individuals may pursue a Master of Fine Arts degree (MFA) or apply to music/arts conservatories to earn more credibility and strengthen their skills.
Master of Science or Arts (MS or MA) in Journalism
Master of Science (MS) or Master of Fine Arts (MFA) in Film, Radio, & Television
Doctoral (DBA) or PhD programs are generally designed for people primarily interested in research or careers in academia.
Additional exploration resources
Recent students have created a costume design and production major and a digital storytelling major.