Housing Options at Cornell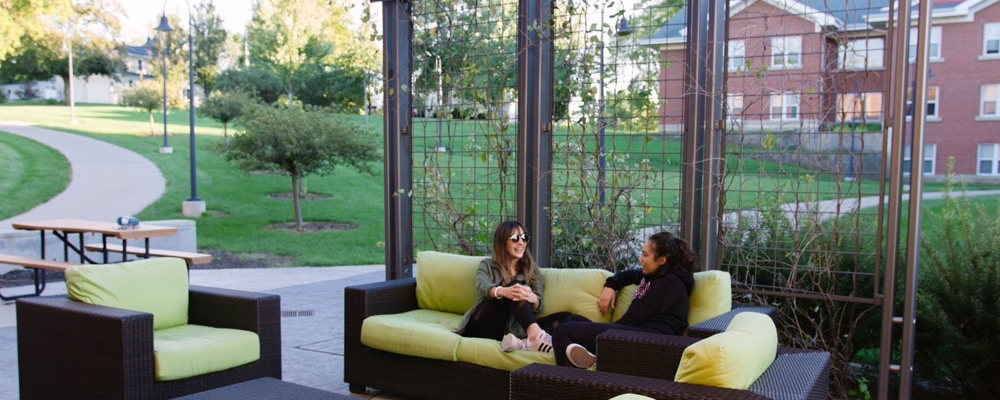 Housing options that work for you
Life on the Cornell College Hilltop is special. Eat great food. Meet incredible people. Find your community. Our Office of Residence Life will help you get started.
We offer a variety of specialized communities that build connections over shared interests. Want to learn more about residence hall options and dorm costs? Explore all your options and find your perfect match. If you're an admitted student and have seen a Living and Learning Community you'd like to join, please check out how to choose a room for the academic year for your next step.
Explore the residence halls
Picture your home away from home. Our recently renovated first-year halls are where you'll grow, learn, and rest while you attend Cornell. And the best part? Ninety-six percent of students stay on campus, so you'll never be far from friends when you want a quick chat. In these halls, you'll meet the people who will become your Ramily.
Check out all residence halls
Special interest housing
Really passionate about a certain subject? Themed Learning Communities (TLC) are special housing options for first-year students that are centered around a common interest. You will find that TLCs are a great way to meet other first-years who share your passions. Deepen your knowledge and immerse yourself in a topic. Get hands-on experience around the community. Bond with the Ramily. From the Arts community to the STEM group, you're sure to start your college career off right with a focused community.
Themed Learning Communities
Living and Learning Communities
Available only to upper-class students, Living and Learning Communities (LLC) are collections of students who live near each other and are interested in learning more about specific social issues. Join a current LLC, create a new community, or revive a past one. What could be better than living with your friends and making an impact on the Cornell community?
Living Learning Communities
Transfer housing
Every Cornellian has a unique journey that brings them to our campus. Yours has brought you here. You'll be able to connect with other students who have also transferred to the Ramily. A community of transfer students shares a floor and, along with a live-in Resident Assistant, can offer constant support as you adjust to the distinctive Cornell experience.
Transfer housing
---
"Living in a Living and Learning Community has helped me practice my leadership and mediation skills as well as helped me form solid, real friendships with my fellow LLC members!" 
Sarah Mumford, one of the co-chairs for the Safe Space Living and Learning Community
---
Alcohol-free communities
Regardless of your age, alcohol-free housing is available if you wish to fully abstain from being around alcohol on campus. You are required to follow the Cornell College policy regarding alcohol consumption on campus, but many students over the legal age limit prefer to abstain entirely, and if you're under 21, you may not want to be around the secondary effects of its usage. Our alcohol-free communities could be the perfect spot for you.
Alcohol-free communities
All-gender housing
Our all-gender housing provides a safe, inclusive, and supportive living experience for everyone. All-gender floors are designated for students of any gender, where floors are shared by roommate pairs of a single gender. You will self-identify your gender during the admission process and indicate your preference for living in single-gender, mixed-gender, or all-gender housing when applying for housing. With multiple options, there will be a housing option that makes you feel safe and seen. Optionally, you can also request to live with a person of a different gender on these floors. All parties must agree. Please reach out for more information.
All-gender housing
Summer housing
Summer housing is available on a limited basis if you will be staying in Mount Vernon during the summer. We typically prioritize current students who are working on campus or completing an internship with the college. This includes students working on research with a faculty member. With our Ingenuity in Action curriculum, we are aware that you may complete elements of your hands-on learning requirements during the summer months and want to ensure a safe living space during that time. Several halls are on rotation for summer use.
Summer housing
Off-campus housing
In limited circumstances, you may be eligible to live off campus. If you do not intend to live on campus, you must qualify for one or more of the exceptions listed in the residency policy. If you meet those exceptions, you may apply for off-campus housing by contacting the Residence Life Office.
Off-campus housing
Special housing and meal consideration
As with all things in life, we know that sometimes there are special considerations that need to be made. And while we believe that residential living is central to the learning experience here at Cornell and our standard process for assigning rooms is optimally designed, we understand there are students with conditions whose needs cannot be met through our current standard room selection process and our standard meal plan options. If that sounds like you, we encourage you to learn more about requesting special housing and meal plans.
Special housing and meal consideration