AA to Bachelor's Degree Completion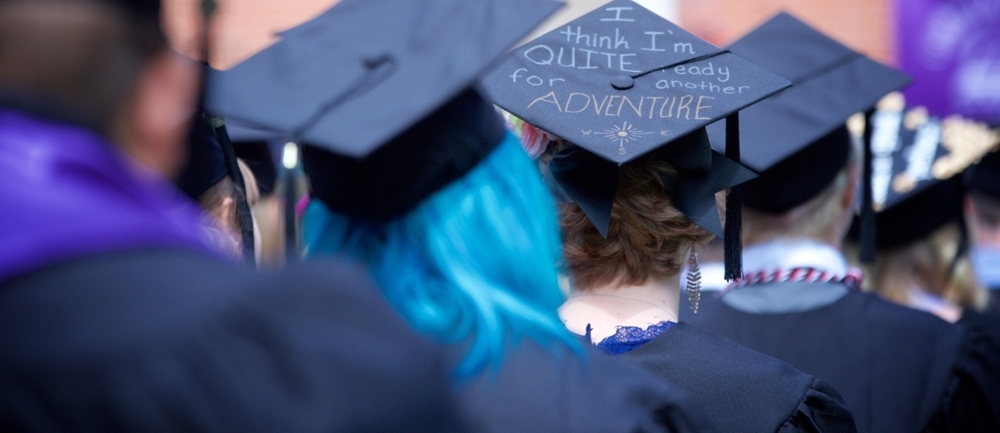 Bachelor's degree completion
Congrats on completing your AA! Start the next stage of your journey and earn your bachelor's degree. Your general ed requirements are done, which means you can dive into your major coursework on day one at Cornell. The pace on the block plan and our 18-day schedule will be new, but we know you've got the right background to succeed here.
2+2 program = ease of transferring credit
The 2 + 2 program means that we anticipate (depending on your major) you'll graduate in two years from Cornell. Although some majors may require courses to be taken in a particular sequence, which may extend your graduation date beyond two years, we do everything we can to help you succeed and transition by providing a number of resources to you as soon as you commit to transferring into Cornell.
Advisors
A Cornell advisor experienced with transfer students will be assigned to you right away—you can start working with your Cornell advisor while you are still a student at Kirkwood or Harper to assess whether your current courses are the best choice for your Cornell major and start thinking about how you'll transition your course of study from Kirkwood or Harper into Cornell as soon as you arrive earning your bachelor's degree completion.
You don't have to be a Kirkwood or Harper grad to transfer to Cornell. We help students from all over the country through the transfer process and helping them complete their bachelor's degree.
Library and Center for Teaching and Learning
You will have immediate access to the Cole Library for research and resources from the four studios of the center, Academic Technology, Quantitative Reasoning, Research, and Writing. Get to know campus and one of the students' favorite study spots, meet with our staff to improve writing skills, learn software specific to a course you're studying, get help with a research topic from a consulting librarian, or hone your quantitative reasoning skills.
Berry Career Institute
The counselors in our Berry Career Institute can help you find resume-building internships and volunteer opportunities locally or with partners around the country. They can get you started with career exploration, mock interviews, networking, and grad school prep.
How do I transfer my credits?
Kirkwood and Harper students who complete their AA will be credited for all of the general education requirements for their BA degree. Any courses that may apply to your declared major in which you earned a "C" or higher will be evaluated for transfer credit. You will be expected to take a minimum of 16 credits at Cornell to complete your bachelor's degree.
You don't have to be a Kirkwood or Harper grad to transfer. We can still help you through the transfer process. Find out specifics by emailing your transcript to Sharon Grice.
What materials are required for applying?
Application with essay College transcript (high school transcript also required if you have less than 24 college credits)
Teacher recommendations (optional, though encouraged)
What role does an advisor have with transfer students? You are immediately assigned an advisor who can walk through your current course plan with you and help you prepare to enter Cornell College. You and your advisor will look at the work you've completed and the major or majors you plan to pursue at Cornell and make a plan for a transition that makes the most of the work you've completed to date. Your advisor will be your mentor through your time at Cornell.
How easy is it to access Cornell faculty? Your professor will be teaching one class—the one you're enrolled in—and he or she will be accessible both in class and after class.
Approved AA degrees
Midwest
Kirkwood Community College

Harper College

Southwestern Community College

Rock Valley College

College of Lake County

North Iowa Area Community College

Sauk Valley Community College

St. Clair County Community College

Indian Hills Community College

Waubonsee Community College

Des Moines Area Community College

City Colleges of Chicago Harold Washington

Iowa Central Community College

Iowa Western Community College

Hawkeye Community College

Northeast Iowa Community College

Eastern Iowa Community College

Muscatine Community College

Scott Community College

Clinton Community College

Southeastern Iowa Community College

College of DuPage

Minneapolis Community & Technical College

Normandale Community College

Oakton Community College

Richland Community College

Ivy Tech Community College

Heartland Community College

Parkland College

Illinois Valley Community College

Moberly Area Community College

Neosho County Community College

Kishwaukee College

University of Wisconsin Waukesha
Western
Grossmont College El Cajon CA
Tacoma Community College
Glendale Community College
Pikes Peak Community College
Community College of Denver
Front Range Community College
Austin Community College
Colorado Mountain College
Spokane Community College
Lake Tahoe Community College
Green River College
Lone Star College
Eastern
Bergen Community College NJ
Community College of Philadelphia
Carroll Community College
Bronx Community College
Blue Mountain Community College
Mercer Community College
Miami Dade College
Dutchess Community College
Hillsborough Community College
Lake Sumter State College
Gateway Community College
Southern
Bluegrass Community and Technical College
Kirkwood 2+2 example majors