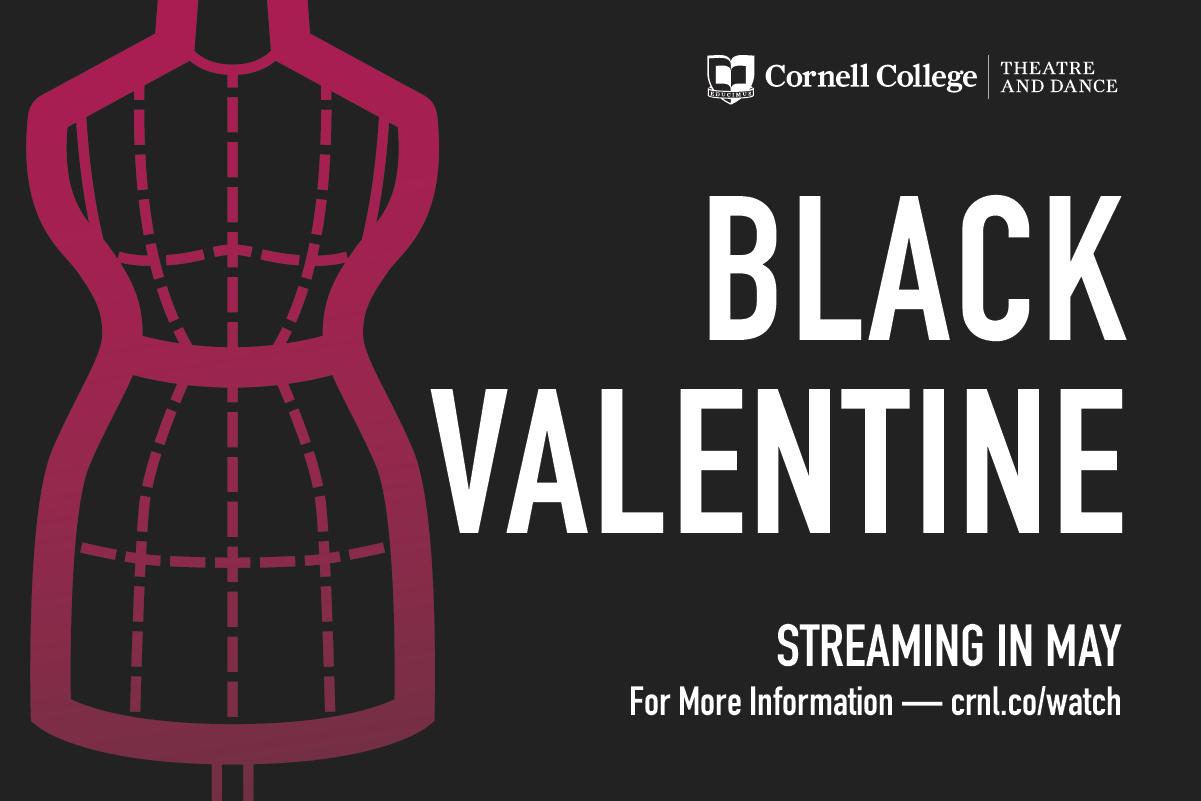 The Cornell College Theatre and Dance Virtual Box Office is open! 
 The 2020-2021 Cornell College Theatre and Dance (CCTD) season is all about innovation, creativity, and connection and we are fueled by the challenges of the time! Though we can't wait to get back to playing for a live audience in our incredible spaces, we're taking this moment to lean into all the opportunities of the virtual world.  
This year, all the world is still a stage. We will bring you laughs, drama, music, dance, and stories to fill the soul ... and we will stream them directly into your home. Our four main stage productions will be streamed, with opportunities to participate in live streaming and face-to-face (physically distant) watch parties.  See below for more information on the productions, streaming registration, and links to video, trailers, and interviews!
2020-21 Season s

treaming soon ... 
Black Valentine 
Spring Dance Concert
Directed and choreographed by Eduard Forehand
Streaming Block 8
Join us for a thrilling dance concert inspired by the artwork of Jack Vettriano. Choreographed by Cornell College Musical Theatre Dance Artist in Residence, Eduard Forehand. This performance will delight, awe, and inspire.
Registration is required for this free event.
By registering, you consent to receive occasional emails from Cornell College Theatre and Dance regarding our upcoming productions. You may unsubscribe at any time. Those registered will receive a link. 
This link is available at 7 p.m. on May 7 and will remain open until midnight of May 16.  
**This production is intended for mature audiences and contains coarse language and mature topics.
Questions:

boxoffice@cornellcollege.edu
---
Earlier this season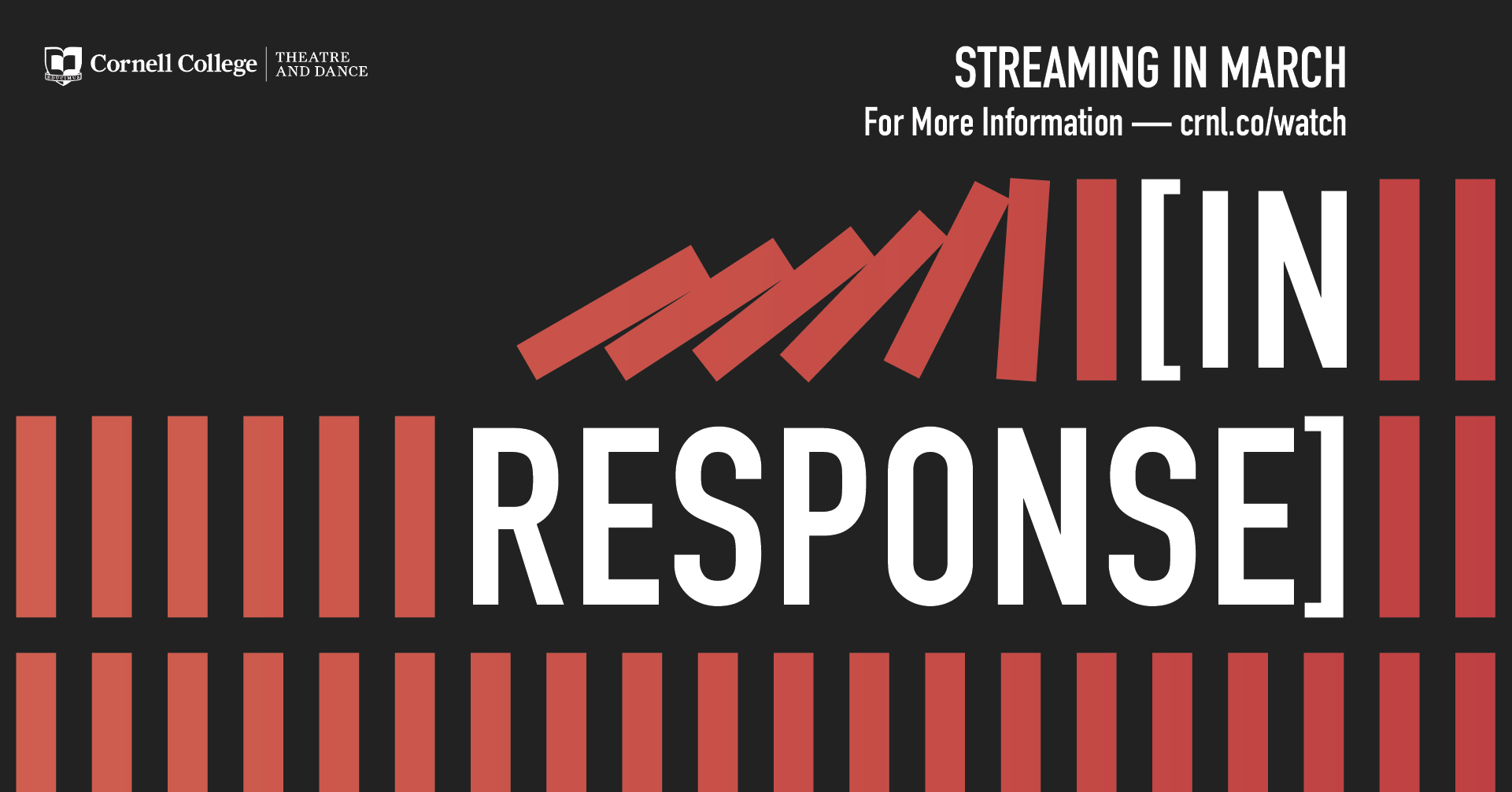 [IN RESPONSE] 
Devised, Cabaret Style Spring Musical 
Streaming Block 6
Directed by J. West
Musical Direction by Janelle Lauer
Choreography by Eddie Forehand
An electrifying music and dance cabaret collides with powerful spoken word performance in the Cornell College production of [IN RESPONSE], streaming March 5- 14. Conceived and directed by Associate Professor of Theatre and Dance J. West, [IN RESPONSE] offers a provocative and deeply-personal reflection on the events of 2020, through the original spoken word performance, dance and music from the 80's to today.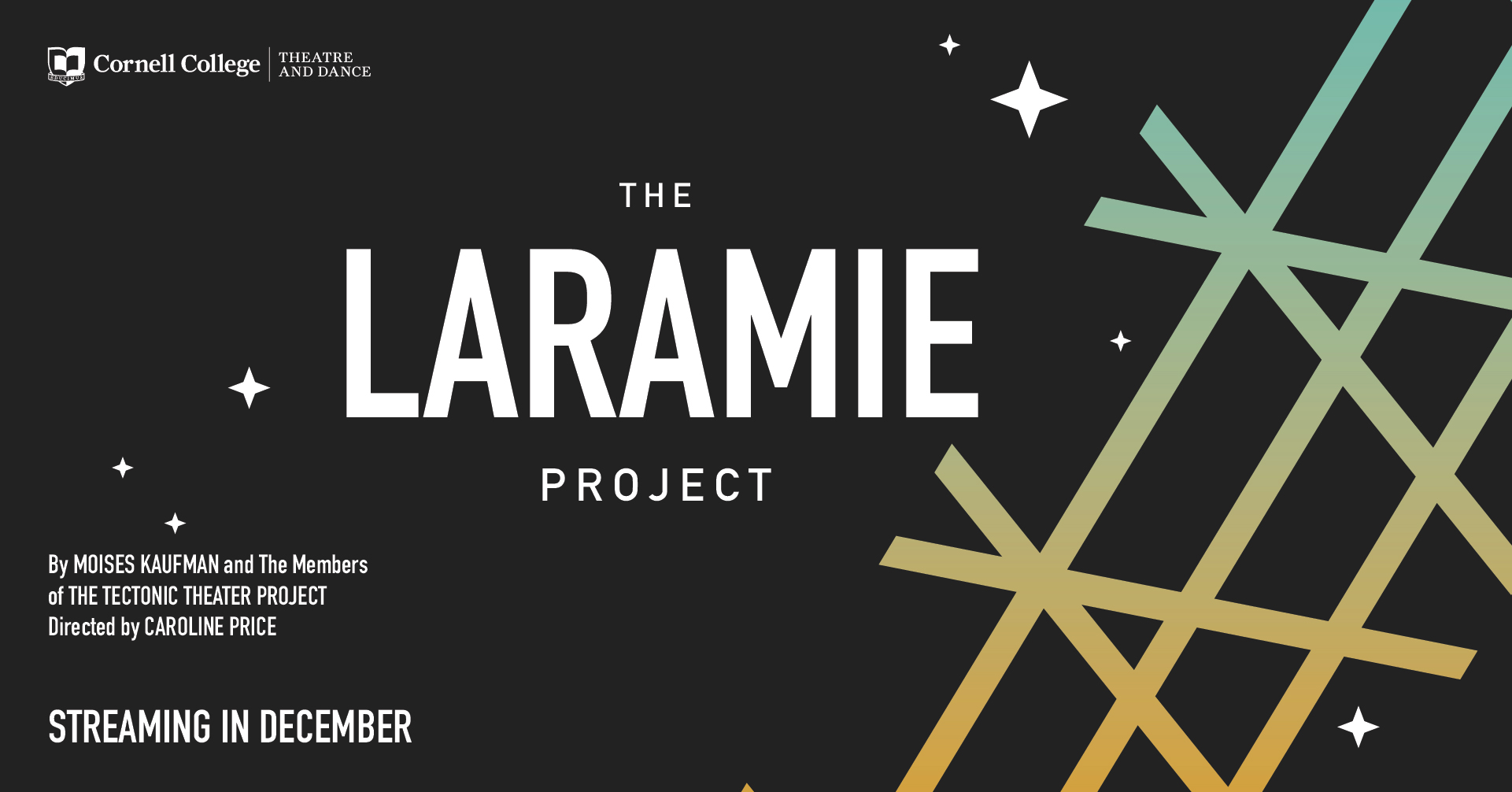 The Laramie Project
Written by Moisés Kaufman and members of Tectonic Theater Project
Directed by Caroline Price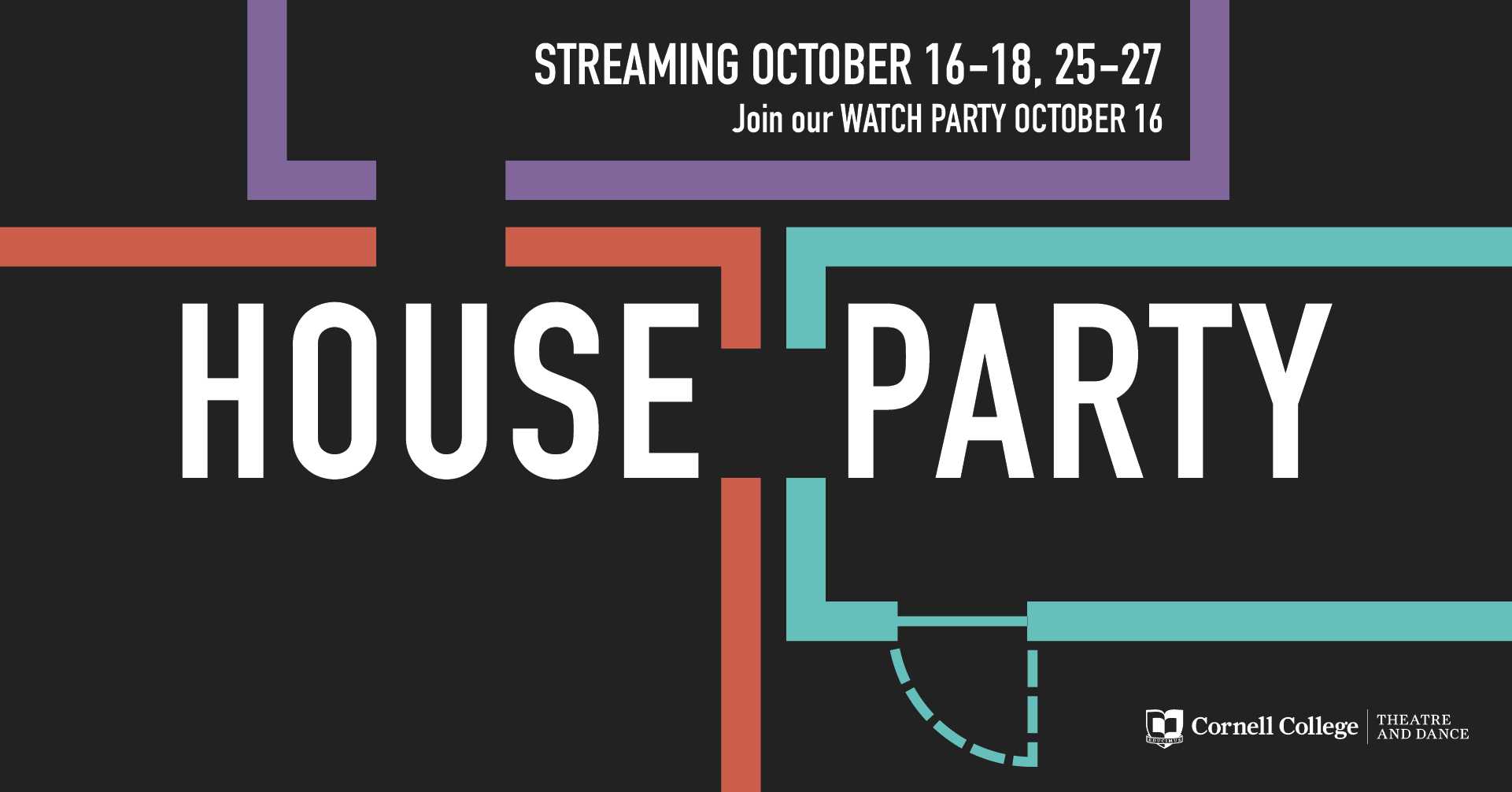 House Party 
Conceived and directed by Scott Olinger
Musical Direction by Janelle Lauer
Choreography by Eddie Forehand 
Featuring Jenna Makkawy
Special Appearance by The Pork Tornadoes
About the show
Stuck at home and all alone, Jenna finds magical worlds of music behind every door.  Harkening back to the television musical variety shows of yesteryear, this virtual production will include special guest The Pork Tornadoes, heartwarming humor, crazy costumes, dance, and puppets!  Great for the whole family. 
---
Previous seasons and information
Box Office: 319.895.4293
Hours: Monday-Friday 3:15-5:15 p.m. Opens two weeks prior to the performance and one hour prior to show time. Unless otherwise noted, productions run Thursday-Saturday at 7:30 p.m. and Sunday at 2 p.m. Adults $10 (musical ticket price $15). Seniors, students, youth $7 (musical ticket price $12). Groups of 10 or more receive a 10% discount. Patrons with disability-related needs are encouraged to request accommodations with the Box Office at least 24 hours in advance.
2019-20 Season
"Mary Me A Little"
"A Charlie Brown Christmas"
"The Wolves"
"The Spitfire Grill"
"The Drowning at Red Rock" (World Premiere)
"Rent"

"As You Like It"

Spring Dance Concert

Original Puppet Performance: Guest Residency Project
Marry Me a Little
Music and lyrics by Stephen Sondheim
Conceived by Craig Lucas and Norman René
Directed by Scott Bradley
Musical direction by Christopher Okishi
Plumb-Fleming Black Box Theatre
September 19 - 21 at 7:30 pm and September 22 at 2:00 pm
A charming and bittersweet musical revue that features songs by Stephen Sondheim, the undisputed master of the contemporary Broadway musical. Urban singles share a Saturday night of sweet fantasies and deep yearning while never leaving the confines of their solitary apartments. Together, they breathe new theatrical life and meaning into a collection of trunk songs that were culled from the final productions of "Anyone Can Whistle," "Follies," "Company," "A Funny Thing Happened on the Way to the Forum," and "A Little Night Music."
A Charlie Brown Christmas
A co-production with Cornell's Student Theatre Council
by Charles M. Schulz
Based on the television special by Bill Melendez and Lee Mendelson
Stage adaptation by Eric Schaeffer
By special arrangement with Arthur Whitelaw and Ruby Persson
Directed by Elizabeth Koetz
Uptown Theatre in the Mount Vernon First Street Center November 14 - 16 @7:30 pm and November 17 at 2:00 pm
The classic animated television special "A Charlie Brown Christmas" comes to life in this faithful stage adaptation, in which Charlie Brown, Snoopy, and the rest of the Peanuts Gang discover the true meaning of Christmas.
The Wolves
By Sarah DeLappe
Directed by Katy Hahn
Kimmel Theatre Stage
December 12 - 14 @7:30 pm and December 15 2:00 pm.
"The scary, exhilarating brightness of raw adolescence emanates from every scene of this uncannily assured first play by Sarah DeLappe." - The New York Times
Left quad. Right quad. Lunge. A girls indoor soccer team warms up. From the safety of their suburban stretch circle, the team navigates big questions and wages tiny battles with all the vim and vigor of a pack of adolescent warriors. A portrait of life, liberty, and the pursuit of happiness for nine American girls who just want to score some goals.
"The Wolves is a delightful meditation on society, sex, and soccer...DeLappe's dialogue is hilarious and idiosyncratic, moving swiftly from gross-out humor to pain [...] She offers us ninety minutes in a smart, sympathetic, female world. It's a patch of Astroturf I would gladly set foot on again." - The Village Voice
The Spitfire Grill
By Fred Alley, James Valcq, and Lee David Zlotoff
Directed by Caroline Price
Kimmel Theatre
February 27 - 29 @ 7:30 pm and March 1 at 2:00 pm
A feisty parolee follows her dreams, based on a page from an old travel book, to a small town in Maine and finds a place for herself working at Hannah's Spitfire Grill. It is for sale but there are no takers for the only eatery in the depressed town, so newcomer Percy suggests to Hannah that she raffle it off. Entry fees are one hundred dollars and the best essay on why you want the grill wins. Soon, mail is arriving by the wheelbarrow full and things are definitely cookin' at the Spitfire Grill.
"A soul satisfying...work of theatrical resourcefulness. A compelling story that flows with grace and carries the rush of anticipation. The story moves, the characters have many dimensions and their transformations are plausible and moving. The musical is freeing. It is penetrated by honesty and it glows." - The New York Times
The Drowning at Red Rock (World Premiere)
Location: The Plumb-Fleming Black Box Theatre
April 2 - 4 @7:30 pm and April 5 @ 2:00 pm
In the 1960's the Army Corp of Engineers built the Red Rock Reservoir as a flood control measure along the Des Moines River and the river changed course. As a result, six towns sank to the bottom of what would become the largest lake in Iowa. Collectively, these towns are known as the "Lost Towns of Lake Red Rock." Inspired by the foundations, spires, and doorframes beneath the waters, The Drowning at Red Rock will be a devised production; collectively written by the ensemble. Using the techniques of documentary, verbatim and testimonial theatre, we will use court records, maps, interviews, articles and letters as the basis for our fictional story. The result will be an exploration of the clash of economics and the environment, power and privilege, holding-on and letting go. Time will tell what characters will emerge from our efforts. We do know that they will grapple with what happens when identity, hope and fear is lost, buried, hidden, stolen or drowned.