Psychology and Behavioral Neuroscience Majors and Minors
Study human behavior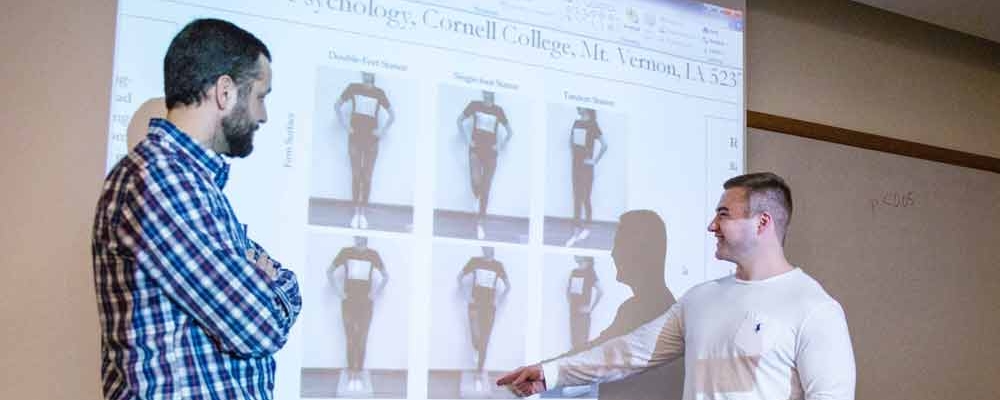 What's atypical on a traditional semester schedule is typical at Cornell College (thanks to One Course At A Time). Day tripping to an amusement park, observing and recording the interactions between couples before and after they embark on a thrilling ride, and testing theories about brain chemistry and romance are all a part of your social psychology course at Cornell. What's not to love?
A degree in psychology and behavioral neuroscience prepares you for diverse career options from research and behavioral health care to social services and public policy. As a student, you'll take on courses and projects that foster proficiency with research design and research methods. You'll gain an understanding of human behavior, thinking, and emotion.
Learning while doing
Faculty here encourage students to chase down answers to their own questions. You might record the cortisol (stress hormone) and testosterone levels while your subjects play air hockey. You might examine your subjects' stress response using electrocardiography. Or you might decide to pursue your own research project. Elisabeth Sage '19 decided to examine the eating and exercise behaviors of wrestlers versus other collegiate athletes to see if their dieting routines impacted their cardiac function.
Studying psychology and behavioral neuroscience at Cornell is hands-on and experiential. Your professor may send you and your classmates to an escape room so you can reflect on the group's problem solving techniques. Or have you play a game of catch while wearing disorienting eyewear to mimic an eye disorder. Test, examine, experience, and reflect—that's learning on the block plan.
You can do anything in 18 days.