Biochemistry & Molecular Biology Major
Immerse yourself
Cornell's interdisciplinary program in biochemistry and molecular biology (BMB) is designed to prepare you for graduate school, professional school, or a technical career in the field. The curriculum is drawn from the departments of biology and chemistry, with an emphasis on cellular biology, genetics, and biochemistry. This type of combined major is offered by few undergraduate institutions.
In your biology courses, you will focus on animal and human biology and genetics. In your chemistry courses, the emphasis is on organic and analytical chemistry, the foundation for understanding physiological processes.
Learn without boundaries
The One Course At A Time curriculum allows you to immerse yourself in scientific discovery without competing demands from other courses or the limitations of short class periods separated by lengthy periods of time. In lab classes, faculty structure classroom and lab time to effectively meet the needs of the subject matter, rather than the demands of the clock. You'll enjoy extended time to conduct more complex and in-depth investigations.
The block plan also provides many opportunities for research experiences beyond campus. You might go on a diving expedition in the Caribbean to study coral bleaching, then further your research on campus through an independent study block or through the Cornell Summer Research Institute. You might also pursue a Cornell Fellowship for two blocks at a medical research hospital or simply enjoy the opportunity for field trips to local prairies, wetlands, and forests as part of the normal coursework. Since your academic advisor will be a BMB professor, they will help guide you through a progression of coursework and hands-on research.
Faculty in both biology and chemistry involve students in collaborative research projects, with topics ranging from tropical species diversity, to bacteria that may provide an alternative to synthetic pesticides, to medical research related to neuromuscular diseases.
Students have recently completed internships or Cornell Fellowships at Baylor College of Medicine in Houston, Texas; the Children's Hospital in Aurora, Colorado; and the University of Maryland School of Medicine in Baltimore, Maryland.
Right here, right now
Special attention is given to developing excellent laboratory skills, and Cornell's One Course At A Time curriculum gives professors a great deal of flexibility in how they integrate laboratory and classroom learning. In genetics lab, for example, you are not simply given tasks to perform, but you take on the responsibility to choose a problem, design an experiment, analyze the data, and present the results.
With the newly constructed four-story, 45,600 square foot Russell Science Center, you will have access to dedicated STEM spaces: new chemistry labs and classrooms, new research spaces, and new study areas.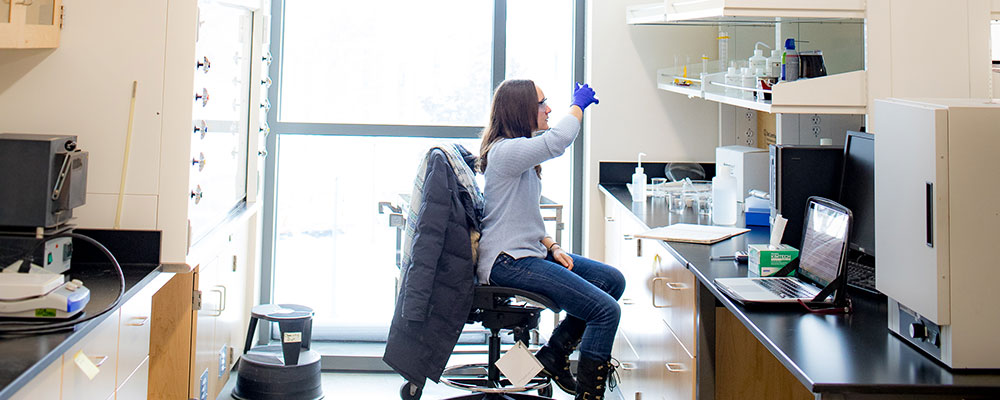 Professors in biology and chemistry lead ongoing summer research projects in small, collaborative teams as part of the Cornell Summer Research Institute. You may also participate in high-level research through relationships with external programs, and the block plan makes such opportunities easy even during the school year.

In addition to working with faculty on research projects at Cornell, you may find opportunities to complete research projects at other prestigious institutions. BMB Students have recently completed research experiences at the University of Chicago; the School of Medicine, University of Colorado; Genetic Laboratory, the University of Iowa; the University of Wisconsin-Madison; and North Carolina State University.
Finish strong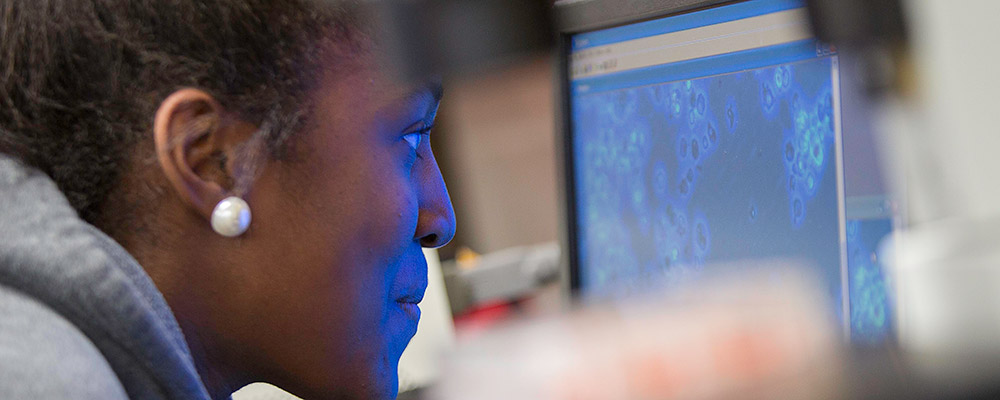 Pre-medical preparation
Students wishing to attend a professional or graduate school in medical fields often choose to major in biochemistry and molecular biology. This major allows you to meet both the biology and the chemistry prerequisites required by any graduate program, without the need to double major in both biology and chemistry.
Cornell College's Dimensions Program for Health Professions
Dimensions is an academic enrichment program that provides students a full range of support in preparing for health-related professions. In addition to research and internship placements, Dimensions coordinates workshops, guest speakers, MCAT preparation, career services, and reading groups.
Cornell's five-year medical school acceptance rate is 75% (2012-2016). That is well above the national average of 39% (2012-2016).

Capstone
Majors complete their degree by undertaking an independent research project. You can create your own project or take on a problem covered in an off-campus trip, including the study of plant-insect interactions in tropical rainforests. The project includes reviewing literature, collecting and interpreting data, and writing a research report.