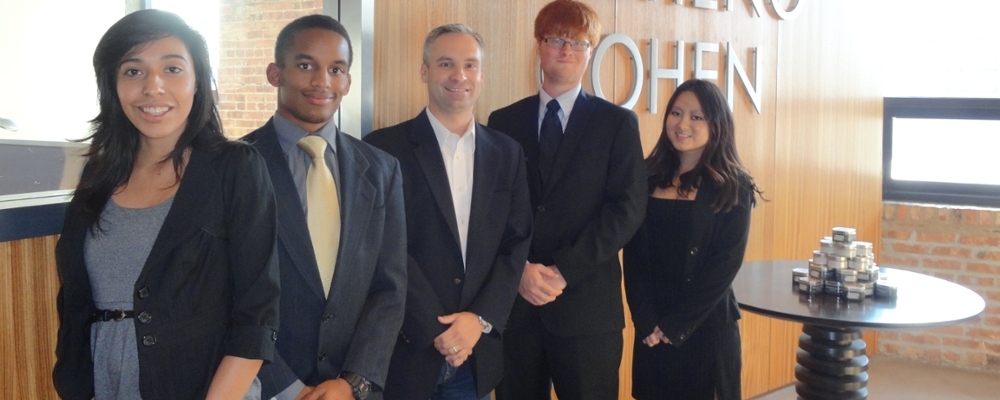 Cornell LEADS (Leadership, Entrepreneurship, And Distinctive Service) is a distinctive leadership program that examines the qualities of leadership through interactions with leaders from all walks of life and endeavors to develop real-world skills through a curriculum of leadership building activities emphasizing the following key elements: emotional intelligence, leading change, decision making, motivation and team building.
A great resume builder and networking opportunity, LEADS offers a select group of students the opportunity to participate in tailor-made experiences to explore their leadership abilities and build on those skills.
Typical events
Leadership seminar led by former Cornell president Les Garner
Skill building workshops to develop elements of leadership 
Student-led service projects 
Panel discussion and networking event with leaders from the Creative Corridor
Chicago Career Tour
Participation in a business case study, examining a real-world scenario
2017-18 Program Details
Leadership Seminar
In the seminar hosted by former Cornell president, Les Garner students consider the "10 Commandments of Leadership" by viewing contrasting leadership styles in the BBC docu-drama "The Last Place on Earth," chronicling the race to the South Pole between Roald Amundsen (Norway) and Robert Scott (Britain) in 1911. After discussing the docu-drama, students meet in small groups to identify the objectives and attributes of leadership. 
Business Case Study 
Tom Jarom '66, patron of Cornell LEADS, presents a case study in business management from his own career in International Banking. Tom is a life trustee and a former chair of the Cornell Board of Trustees. 
Elements of Leadership Series
A six-part series of leadership skill-building sessions led by Trainer and Organizational Development Consultant, Gale Mote which emphasize the following key components: emotional intelligence, authentic leadership, leading change, decision making, motivation, and team building. 
Panel Discussion and Networking Event with Entrepreneurial Leaders
Accomplished leaders in business will share their career stories, citing resources found, leadership challenges faced when building their businesses, and eventual successes. This year's panel is being moderated by Julie Zielinski, VP of Marketing and Strategy at the Entrepreneurial Development Center and our guest panelists are: 
Pat Airy, President and CEO of Goodwill of the Heartland
Steve Shriver, CEO, Eco Lips, Inc.
Andre' Wright, Founder of Born Leaders United
Brooke Fitzgerald, Owner of The Early Bird Cafe
Chicago Site Visits
LEADS students will travel to Chicago over block break 7 to meet with leaders in various fields, participate in an alumni networking event, and visit the following organizations:
Service Outreach
Students will commit to and perform a service component over the course of the year. Opportunities for service exist on campus and through our partnership with Goodwill of the Heartland.