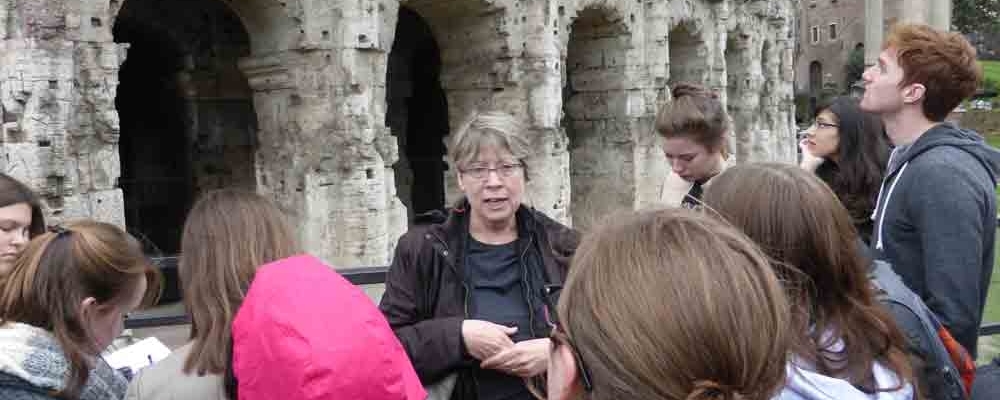 Steps to taking your course off-campus
Check out the handbooks for information on logistics, pre- and post-departure activities, emergency procedures, and more.
Complete your off-campus proposal form by the early October deadline in the year preceding the academic year that the course will be offered.
Work with our office to plan the logistics and budget for your course.
Leaving the Hilltop
Review our Leaving the Hilltop chart. This chart applies only to trips made as part of required coursework and does not apply to trips sponsored by student groups, academic departments, campus offices, or any other student travel.
Fill out the Pack-out Order Form for any lunch boxes for field trips or (if appropriate) for the first travel day of an off-campus trip or course. Send the form to Jennifer Howell at Bon Appetit.
Incident reporting
Students who are participating in Cornell College off-campus courses are subject to College policies as described in the Compass and Catalogue. Faculty who wish to report problematic behavior or who have questions regarding student behavior and policies, should contact the Dean of Students, or for academic issues, the Registrar.
Insurance information
Students and faculty traveling overseas on Cornell-sponsored course trips are covered by a supplemental plan through EIIA and Europe Assistance. (Spouses, dependent children, and others accompanying the faculty members may also be eligible. Faculty on other endeavors abroad, including while on sabbatical, may also be covered.)
Students receiving credit for study abroad (including internships, special projects, or courses) are covered by the same supplemental traveler's insurance plan through EIIA and Europe Assistance. Contact us about any endeavors abroad.
While abroad and covered by this insurance, you can submit a claim for emergency services to EIIA first. For non-emergencies, submit a claim to your personal medical insurance company first.
Faculty insurance and emergency contact information
We need information from you in case of a medical emergency. Complete the following form:
Off-campus course faculty final report
You must complete this report within 30 days of the end of all off-campus courses.
Faculty vehicle request form
Faculty should use the Faculty Vehicle Request Form for making vehicle requests.
Rental vehicles must be requested a minimum of five business days prior to the date of their use. Rental vehicle keys and paperwork are to be picked up from and returned to the Information Desk in Thomas Commons. Please do not lock keys or paperwork inside the vehicle. Return keys along with your paperwork to the Info Desk. Smoking is prohibited for all individuals driving or riding.
Note: The cost of gasoline is in addition to the mileage rates on rentals. Vehicles are not rented to individuals for personal use.
Driver eligibility policy
Everyone who drives a rental vehicle must hold a valid driver's license (without any moving violations within the past 6 months). A photocopy of the driver's license(s) should be submitted five days in advance. It will be solely at the discretion of the College administrative staff if driving privileges will be granted based on a search of driver/motor vehicle records. Student drivers must be at least 20 years of age and must be accompanied by a member of the Cornell faculty or staff. All drivers must take the online Alert Driver Test— Defensive Driving; Individuals intending to drive 15-passenger vans must also take the Alert Driver Test—Large Passenger Vans. Contact the Off-Campus Studies Coordinator to arrange the test. All drivers will be personally responsible for any violations, fines, or fees (including parking fines). These are not chargeable to the College.
In case of an accident
Authorized drivers of rental/leased vehicles have auto liability insurance coverage through the College. Included in the packet that you received when you picked up the keys is an accident form you will need to fill out and submit when you return the keys. In the case of a minor vehicle problem (e.g. flat tire) you will need to make that repair yourself. Budget is not responsible for these repairs and they will be part of your rental expense. In the event of a serious break-down (e.g., engine failure), contact Budget and they will provide assistance
Student group vehicle request procedures
Student groups and Student Affairs staff should use the Student Group Vehicle Request Form for making vehicle requests.
U.S. Department of State Travel Division (DoS)
How do students apply for passports? Where are the U.S. consulates in India? What countries currently have DoS travel warnings? You can find this an more on the DoS website.
Transportation Security Administration (TSA)
Airport regulations change all the time. Keep up to date with the latest rules from the TSA.
Center for Disease Control and Prevention (CDC)
Get the latest information about immunizations and other health information by country from the CDC. You can ask more specific health questions at the Health Center.