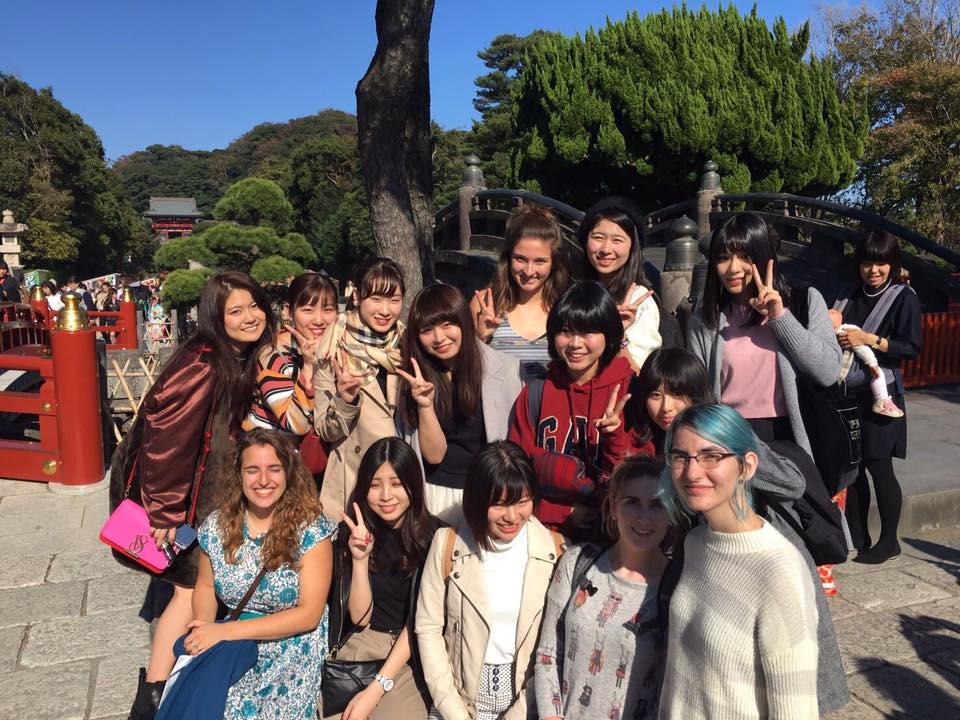 Where do you want to travel and study?
You can study on an exchange program short-term, for the summer, a semester, or for a year.
Tokyo, Aoyama Gakuin Women's Junior College
Stay for 9-10 days. Attend classes in English. Participate in various campus activities and explore cultural attractions in the local area. You'll need to cover the airfare and some of the meals. You'll be traveling with three to four other Cornell students and a Cornell professor. You'll complete an individual independent study project to earn course credit for the Block.
Only women can apply.
On alternate years, four to five Aoyama Gakuin students along with their professor visits Cornell's campus on an exchange. If you're interested in being an ambassador to our Japanese visitors, contact us.
Kyoto, Kyoto Seika University
Study for a semester or a year in Kyoto in Japanese. You can take a variety of humanities courses. Your Cornell tuition is paid to Cornell as normal and not to Kyoto Seika University. You cover the airfare, any costs associated with your visa, and your room and board.
Make sure to apply for the Japan Organization for Student Support (JASSO) Scholarship and apply early.
Or, you can go on a summer exchange to Kyoto and take courses in English but these courses will not be for credit. You are responsible for a program fee, all meals, personal expenses, and expenses related to international travel.
Seoul, Ewha Womans University or Seoul, Sookmyung Women's University
Spend the summer in Seoul, study for a semester, or stay for an entire year. Courses are offered in English. If you are approved to go, you'll pay your Cornell tuition to Cornell just as usual (not to the South Korean university) but you are responsible for the airfare, any costs associated with your visa, activities fee, and the room and board.
The summer program does not cost any tuition but you'll still need to pay for the airfare, passport expenses, and room and board.
Both men and women can apply for either exchange program.
Study for a semester or a year at one of the following universities in Northern Ireland. You must have a 3.2 GPA and you must have declared your major to apply. Cornell will review all applications and select the students who will then be nominated. If selected, you may need to submit additional application materials to be reviewed by the participating universities (listed below).
Deadline
Submit your application to us no later than the first Monday in December.
Queens University Belfast
Queens University Belfast is a top research institution in the United Kingdom.
University of Ulster
With four distinct campuses across Northern Ireland, you'll be placed at a specific campus based on your field of study.
St. Mary's University College
St. Mary's University College specializes in the liberal arts and teacher education.
Stranmillis University College
Stranmillis University College focuses on teacher education and health and leisure studies.
Belfast Metropolitan College
Belfast Metropolitan College specializes in business, marketing, computing, communication and Irish studies.
How to apply for an exchange program
To apply for any exchange program, you must file a petition with Cornell and have that petition approved by Cornell.
Application (financial aid petition) deadline and tuition
Don't miss the deadline which is the first Monday in December the year prior to when you travel or at least 90 days before you travel. As long as you submit the petition on time and the petition is approved, your tuition for the exchange program will be similar to your Cornell tuition.
File your petition(s) for transfer of credit
Each course that you want to transfer credit for must have a petition for transfer of credit form completed and returned to the Registrar's office. Only courses taken at an accredited institution will be accepted and you must pass with a "C" or higher. The course must also be approved by the Cornell department chair.
Complete your student waiver form
The student waiver form must be completed if you are studying off-campus on any program that is not a Cornell College course. This includes all exchange, affiliated, and non-affiliated program participants.