Commencement Info for Graduating Seniors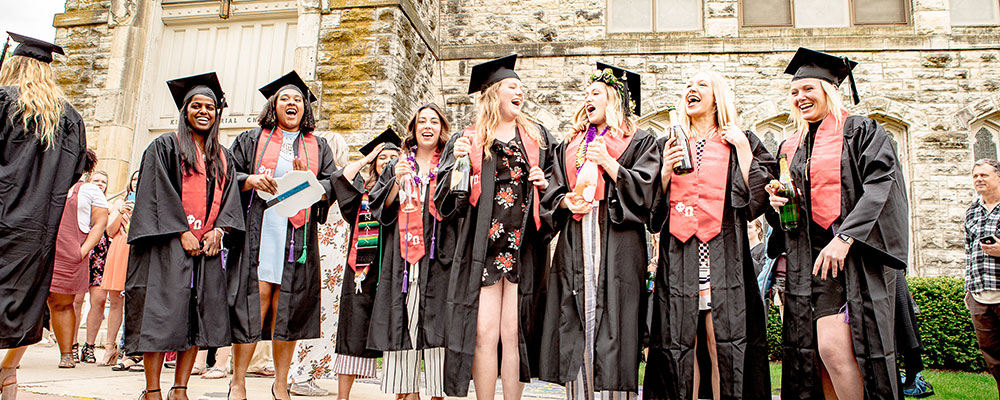 2020 Commencement
Place info here.
Begins at 5:30 p.m. Friday in Hall-Perrine, Thomas Commons
What is Senior Reception?
This annual event is the kick-off event for Commencement weekend and has been a school tradition since 1989. Join President Brand, the Office of Student Affairs, the Alumni Engagement Office, and members of the Cornell College Faculty & Staff, as we say good-bye and good luck!
What should I wear?
This is a semi-formal event. If you are looking for a reason to dress up a bit, this is your opportunity. It would be very appropriate to wear shirts & ties or dresses. Have fun with it!
Begins at 3 p.m. Saturday in King Chapel
What is Baccalaureate?
This Cornell tradition features playful and meaningful words of gratitude by graduating seniors on behalf of their faculty, family, staff, and friends, as well as music played on the College's impressive Moller organ, and inter-spiritual wisdom for the life journey which includes a message by College Chaplain Catherine Quehl-Engel. This optional event for graduating seniors and their loved ones lasts about an hour.
When do I need to be there? What should I wear?
Seniors line up at 2:30 p.m. in front of King Chapel (rain location: Cole Library). Seniors should wear their academic gown but not their cap. 
Begins at 4 p.m. (after Baccalaureate)
This is a light reception with cash bar for all graduates and their families. It is held on the Marie Fletcher Carter Pedestrian Mall, directly following Baccalaureate. Serving light hors d'oeuvres only. No RSVP necessary.
Note: If you do not plan to participate in Commencement, please contact the Registrar's Office at 319.895.4374 or mlong@cornellcollege.edu.
When do I need to be there? What should I wear?
Seniors must arrive at 9 a.m. in King Chapel (if indoors, the gym of the Small Multi-Sport Center) to line up for the commencement ceremony, wearing their academic gown and cap. They will then proceed to the ceremony location once everyone has assembled. 
College staff will assist seniors with lining up and processing. Once the senior line is ready, the academic marshals will lead the seniors through the faculty and staff line and into the seating area.
What should I expect during the ceremony?
Cornell has a proud tradition of affinity seating, giving seniors the opportunity to sit with close friends from their class during the Commencement ceremony.
During the ceremony, the marshal will notify your row when you are to stand and move to the platform. You will enter the platform from the north side (if indoors, west side), receive your diploma cover from President Brand when your name is read, and exit the south side (if indoors, east side).
The ceremony will conclude with a benediction and recessional (for platform party and faculty only) during which everyone will stand and remain standing until the recessional is over.
When and where do I pick up my diploma?
After the ceremony please remember to pick up your diploma from the tables along the Ped Mall entrance to College Hall (if indoors, the east wall of the arena) prior to 1 p.m. Additional information about diploma distribution is available on the Registrar's website.
Additional information
Commencement weekend brunch tickets
Each graduate receives three complimentary tickets (one for the graduate and two for guests) for brunch in the Hilltop Café following the Commencement ceremony. Additional tickets may be pre-purchased April 1–May 9 at the Hilltop Café or by calling dining services at 319.895.4499. Advance ticket prices are $13 for adults and $5 for children under 12. Tickets at the door are $15 for adults and $6 for children under 12. There is no charge for children under 3. 
Announcements and cap & gown orders
Commencement announcements are coordinated through our campus bookstore. Announcements and your cap and gown are ordered online. Cap and gown orders must be completed by April 2. You will pay for and pick up orders at the bookstore after May 6. The cap and gown total cost is $48.
Social media
Share graduation pictures and messages on social media using #CornellCGrad, and look for the geofilter on Snapchat. 
Inclement weather
If the ceremony is moved indoors due to weather, it will be announced by Friday and held in the Richard and Norma Small Multi-Sport Center. Doors will open at 8:30 a.m.
Senior and Faculty Speaker selection
One tradition is for the senior class to nominate the Faculty Speaker (selected by the President) and select the Senior Speaker. Final election of the senior speaker from the top five nominees will be conducted in April.
Questions?
If you have any questions about Commencement weekend schedules and procedures, please feel free to call or stop by the Office of Academic Affairs on the second floor of Old Sem, 319.895.4210.