Commencement Info for Graduating Seniors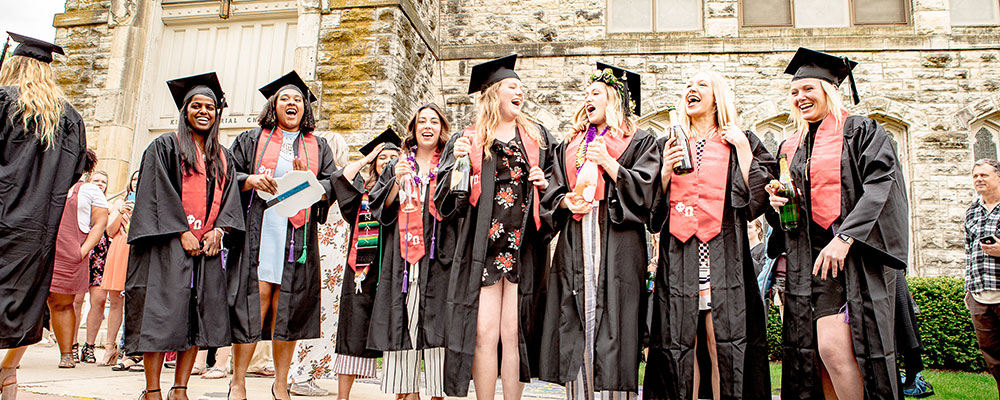 Baccalaureate–Saturday at 3 p.m.
What is Baccalaureate?
Reflective in nature, this service is an opportunity to pause and reflect on this milestone. You'll hear playful and meaningful words of gratitude offered by your peers, readings by members of your class, and a reflection by College Chaplain Melea White. All students in attendance will receive a small keepsake tied to the theme of the service. 
To submit a one-line gratitude to be read at the Baccalaureate service, please fill out this form by April 17.
Where is Baccalaureate?
Baccalaureate is held at Van Metre Field at Ash Park. This event will be livestreamed and held rain or shine. No umbrellas are allowed as they block views; ponchos will be provided if needed.
Graduates should arrive at the sports arena at 2:30 p.m. to line up for the ceremony. Wear your academic gown, but no cap.
Immediately following the service, there is a Baccalaureate reception for seniors and their guests with light refreshments and a cash bar in the Thomas Commons Lobby.
Commencement Ceremony–Sunday at 10 a.m.
What? When? Where? Class of 2022 questions answered.
When do I need to be there? What should I wear?
Graduates must arrive promptly at 9 a.m. at the sports arena to line up for the ceremony, wearing academic gown and cap. Cornell has a proud tradition of affinity seating, giving graduates the opportunity to sit with close friends during Commencement. Once everyone is lined up, they process to the ceremony location.  
What if I'm attending virtually? Will I be recognized?
2022 graduates in attendance will have their names read and walk across the stage. At the end of the ceremony the Provost will read the names of all graduates in absentia.
When and where do I pick up my diploma?
Please pick up your diploma immediately after the ceremony from the tables that will be set up nearby. View additional information about diploma distribution.
Additional information
Brunch
Each graduate receives three complimentary tickets (one for the graduate and two for guests) for brunch following Commencement from noon–1:30 p.m. at the Hilltop Café. Additional tickets may be pre-purchased at the Hilltop Café or by calling dining services at 319.895.4499. 
Announcements and cap & gown orders
Commencement announcements are coordinated through our campus bookstore. Seniors need to order their caps and gowns by April 9. If you haven't ordered yours yet, stop by the Bookstore as soon as possible. They have extras on hand to purchase.
Social media
Share graduation pictures and messages on social media using #CornellCGrad, and look for the geofilter on Snapchat. 
Senior and Faculty Speaker selection
One tradition is for the senior class to nominate the Faculty Speaker (selected by the President) and select the Senior Speaker. The final election of the senior speaker from the top five nominees will be conducted in April.
Social media
Join us in celebrating our graduates by sharing pictures and messages on social media using #CornellCGrad, and look for the geofilter on Snapchat.
Inclement weather
Baccalaureate and Commencement ceremonies will be held rain or shine. Plan to dress accordingly. Umbrellas block views and will not be allowed. Ponchos will be distributed if needed.

Move out instructions
All students living on campus are expected to follow residence hall move-out procedures and timing. Please remember to plan ahead, as packing often takes longer than expected.
After the weekend
Commencement photographs and video clips
GradImages will photograph each student after they leave the stage with their diploma cover, and proofs will be sent within five days. Every graduate also will receive a video clip of themselves as they cross the stage during graduation. Even those in absentia will receive a clip of their name being read. StageClip will email the clip within 48 hours, and it can be shared on social media.
Questions?
If you have any questions about Commencement weekend schedules and procedures, please contact co-chairs Dee Ann Rexroat, drexroat@cornellcollege.edu, 319.895.4241, or Thomas Waller, twaller@cornellcollege.edu, 319.895.4210.