Commencement Info for Families and Friends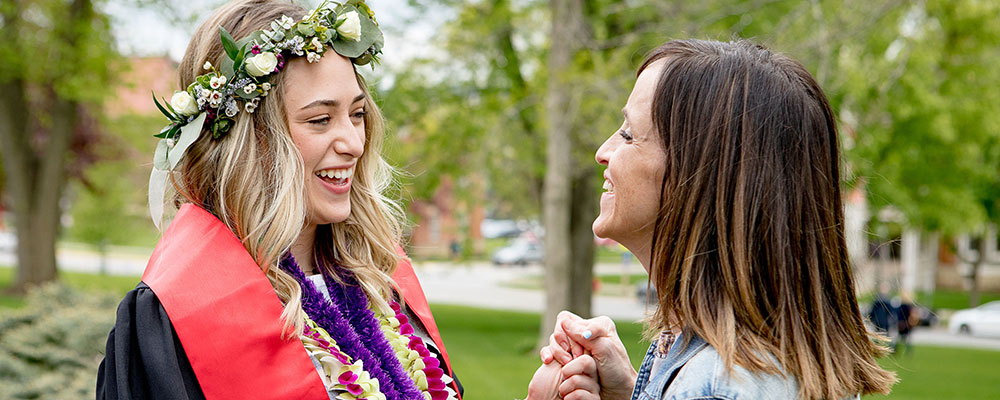 Before the weekend
Area accommodations
A listing of area hotels and lodging is available for the Mount Vernon area.
Family members with limited  mobility
If someone in your party has limited mobility, please consider renting a wheelchair for the weekend.  You can contact Student Health Services at 319.895.4292 or CarePro Pharmacy in Mount Vernon at 319.895.6248.
Order flowers for your graduate by April 22
Flower bouquets are available for pre-order for $15 for your graduate.
All proceeds support Cornell's Alternative Break program. 
Order announcements, a class ring, or diploma frame
Herff Jones provides the opportunity to order class rings, commencement regalia, announcements, and college diploma frames.  
During the weekend
Schedule of events
View a complete schedule of the weekend's activities.
Information centers
Thomas Commons, upper level, 8 a.m.–6 p.m.
During the Commencement ceremony, a first-aid station and information station is available on the College Hall lawn near South Hall and Fifth Avenue, 8:30 a.m.-noon. If the ceremony is indoors, the station is located near the back of the arena.
Parking instructions & map
Numerous parking lots are available on and around campus, and can be viewed on the Commencement parking map. Some lots will require a further walk than others, so be sure to allow extra time. If you would like a ride in a college golf cart from one of the campus parking lots, please call Campus Safety at 319.895.4299 when you are ready to be picked up.
Accessibility instructions
Individuals in wheelchairs or with mobility limitations can be dropped off closer to the event spaces. If you prefer a ride in a college golf cart from one of the campus parking lots, please call Campus Safety at 319.895.4299 when you are ready for pick up.
For events in King Chapel or Law Hall: Access the Ped Mall via Cole Library using Library Lane. Use the elevator in Cole Library to access the Ped Mall.
For events in the Thomas Commons or Kimmel Theatre: Use the Thomas Commons Circle for drop-off or handicap parking.
For events in the Small Multi-Sport Center: Use the parking lot west of the Small Multi-Sport Center for drop-off or parking. The northwest entrance will be open for individuals with mobility limitations.
For events on College Hall lawn: Drop-off is allowed along Fifth Avenue SW near the intersection with Second Street SW, which is adjacent to the seating area. Fifth Avenue SW will be closed to through traffic. See the detailed map.
Please also note, an ASL interpreter will sign during both the Baccalaureate and Commencement ceremonies. When arriving, let an usher know if you need seating within vision of the interpreter.
Social media
Join us in celebrating our graduates by sharing pictures and messages on social media using #CornellCGrad, and look for the geofilter on Snapchat.
Inclement weather
If the ceremony is moved indoors due to weather, it will be announced by Friday and held in the Richard and Norma Small Multi-Sport Center. Doors will open at 8:30 a.m.

Move out instructions
All students living on campus are expected to follow residence hall move-out procedures and timing. Please remember to plan ahead, as packing often takes longer than expected.
After the weekend
News release
Cornell will produce a news release announcing each student's graduation in the weeks following the ceremony. The service we use sends an electronic copy to each student and, if we have their email address on file, to parents. The announcements are designed for sharing on social media, and the service also sends a copy to the student's local newspapers, which publish the announcements at their discretion.
Commencement photographs
During the Commencement ceremony, a professional photographer from GradImages will photograph each student accepting his or her diploma. Color proofs will be sent within five days of the event. You may pre-register your email address with GradImages.  This company provides the opportunity to purchase individual prints of photos taken or has a variety of more extensive packages to choose from.