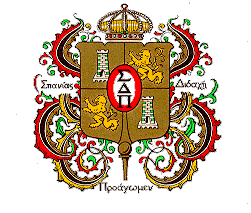 Sigma Delta Pi Spanish Honor Society
Tau Omicron Chapter
Faculty Advisor: Marcela Ochoa-Shivapour
"El amor por todo lo noble y bello que haya salido de la venerable España"
Sigma Delta Pi is the national Spanish honor society for undergraduate and graduate students who have demonstrated excellence in the study of Spanish. Founded in 1919 at the University of California (Berkeley), it was originally known as the "Sociedad del Prado." Membership in the Tau Omicron chapter, founded in 1994, is by invitation to students, both majors and non-majors, who meet the national requirements.
---
Spanish Club
Faculty Advisor: Michael Mosier
The purpose of the Spanish Club is to foster interest in the Hispanic culture and to provide an opportunity to speak Spanish in an informal setting and to learn more about the Hispanic world.
Throughout its history, the Spanish Club has sponsored numerous activities ranging from formal presentations by professional musicians to informal get-togethers to prepare Hispanic meals and share pictures from Cornell-sponsored trips to Spanish-speaking countries. The production of the annual Spanish Play was originally an activity of the Spanish Club, but since the play became an official adjunct course (Spanish 501), the club has supported its production as well as sponsored events open to the entire Cornell community: Latin American authors who spoke about their work (José Donoso, Adolfo Cáceres, Roberto Ampuero), several poetry readings, a presentation by the Mojiganga Puppet Theatre, and a "Learn to Tango" class. As a group, we have gone out to eat in Mexican restaurants in Iowa City, Cedar Rapids, and West Liberty, and we have also tried our hand at preparing our own versions of food from Costa Rica, Mexico, Chile, Bolivia, Nicaragua, and Spain. We always end the school year with a party/despedida in the home of a Spanish faculty member.
All students with an interest in Spanish are welcome to join the Spanish Club and participate in its activities.
Adjunct Courses: Conversation and Theater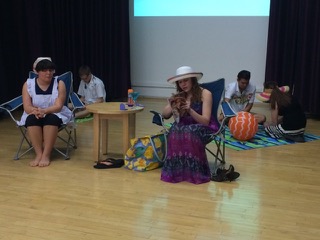 Student play  entitled "El delantal blanco" "The White Apron," a play by Sergio Vodanovic, a Chilean playwright.
Honor's societies and awards:
Cervantes Award recipients for 2016: Emma Kaboli and Sydney Strunk (with photos).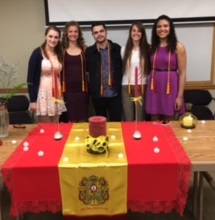 Spanish Student Symposium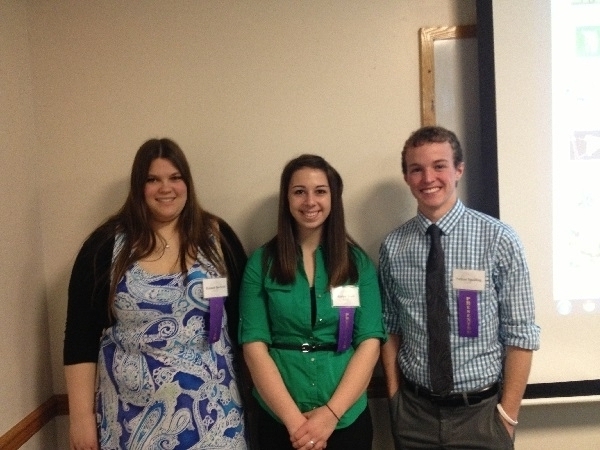 Student Symposium, sessions presented in Spanish
2015
A Precise History of Anti-negritude: the Dominican Republic
This oral presentation will examine the origins of racism in the Dominican Republic from past to present through a historical lens. Using this history, along with modern race relations in the DR, this presentation will give light to the larger issues at play concerning racial identity and racism in the Dominican Republic today.
Vashti Blackmon. '15
Cincinnati, OH
Pablo Neruda: Poetry and Politic
Art, whether it be paintings, film, or even poetry, can serve as a crucial form of propaganda, swaying public opinion. In the novel El Cartero de Neruda by Antonio Skármeta, Chilean poet Pablo Neruda, aside from his literary accomplishments, establishes a reputation in politics. The communist writer held a variety of political positions and late in his career began incorporating his ideology into his poems. The story takes place during the election of Salvador Allende during the 1970s, during which Neruda worked for his political campaign. Here, Skármeta presents both lives of the poet, arguing that in spite of Neruda's beliefs, the fame brought to him by his art has distanced him too much from the proletariat class, making him a poor representative of communist Chile. I will be examining essential moments in Skármeta's piece to analyze how the two lives of Neruda create a dualistic image of the character.
Annie Broutman, '16
Highland Park, IL
Desesperanza en las minas: El naturalismo de Baldomero Lillo en los cuentos de Subterra / Hopelessness in the mines: Naturalism as a literary style in the stories of Subterra by Baldomero Lillo
Subterra is a compilation of short stories written by nineteenth century Chilean author Baldomero Lillo whose theme revolves around the miserable everyday lives of Chilean miners living in a small village. This presentation delves into and summarizes the way Lillo utilized naturalistic elements within Subterra to reflect, and attempt to change, the crude reality of Chilean miners.  Lillo´s tales, although fictional, strive to reflect the crude reality of mining conditions. Through elements of the literary style of naturalism (such as hopelessness, fatality, loss of individuality and clear division between "oppressors" and "oppressed") Baldomero attempted to make a difference in the real mining situation through his fictional literary tales.
Ariadne Penalva, '15
Bahía de Banderas, Mexico
2014
Circunstancias, Acciones y Efectos que Nacen del Miedo
The story of "La lengua de las mariposas" by Manuel Rivas focuses on the life of young Gorrion, a boy growing up during the beginning of the Spanish Civil War, and the difficulties he faced having to grow up in a time of war, violence and betrayal. Rivas focuses on the relationship Gorrion builds with his teacher Don Gregorio to show the different phases Gorrion goes through in the story, ultimately to show Gorrion's final transformation. Throughout the story Rivas uses a constant theme of fear to demonstrate that fear can make people partake in actions that always bring consequences. Whether fear caused the feeling of wanting to escape the real world, the feeling of having to hide who one really was or the act of hurting others, it is evident that fear is a major theme in the story that connects to several other themes and shows various negative and positive aspects of the story.
By analyzing the idea of fear it was possible to connect Rivas's story to the stories of other authors as well as films that were studied in the class. By comparing the story of Gorrion to that of other characters in other works, it was possible to come to the conclusion that fear is a major part of life, which can make many people impulsively take actions that can lead to good and bad outcomes.
Arturo Castillo, '17
Albuquerque, NM
The fight for freedom has been in constant struggle not only in America but in other places all over the world. Manuel Rivas, Spanish author, was born and raced with parents and grandparents who fought and struggled to obtain some freedoms in Coruña, Spain with the dictatorship of Francisco Franco. Their struggles for liberties were translated into many of Rivas pieces of writing. The time period before Rivas was a scares time known as the Red Terror, many died and many more were ripped of their rights to speak out or act out on the scares of death.
I explore the experiences that Rivas's family went through that affected him personally in what he chose to write, and how he connected this internal family experience and Spain's own history with his writing to make it come to life. Manuel Rivas was one of the very first authors to write about Red Terror in his writing and while examining his writing in La Lengua de las Mariposas we can see how the characters in his writing pay a very high price for liberty, in order to keep their family intact they must compromise their moral beliefs.
Crystal Garcia, '17 
Centennial, CO
Building on the Literary Foundations of the Past: Márquez and One Hundred Years of Solitude
Gabriel García Márquez's novel, One Hundred Years of Solitude, is an allegorical history which takes place in a world of both science and magic. The work follows six generations of the Buendía family, focusing on how traits are passed between generations, and how each interacts with the world as it develops around the small town of Macondo.
Márquez illustrates the magical realism of his world by adapting styles and themes from previous literary movements, namely surrealism, modernism, existentialism and naturalism, with his own personal style in order to express his original ideas. In this way, he brings Latin American literature of the past forward, creating a synergy with his own personal style.
This presentation examines the way in which Gabriel García Márquez adapts the writing of his predecessors by comparing and contrasting works from the various literary movements with his own writing in One Hundred Years of Solitude.
Robert Porter, '14
Saint Paul, MN
2013 
Artistic Repression: An Examination of Symbolism
In Federico García Lorca's La casa de Bernarda Alba, a group of young women struggle under the repression of their mother. This play examines the traditional role of women in Spain during the twentieth century through the conflict of the weight of repression and the desire for freedom.  By Katlyn Arndt  2014
Animal Symbolism in Federico García Lorca's La Casa de Bernarda Alba 
Federico García Lorca was a writer and poet in Spain during the early 1900s. The last play Lorca wrote was "La Casa de Bernarda Alba" or "The House of Bernarda Alba", which tells the story of Bernarda Alba and her strict control over her five daughters.  By Hannah Bostwick 2016
The Feelings of a Man, Told Through the Frustrations of Women
In early twentieth-century Spanish culture – and the culture of centuries prior – a proper Spanish woman was expected to guard her virginity, unless an honorable sanctioned marriage should occur. In turn, the honor of her family name would be preserved. This family honor was one of extreme importance in Spanish culture, one that pervaded many aspects of everyday life. In the 1936 play La casa de Bernarda Alba, the author, Federico García Lorca, tells the story of five Spanish daughters living under the absolute control of their recently-widowed mother, Bernarda. Through the use of symbolism, Lorca emphasizes the passion and repression of the daughters, which leads to their sexual frustrations.
This play raises the question, why is a man writing about the sufferings of women during a time when women's rights, as well as their struggles, were not a concern of most women, let alone a man? Lorca's sensibility and empathy towards women stems from his homosexuality. By examining the parallel use of symbolism in Lorca's other works, one can see that in this influential play, Lorca expresses his own feelings of sexual repression through the sexual frustration and the desire for sexual freedom that is experienced by Bernarda's five daughters.
Nathan Spalding, '15
Bardstown, KY