2021 Move In
For the majority of first-year students, moving onto campus and orientation will occur on Wednesday, August 18, 2021. During this time you will move into your residence hall and complete remaining checklist items before attending a new student Convocation.
Transfer students will move in and start an abbreviated orientation on Friday, August 20, 2021. If you have questions regarding either orientation, please contact Rebecca Sullens at rsullens@cornellcollege.edu. 
Schedules & Map
New Student Move-In Schedule - August 18, 2021
Transfer Student Schedule - August 20, 2021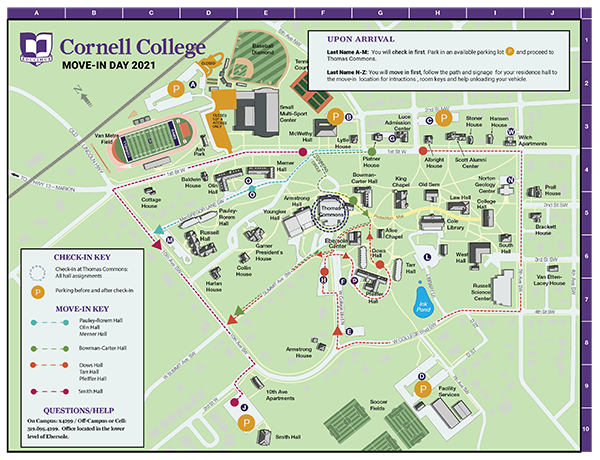 Download a PDF of the move-in map to print and bring along.
Arrival and moving-in
Please refer to the fall opening information compiled by our Residence Life staff for details on your arrival to campus and moving into the residence halls for.
Overview of the move-in process and schedule
Suggestions for packing
Additional information related to residence life
Early arrivals
Parents bringing students to campus early for fall sports do not need to return on August 18, but are welcomed. Unfortunately, we cannot accommodate special requests to arrive prior to August 18. 
Work-study verification
Students with work-study awards will need to provide an original proof of identity. For most students, this can be an original Social Security card, birth certificate, or U.S. Passport. Additional options are described at the end of the I-9 employment eligibility verification form. Please contact Dawn Frey at (319) 895-4132 or DFrey@cornellcollege.edu with any questions about work-study verification. 
Family Members Q&A
Many questions will be answered during information sessions for parents and families listed on the schedules above. If you need additional assistance prior to your arrival, start with our parent resource guide.