Kinesiology Careers & Graduate Study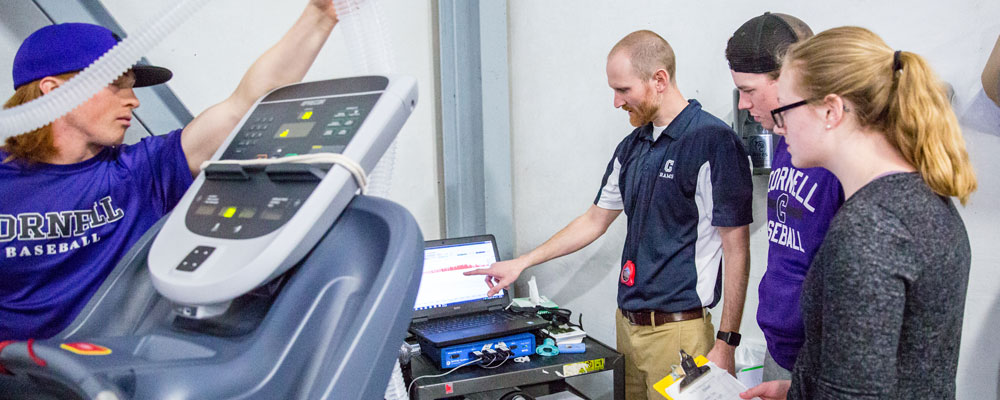 Graduate study preparation
Physical therapy
Cornell offers exceptional support to students interested in physical therapy and other health-related professions through Dimensions Program for Health Professions. More information on recommended courses for physical therapy can be found on the Dimensions website, along with descriptions of the many opportunities supported by the program.
Physical therapy resources
Sports medicine
Seventy percent of sports medicine professionals possess graduate degrees. Through sports medicine assistantships and other opportunities, Cornell students are provided opportunities to prepare for graduate programs in sports medicine.
Recent graduates
Fitness Trainer and Physical Wellness Coach, System of Strength, Columbus, Ohio

Physical Therapy graduate student, University of Minnesota

Trainer at Palumbo Performance, Pleasanton, California

Certified Personal Trainer at 24 Hour Fitness, Portland, Oregon

Assistant Soccer Coach at North Shore Country Day School, Winnetka, Illinois

Clinical Psychology graduate student at Vanderbilt University

Lab Assistant at University of Iowa

Athletic Training Graduate Student at The College of St. Scholastica, Duluth, Minnesota

Athletic Training graduate student at Montana State University, Billings, Montana

Personal Trainer at Wrightway Personal Training, Bettendorf, Iowa

Clinical Health Educator at University of Wisconsin - Whitewater

Ph.D. student in Public Health, Indiana University Bloomington/ Title V Program Coordinator, Indiana State Department of Health

Doctor of Physical Therapy, Atlantic, Iowa

Physician's Assistant at Veteran's Administration Hospital, Iowa City

Fundraising Coordinator at Muscular Dystrophy Association, Minneapolis, Minnesota

Physical Therapy Graduate Program, The University of Iowa, Iowa City, IA

Assistant Director of Football Operations/ Recruiting at Northern Illinois University

Physical Therapy Assistant at Spine and Sport Physical Therapy, Saint Joseph, Missouri

Physical Therapy Graduate Program, Regis University, Denver, CO

Doctor of Osteopathic Medicine student at Des Moines University

Chiropractic Degree (D.C.) Program, Logan University, St. Louis, MO

Chiropractic Degree (D.C.) Program, Logan University, St. Louis, MO

Strength and Conditioning Coach/ Personal Trainer at East Bank Club in Chicago, Illinois

Physical Therapy Graduate Program, The University of Iowa, Iowa City, IA

Physical Therapy Graduate Program, St. Ambrose University, Davenport, IA

Sport Management Graduate Assistant, Assistant Wrestling Coach, St. Cloud State University, St. Cloud, MN

Chiropractor at Heuser Chiropractic, Colorado Springs, Colorado

Physical Therapy graduate student at Regis University, Denver, Colorado

Exercise Physiology Graduate Program, Indiana University, Bloomington, IA

Nutrition and Exercise Specialist, Cenegenics Medical Institute, Beverly Hills, CA

Physical Therapy Graduate Program, St. Ambrose University, Davenport, IA

Elementary Physical Education Teacher , Assistant Baseball Coach, Iowa City Public Schools, Iowa City, IA

Professional research Assistant at University of Colorado, Denver

Training and Development Specialist at Medtronic, Dallas, Texas

Chiropractic Assistant/ X-ray Tech/ Lifestyle Educator at Joseph & Hishon Chiropractic & Acupuncture, Peoria, Illinois

Fitness Specialist, Lady Wellness, Rockford, IL

Chiropractic Degree Program, Northwestern Health Sciences School, Minneapolis , MN

Physical Education Teacher,  Assistant Football, Boy's Basketball, and Track and Field Coach, Tri County Schools, Thornburg, IA

Manager, Victory Lady Fitness Center, Cincinnati, OH

Associate Principal/ Activities Director for Prairie Point Middle School, Cedar Rapids, Iowa

Elementary Physical Education Teacher, Linn-Mar School District, Marion, IA

Physical Education Instructor, Charter School, Westminster, CO

Physical Education Teacher, Conrady Junior High School, Hickory Hills, IL

Personal Trainer and Fitness Manager, New Castle Family Fitness, New Castle, CO

Doctor of Physical Therapy, Athletico, Chicago, IL

Physical Education Teacher, Bowen High School, Chicago, IL

Director of Luxury Suite Sales, Dallas Cowboys, Dallas, TX

Fitness and Performance Facility Manager, Athletico, Chicago, IL

Head Women's Basketball Coach, Knox College, Galesburg, IL

Exercise Specialist, Cardiac Rehabilitation Department, Mercy Medical Center, Cedar Rapids, IA

Ph.D. Sport Psychology, Victoria University, Melbourne, Australia

Athletic Director and Head Boy's Basketball Coach, Battle Mountain, CO

Elementary Physical Education Teacher and Assistant Wrestling Coach, Mount Vernon, IA