Kinesiology Majors and Minors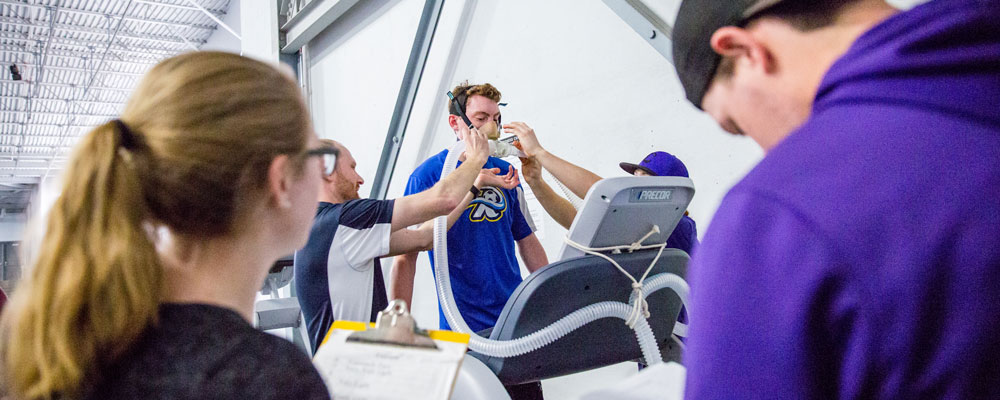 Major or minor in:
Kinesiology: Exercise science
Kinesiology: Physical education 
Kinesiology is the study of human movement and physical activity. The study of kinesiology employs an interdisciplinary focus that includes anatomy, physiology, psychology, nutrition, history, education, and athletic training.
Exercise science concentration
The exercise science major is designed to provide you with a solid academic foundation in the psychological and physiological principles of human physical performance. This is a flexible, science-based curriculum that helps prepare you for a career in the health and fitness industry, or for graduate studies in health fields including medicine, athletic training, exercise science, sport and exercise psychology, occupational therapy, biomechanics, cardiac rehabilitation, chiropractic medicine, and physical therapy.
Physical education teaching
Those majoring in physical education may apply for teaching certification at the elementary or secondary levels. As a physical education major, you'll complete courses in methodology, motor learning, anatomy, adapted physical education, and field experiences prior to student teaching. Coursework is available leading to State of Iowa coaching authorization or endorsement for those who major in education.
Coaching endorsement or authorization
Completion of KIN 205 (Coaching Endorsement or Authorization) and KIN 237 (Care and Prevention of Athletic Injuries) satisfy requirements for Iowa Department of Education coaching authorization and endorsement.
A coaching endorsement is granted to those who complete these two courses, are majors in elementary or secondary education, and who receive an Iowa teaching license.
A coaching authorization is available to those who do not hold an Iowa teaching license. Both the authorization and endorsement qualify an individual to serve as a head coach, assistant, or volunteer coach in any sport offered in Iowa public schools.
Benefits of One Course At A Time
One Course At A Time provides flexibility in class scheduling and diversity in student experiences. Kinesiology courses combine lecture and discussion sessions with lab activities, provide opportunities for you to engage in practical applications, and offer a variety of off-campus experiences. Because you enroll in a single course each block, entire courses can visit facilities and professionals at work in the field. You will have the flexibility to engage in one- or two-block internships, or work with faculty members on advanced projects of scholarly interest. 
Research and internships
Cornell's One Course At A Time curriculum offers you the unique opportunity to immerse yourself full-time in exciting and varied internships and research projects to supplement your coursework. At the end of your college career, a kinesiology major will have prepared you to pursue a broad array of graduate programs and career options.
As a kinesiology student, you will have the opportunity to work closely with faculty to complete both independent and collaborative research projects. You may apply for the Cornell Summer Research Institute or work with professors independently during the academic year. 
Recent students have taken advantage of our exercise physiology, biomechanics, and psychology labs to conduct research on various topics including the following:
Physiological and psychological effects of sleep deprivation
Physiological responses of wrestlers and non-wrestlers to high-temperature training environments
Comparative movement analysis of a baseball pitcher's throw
Success rates of allograft versus autograft anterior cruciate ligament repair in adolescents
Mental imagery in athletic injury rehabilitation
Health and physical activity narratives of older adults in rural Iowa
Each year, Cornell students present the results of their research at the Cornell Student Symposium. See examples of recent kinesiology research abstracts.
Students have held sports internships with the:
Cedar Rapids Kernels
University of Iowa Athletics
Iowa Sports Festival
NBA clinics
Students have held fitness and wellness internships with:
Mercy Medical Center and St. Luke's Hospital
Rockwell Collins
Physical therapy offices
Children's hospitals
Students have held recreation and wellness internships with:
Wilderness camps
Personal fitness centers
Health clubs