Engineering Degree Program
Designing solutions for real-world applications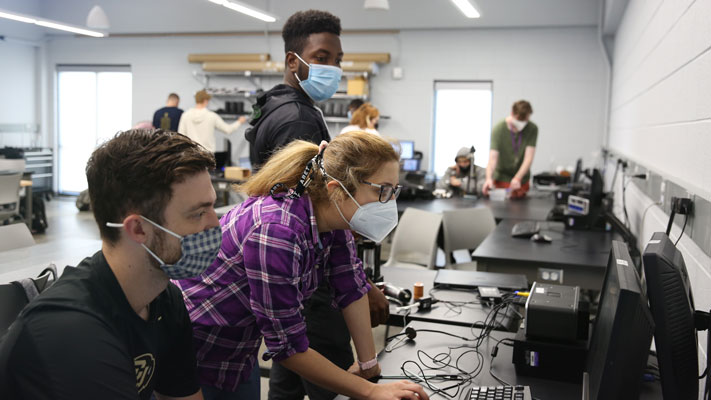 A Degree for the Future
Earn your Bachelor of Science in Engineering (B.S.E.) from Cornell College. This program is fully accredited by the Engineering Accreditation Commission of ABET.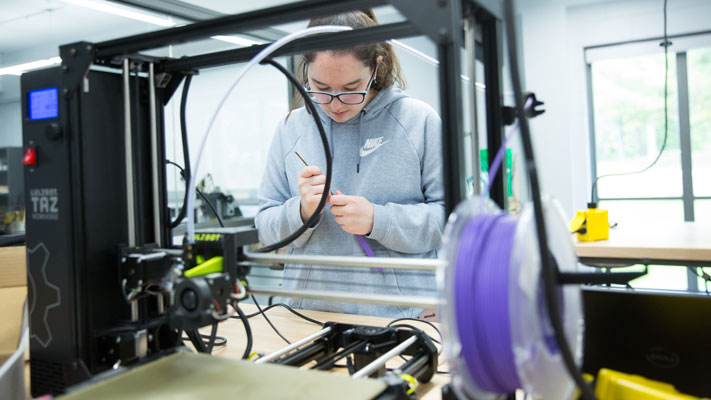 Why major in engineering at Cornell College?
Learn the principles of engineering by immediately applying what you learn in hands-on projects integrated into your courses. Work with our faculty experts who live and breathe engineering and who love teaching the next generation. Looking to develop your professional portfolio with projects, research, and real-world applications of your coursework before you graduate? We have you covered. Our machine shop, electronics lab, and fabrication labs focus on hands-on projects. You will earn a general engineering degree that covers the fundamentals of engineering, including electrical, industrial, and mechanical, and positions you to concentrate on the field that most interests you. Plus, with Cornell's focus on providing a well-rounded liberal arts foundation, you can set yourself apart from employers not just with your engineering expertise but also with your exceptional communication and critical-thinking abilities.
Experiential learning and internships
Engineering in action
Solve complex problems. Draft professional-level reports to showcase your findings. Present your work to peers and professors. From your very first engineering course on campus, you'll start learning real-world engineering skills. And when you graduate, you'll have a portfolio of your work to impress future employers.
Starting in your first year, you'll use computer aided design software to model your own designs and use the fused deposition modeling machines (3D printers) in the Fabrication Lab to create a physical version.
Want to dive deep into research? Cornellians of all ages can create important and groundbreaking research if they're given the right tools. Our exceptional, student-focused faculty offer opportunities to collaborate with them on research in their areas of interest each summer as part of the Cornell Summer Research Institute. Participating students receive a stipend and present their work at our Student Symposium.
Engineering course requirements
The Ingenuity Curriculum will help you develop essential skills and learn the ropes. Then you'll build upon those skills as you begin taking degree-specific courses. No matter if you choose to pursue a Bachelor of Arts or a Bachelor of Science in Engineering, you'll take an array of classes from our mathematics, physics, chemistry, computer science, and engineering departments to meet your major requirements.
Regardless of degree path, you will also take Engineering 385, the capstone of the program. You'll apply all the knowledge you've gained over the course of your studies to work in a small team and formulate your own engineering solution to a real-world problem that you develop.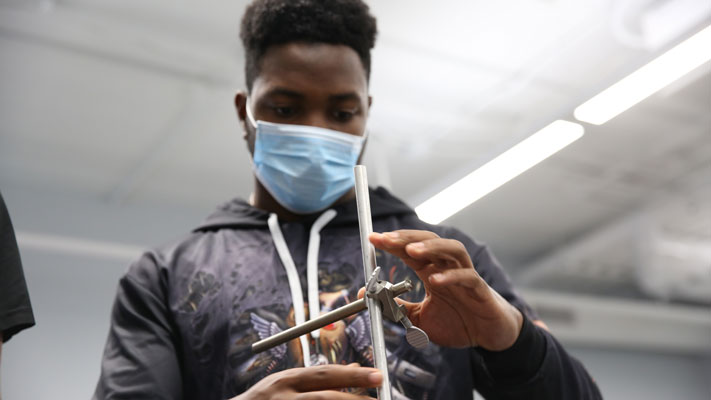 Learn more about engineering degree requirements when you explore our course catalog.
Sneak a peek inside an engineering class.
Join in on an Experimental Engineering class, where students learn about the principles of electronics, signal processing, and computer interfacing.
Experimental Engineering & Quality Control from Cornell College on Vimeo.
What could you do with an engineering degree from Cornell College?
Discover how far your engineering degree can take you. Our students have secured internships at:
Illinois Department of Transportation, Peoria, Illinois
Sentera, Minneapolis, Minnesota
Pilkington NSG, Naplate, Illinois
Microtek, San Diego, California
Beyond internships, Cornellians have been hired as mechanical engineers, mechanical design engineers, design engineers, CAD design engineers, and application engineers. An engineering degree from Cornell College will also position you for graduate studies in these exciting, emerging fields. And according to the U.S. Bureau of Labor Statistics, engineering jobs in 18 unique fields, from biomedical engineers to agricultural engineers to environmental engineers, are all projected to expand in the coming years.
Your professors and advisors will be with you every step of the way. They will work one-on-one with you to help you explore internships, and they'll review your job applications and graduate school applications to ensure you're putting your best foot forward. We take great pride in our students who found their place in industries across the nation that are aligned with their engineering passions, and we'll help you to achieve the same.
Our professors take teaching seriously. Brilliant and enthusiastic—they are experts in their field. Get to know our engineering professors.
Cornell College offers two degrees for those interested in engineering. Only the B.S.E is ABET-accredited.
Bachelor of Science in Engineering (B.S.E.)—Major in engineering. The B.S.E. is the ABET-accredited program.
Bachelor of Arts (B.A.)—Major in engineering sciences. The B.A. is not ABET-accredited.
Tanner Allen
Class of 2022, B.S.E.