Biochemistry & Molecular Biology Program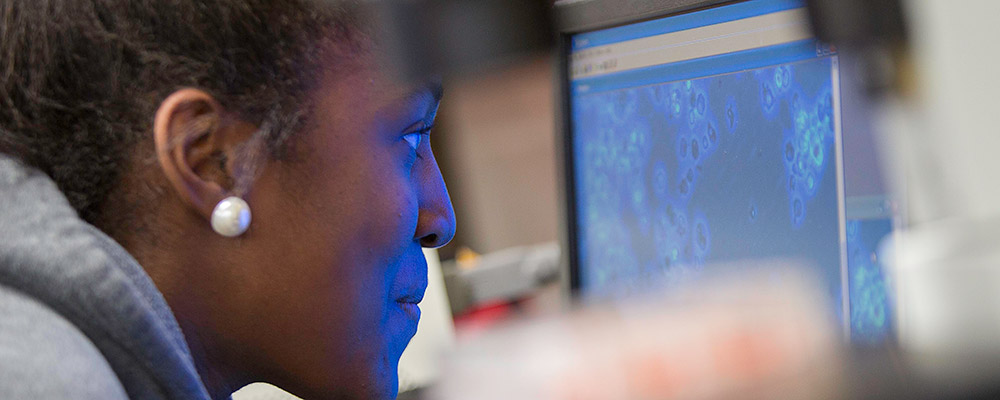 Degree options
Major in biochemistry and molecular biology
Our interdisciplinary program in Biochemistry and Molecular Biology (BMB) prepares you for graduate school, professional school, or a technical career in the field. The curriculum is drawn from the Departments of Biology and Chemistry, with emphasis on cellular biology, genetics, and biochemistry. This type of combined major is offered by few undergraduate institutions.
We give special attention to helping you develop excellent laboratory skills, and Cornell's One Course At A Time curriculum gives us a great deal of flexibility in how we integrate laboratory and classroom learning. In genetics lab, for example, you aren't simply given tasks to perform, but are given the responsibility to choose a problem, design an experiment, analyze the data, and present the results.
Pre-med preparation
If you're considering professional or graduate school in a medical field, you might choose to major in biochemistry and molecular biology. This major allows you to meet both the biology and the chemistry prerequisites required by any graduate program, without the need to double major in both biology and chemistry. 
Cornell College's Dimensions Program for Health Professions 
Dimensions is an academic enrichment program that provides you a full range of support in preparing for health-related professions. In addition to research and internship placements, Dimensions coordinates workshops, guest speakers, MCAT preparation, career services, and reading groups. 
Cornell's 2008–2015 medical school acceptance rate is 75.4 percent. That is well above the national average of 40.5 percent for 2008–2015. 
Benefits of One Course At A Time
The One Course At A Time curriculum allows you to immerse yourself in scientific discovery without competing demands from other courses or the limitations of short class periods separated by lengthy periods of time. In lab classes, faculty structure classroom and lab time to effectively meet the needs of the subject matter, rather than the demands of the clock.
Off-campus and on-campus research
The block plan also provides many opportunities for you to get research experiences beyond campus. Courses regularly travel to the Bahamas or Belize to study coral bleaching, for example, and you are also able to take part in block-long independent study courses, or through the Cornell Summer Research Institute.
Faculty in the Departments of Biology and Chemistry involve students in collaborative research projects, with topics ranging from tropical species diversity to bacteria that may provide an alternative to synthetic pesticides, to medical research related to neuromuscular diseases. You will have research opportunities both during the academic year and over the summer. In addition to working with faculty on research projects at Cornell, students frequently complete research projects at other prestigious institutions.
Internships
Students have completed internships or Cornell Fellowships at the following institutions:
Baylor College of Medicine in Houston, Texas
The Children's Hospital in Aurora, Colorado
The University of Maryland School of Medicine in Baltimore, Maryland