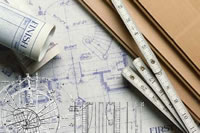 Recent graduates have been successful in some of the most competitive graduate art and architecture programs in the country, including Washington University in St. Louis, The University of Pennsylvania, Iowa State University, and Harvard. Former students have gone on to study with Robert Venturi and Louis Khan. Another works for I.M. Pei. Cornell has an even larger list of accomplishments of students attending MFA programs throughout the United States.
Cornell has a long and established relationship with Washington University. We think highly of their program, and we have established credibility with them as well. Our students have been well prepared, both in studio work, historical foundations, and theoretical knowledge, so that they can succeed. A few years ago, a Cornell alumnus was given the graduate school's highest honors. We also believe that the One Course At A Time format has assisted students in learning how to work hard and to focus on a singular goal.
This program functions much like a Pre-Med curriculum in that students complete their degrees with a variety of majors and earn a degree from Cornell College. The selection of coursework and preparation of an art portfolio is what allows you to move onto an architecture program. Such a combination meets the needs of students who desire a liberal arts curriculum before focusing their studies on preparing for a single profession.
Suggested Cornell courses for admission to a graduate program
ART: Drawing, Ceramics, Collage/Assemblage, Sculpture
ART HISTORY: Greek and Roman Art, Italian Renaissance, Art in the Age of Galileo
HISTORY: Europe: 800-1300, Europe: 1300-1700, Modern Europe and Its Critics
MATH: Calculus I
PHYSICS: General Physics I
Submission of a portfolio demonstrating one's work in studio art plays a critical role in the application process; therefore, energy must be devoted to developing the appropriate studio art skills early in an undergraduate career. Also, courses in art history assist in the process of learning how to talk and write about your work.
Additional resources
You may find some other useful information about architectural programs at: www.goarchitectureschools.com