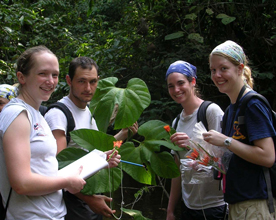 Why Latin American Studies at Cornell?
We are delighted that you are interested in both Cornell College and Latin American Studies. We are very proud of our program, which offers variety and flexibility and includes courses from a range of disciplines, including politics, anthropology, art, economics and business, and Spanish. 
Pursuing Latin American Studies at Cornell College is a unique experience.  The One Course At A Time system allows our students to be immersed in one class for three and a half weeks without the interference of other course work.  Because of the small class size (cap of 25 students), it is a great opportunity for students who want to have in-depth discussions and personalized instruction. 

Because of Cornell's association with the ACM (the Associated Colleges of the Midwest) and SIT (School for International Training), our students can participate in semester-long programs in Costa Rica, Bolivia, Chile, Ecuador, Mexico, Nicaragua, and Venezuela. For example, the Art Department takes students to Mexico for a two-block ceramics and drawing course, the Spanish department regularly takes students to Mexico and Bolivia, and the Economic and Business Department is starting a program in Uruguay.
Even if Spanish is not your primary interest, we hope our program will encourage you to come to Cornell College and to continue to build upon your background in the Spanish-speaking culture and civilization.   The Latin American Studies program offers invaluable skills in communicating, writing clearly, and in critical thinking -- skills that are especially useful in the era of globalization.
Latin American Studies prepares students for many different kinds of graduate school or career experiences and can be especially useful in such careers as government service (both foreign and domestic), the ministry and other forms of church service, journalism, teaching, international business and trade, social work, and international service organizations in the United States and abroad.
We hope you find in our program something that meets your needs and sparks your interest.  If you have any questions about our program, please do not hesitate to contact one of our faculty members.

With our sincerest wishes for your academic success,

THE CORNELL COLLEGE LATIN AMERICAN STUDIES PROGRAM

Marcela Ochoa-Shivapour, chair
Mochoa-shivapour@cornellcollege.edu