2013-14 Classics Courses
(No prerequisites -- fulfill BA humanities requirement -- all taught in English translation)
CLA 2-216, Classical Mythology
Demeter and Persephone, Apollo and Dionysos, Achilles and Agamemnon, Medea and Alcestis. Names of myth and legend, deception and intrigue, true love and not so true love.

Study of the development of the myth, legend, and folklore of the ancient world, especially its place in ancient Greek and Roman culture, and its survival in the modern world.
Sample Syllabus for Classical Mythology
---
CLA 2-254 Greek History.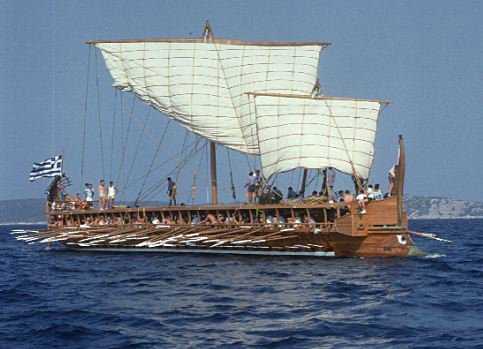 The Trireme Olympias, a modern reconstruction of the Greek warship that helped to defeat the Persians at the Battle of Salamis
This in an introductory course in Greek history that will cover major social, economic, and political developments from the Archaic period in Greece to the rise of Alexander the Great. Topics to be discussed include the formation of city states, Athenian Democracy, war with Persia, the Peloponnesian War and the coming of the Hellenistic Age.  (Humanities) Venticinque
CLA 3-373 Love and Sexuality in Greece and Rome
| | |
| --- | --- |
| In this course, we will meet the most famous lovers of antiquity (Aphrodite and Ares, Medea and Jason, Catullus and Lesbia).  We will read female poets (Sappho and Sulpicia), male writers (Apollonios and Ovid) and philosophers (Plato).  Then we'll see how three ancient strands of writing--the Sapphic, elegiac, and romance novel traditions--have shaped our own.  Although people in every culture know love and sexuality, each culture experiences it in a different way.  By examining Greek and Roman constructions of love and sexuality, we can gain some historical perspective and critical distance from which to view the conventions of love in the 21st century. Prerequisite: Writing (W) course. (Humanities) Gruber-Miller | |
CLA 8-376. Advanced Topic: Egypt after the Pyramids
| | |
| --- | --- |
| Egypt of the Roman and Late Antique periods (1st-7th centuries CE) is one of the best documented regions in the ancient world, although often not treated in detail in standard historical surveys. This course aims to probe the various approaches to the history of Roman and Late Antique Egypt and also to investigate what the study of Egypt can contribute to our understanding of the Roman and Late Antique world in general by examining primary sources in translation. An emphasis will be placed on major topics in social, economic, legal and religious history, cultural interaction between Greeks, Romans and Egyptians, and the ways in which Egyptians themselves crafted ideas about the past. Prerequisite: Writing (W) course. (Humanities) Venticinque | |
Greek and Latin Courses Offered in 2013-14