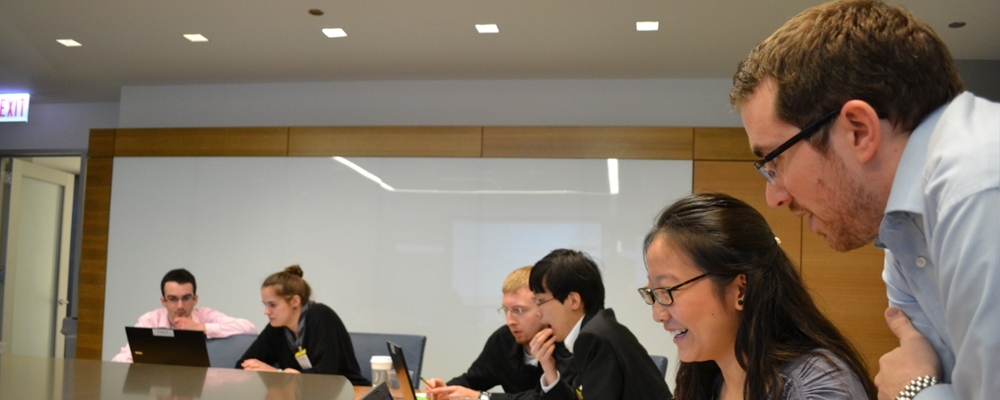 Due to the unique flexibility provided by Cornell's One Course At A Time calendar, off-campus study is an integral part of the college's curriculum. Since students are committed to only one course during a block, the entire class can be moved to an off-campus location, in the U.S. or overseas. By supporting off-campus study the Berry Career Institute follows through on its mission to promote experiential learning and provide academic enrichment opportunities. The Berry Career Institute provides funding to faculty members to develop off-campus courses and field experiences and offers subsidies and scholarships to participating students.
Faculty interested in requesting Berry Career Institute funding for an off-campus course, see below.
Financial Management Seminar in Chicago

Every year students in the Financial Management seminar spend nearly a week in the Chicago financial district studying how markets and business firms manage financial, operational and credit risk. In its most recent visit, the class toured the floors of the Chicago Board Options Exchange, and the Chicago Mercantile Exchange (CME), and talked with traders and financial experts. The students also had an opportunity to exchange ideas with risk managers at the Bank of America, and Centegra Health Care, a major provider of health care services in the Chicago area.

Macroeconomics Seminar in Uruguay

Students spent a month in Uruguay and Argentina studying issues of economic growth in Latin America's Southern Cone. The class was hosted by the Universidad de Montevideo and the Southern Cone Group investment firm. Cornell students joined Uruguayan counterparts in classes co-taught by Cornell Professor Knoop and faculty members from the Universidad de Montevideo. The students took field trips to Buenos Aires and several locations in Uruguay. They interacted with government officials, financial industry experts, and business owners to understand how institutional factors and policy choices influence growth in emerging economies.

Culture, Gender, and Public Policy in Japan

Students traveled with professors Carol Enns (Psychology) and Erin Davis (Sociology)to Japan to study the interconnections between Japanese cultural traditions, gender roles, and contemporary public policy. The class studied within the Tokyo and Kyoto-Osaka regions, visiting many historical, cultural, educational, employment, and religious settings to gain a first-hand understanding of how public policy is influenced by Japanese traditions, values, and the socio-economic system.
Additional Off-Campus Experiences Supported by the Berry Career Institute
International Economics Seminar in Uruguay and Argentina with Professor A'amer Farooqi (Economics and Business) 
Economics of Sports in Dallas with Professor Jerry Savitsky (Economics and Business)
U.S. Economic and Business History in Chicago with Santhi Hejeebu (Economics Business)
Religions in Ethiopia in Ethiopia with Steven Sacks (Religion)
From Village to Factory in Chile with Anton Daughters (Anthropology)
Urban Community in Chicago with Professor Tori Barnes-Brus (Sociology)
Families in Social Context in Chicago with Professor Erin Davis (Sociology)
Ethics and Public Policy (Midwestern presidential libraries) in Texas with Professor Robert Sutherland (Politics)
Wilderness Politics and Policy in Boundary Waters (Minnesota) with Professor Craig Allin (Politics)
Policy to Practice: Comparative Educational Systems, the U.S., and Southern Africa in South Africa with Professor Gayle Luck (Education)
For more information about off-campus study, please the Berry Career Institute.
Faculty Requests for 2018-2019 Berry Career Institute Off-Campus Study Funding
The Berry Career Institute can provide financial support to classes that are taught off-campus entirely or in part. The Center's financial support can reduce the cost that students must pay to participate in the special opportunities that you offer. 
If you would like to apply for funding for a course that you will teach in 2018-2019, please submit the following to the Berry Career Institute no later than September 28, 2017:
Course dept, course number and block, instructor, location
Level of support you are requesting from the ($ per student and total amount overall requested) and an overview of how those funds would be used
An outline of your course and supporting information--- syllabus, itinerary, and budget. If this information has been provided to the Program Coordinator in the Office of International and Off-Campus Studies, in your email request please direct the McWethy Program to obtain a copy from Off-Campus Studies.