Monday-Friday: 9 a.m.-4 p.m.; Sunday: 2-4 p.m.
Luce Gallery, McWethy Hall, 809 First Street SW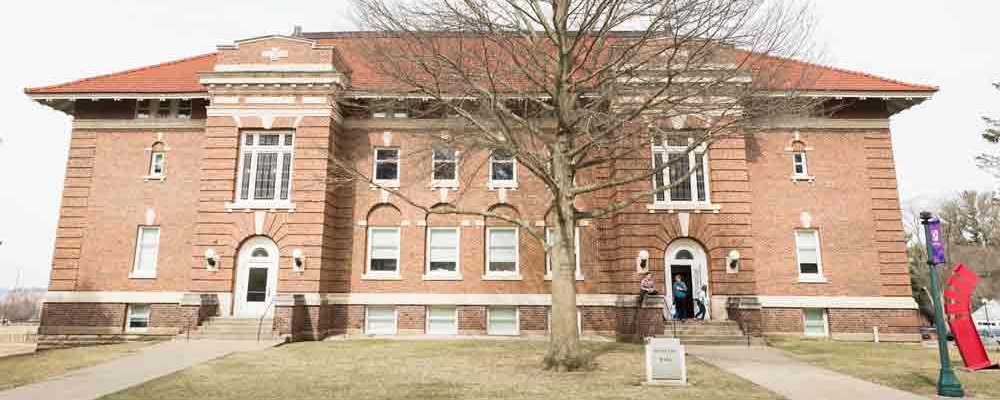 Lucey Gallery admission is free and open to the public. Closed June-August. The gallery exhibits artwork by regional and nationally known artists, as well as the work of Cornell College senior art majors in April and May. A generous donation from the Henry Luce Foundation allows us to bring in visiting artists for gallery talks, lectures, and workshops. 
Gallery coordinator: Susan Coleman 
Luce 2019–2020 schedule
Studio Art Alumni Invitational: "Self-Portrait As … (Point of Departure)
Sept. 1–Oct. 27, 2019
Homecoming Reception: Saturday, Oct. 26, 3–5 p.m.
This invitation explores possibilities within the theme of self-portraiture and encouraging visual metaphor, diverse interpretations and inventive ways of seeing, and addressing identity through visual means. The work may range from exacting rendering, to the self as object, abstraction or non-objective, archetypal or otherwise conceptualized. 
"Chameleon," John Wagoner '05, cast & carved acrylic paint

"Self-portrait," Holly Kellogg '77, acrylic on canvas, Kansas City Art Institute

"Turn Me Over, I'm Done on This Side," Luke Farley '14, oil on canvas
"The Real Thing: 2D/3D Works" by Tim Porter & Anthony Deibner Hanson
Nov. 17–Dec. 15, 2019
Artists' Reception & Gallery Talk: Sunday, Dec. 15, 2–4 p.m.
"Jane Gilmor & David Van Allen: Multi-Media"
Jan. 20–March 1, 2020
Rescheduled: Artist's Reception & Gallery Talk: Friday, Feb. 21, 4–6 p.m. with the talk beginning at 5 p.m.
David Van Allen and Jane Gilmore have known each other as colleagues and friends for decades. David lives and works in Cedar Rapids. He is professor emeritus of art at Mount Mercy University, where he taught photography, design, art history, and introduction to art for 29 years. He's been a commercial photographer since the early 1990s and a fine artist since the late 1970s. His personal artwork is almost exclusively portraiture, in a multiple image collage assemblage. David travels extensively. 
Jane Gilmor is a Cedar Rapids-based intermedia artist. For the past 35 years her artistic practice has been concerned with social issues, found situations, and psychological narrative. She creates sculptures, videos and performances, and is a pioneer in the area of community-based public work. Her work has been exhibited nationally and internationally, she has received numerous fellowships nationally and internationally, and is in numerous books including Barbara Love's "Feminists who Changed America 1963-1976," Lucy Lippard's, "Overlay, Contemporary Art and the Art of Prehistory"; and Broude and Gerrard's "The Power of Feminist Art: The American Movement of the 1970's, History and Impact."
Senior Shows 2020
March 29–April 12
Opening: March 29, 2–4 pm
April 19–May 3
Opening: April 19, 2–4 pm