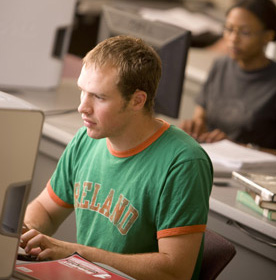 Location: 3rd Floor Law Hall
Email: information_technology@cornellcollege.edu
Phone: 319-895-4357 (HELP)
Fax: 319-895-5645
Hours: 8 AM - 4:30 PM, Monday - Friday
Mailing Address:
Cornell College
Information Technology
600 First Street West
Mt. Vernon, IA 52314
Information Technology
The Office of Information Technology (IT) supports the computer and telecommunications needs of Cornell College.  This includes roughly 750 College owned computers in around 30 academic and administrative buildings.  We also provide several services for the roughly 1100 student owned computers.
If you have any questions or need help with any technical services, please contact the Information Technology Help Desk at extension 4357 or submit a Work Order Request and our staff will assist you as soon as possible.
All faculty, staff, and students are now using Google Apps. For detailed information visit our Google Apps support site.
Other Frequently Used Links:
View your monthly printer/copier usage.
Learn how students can connect to Cornell's wireless network.
Connect from home instructions for faculty and staff.
Instructions for setting your passwords at Cornell College.