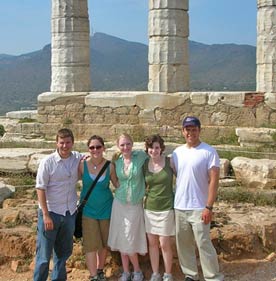 Cornell courses travel to Greece and Italy in alternate years. A few of the students in the 2007 course Greek Archaeology, co-led by professors John Gruber-Miller (classical studies) and Emily Walsh (geology), are shown in front of the Temple of Poseidon.
Why Classical Studies?
Look around and it does not take long to find examples of Greek and Roman culture all around us.  When Hollywood filmmakers want to explore issues of identity, politics, or culture, they produce films like Gladiator, Troy, and Three Hundred.   When political pundits need to explain the significance of an issue or event, they turn to the famous people and writers of the ancient world. When people look for a good story, they turn to classical mythology and Greek or Roman theater. When one travels to Washington, DC, or even Mount Vernon, Iowa, one can look around and see art and architecture inspired by Greece and Rome. And when someone wants to learn more about the English language, or the specialized vocabulary of law, psychology, or medicine, they study Latin or Greek.
In many ways classical studies is the perfect liberal arts program. Classical studies students learn to read carefully and critically, understand how language works, develop their ability to communicate with others, to write effectively and to speak with clarity. As they are faced with difficult texts or challenging issues, they become adept at solving problems and looking at issues from multiple perspectives. As they explore the many cultures of the ancient Mediterranean, they see the world through the eyes of others and become citizens of the world. 
Such a strong liberal arts background has led our alumni to successful careers in archaeology, business, information technology, law, library science, linguistics, medicine, ministry, museum and archival work, teaching, and writing.
Why Cornell?
We offer a full range of courses in ancient Greek and Latin, many in tutorial, as well as a variety of classics courses in English translation. Our curriculum also integrates courses from a range of disciplines including art, history, philosophy, religion and theatre to give our students a broader perspective and deeper understanding of the classical world.
The classical studies program at Cornell is in the forefront of liberal arts college classics programs in integrating technology in the classroom. In particular, students can participate in the VRoma Project, A Virtual Community for Teaching and Learning Classics.
In addition, Cornell's One Course At A Time schedule affords students many special learning opportunities, for example:
Every other year we offer block-long off-campus courses in Greece or Italy
Students in Introduction to Latin Literature regularly stage a Roman comedy for the entire campus community
Classical Studies majors have studied Latin in Rome and participated in archaeological excavations around the world
Students also have many opportunities to engage in meaningful undergraduate research projects, both within and beyond class. Recent projects include:
A comparison of Roman baths and Jewish mikva'ot in Herod's Palestine
Comparisons of Greek and Roman plays to Hollywood films
Examinations of the way myths transform through time
An exploration of how Catullus constructs friendship in his poetry