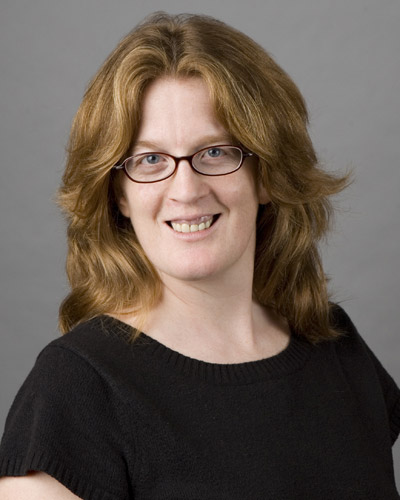 Erin Davis
Associate Professor of Sociology
Cornell College
600 First Street West
Mount Vernon, IA 52314
Academic History
PhD in Sociology, University of Virginia, 2002

Dissertation: Overcoming Gender:  Transsexualism and the Gender Paradigm

MA in Sociology, University of Virginia, 1996

Thesis:  The Sexual Search:  The Changing Role of Intimate Relations in Marital Timing

BA in Sociology and Religion, New College of Florida, 1993

Thesis:  Whose Morality? Public Polarization of American Culture
Courses Taught
Sociological Thinking
Gender Diversity
Culture, Gender, and Public Policy in Japan
Families and Family Policy
Sexualities
Gender Differences and Inequalities
Self and Identity
Sociology of the Body
Research Design and Data Analysis
Publications
Davis, Erin. 2009. "Situating 'Fluidity': (Trans) Gender Identification and the Regulation of Gender Diversity,"   GLQ.  15 (1):97-130.

Davis, Erin and Lisa Friel.  2001. "Adolescent Sexuality: Disentangling the Effects of Family Structure and Family Context. "  Journal of Marriage and Family. 63 (August 2001):669-681.

Davis, Erin.  2001. Review of Transmen and FTMs: Identities, Bodies, Genders and Sexualities, by Jason Cromwell, Contemporary Sociology, 30: 256-257.

Davis, Erin.  2000. Review of Travesti: Sex, Gender and Culture among Brazilian Transgendered Prostitutes, by Don Kulick, Contemporary Sociology, 29: 384-385
Select Presentations and Invited Lectures
"Women's Involvement in Strategy Boardgaming: Challenges and Possibilities." The 10th Congress of Qualitative Inquiry, Urbana-Champaign, Illinois. 2014.

"Sharpening the Sociological Imagination through Multi-Disciplinary Collaborative Course Projects." Midwest Sociological Association Annual Meeting, Omaha, Nebraska. 2014.

"Feminism and Social Justice in the 21st Century." Panel Discussion with Aparna Thomas, Johanna Schuster-Craig and Shannon Reed, Feminist Symposium, Cornell College 2014

"Symbols of Hate:  When an Image is More than an Image." Campus Event sponsored by the Diversity Committee, Cornell College 2014.

"Women and Gaming Research Report."  BGG.Con, Dallas, Texas. 2013. 

"Parental Roles and Responsibilities." Panel Discussion for KCRG-TV9's "Ethical Perspectives in the News"," Cedar Rapids, Iowa. 2013.


"Dressing Our Daughters" Panel Discussion for KCRG-TV9's "Ethical Perspectives in the News"," Cedar Rapids, Iowa.  2012.

"Defining Family Values" Panel Discussion for KCRG-TV9's "Ethical Perspectives in the News"," Cedar Rapids, Iowa.  2012.

"So, What Is It Like To Be A Professor at a Private Liberal Arts College?" Sociology Graduate Pro-Seminar, University of Iowa. 2008, 2009, 2010, 2011, and 2012.

"The Creation of Short-Term International Study Courses" Presented with Carolyn Enns and Joan Erikson at the FaCE capstone conference, FaCE Value: Advances Through Collaboration, at Colorado College, Colorado Springs, Colorado.  2011.

"Short-Term Study Abroad in Japan: Fostering Interdisciplinary Pedagogy" Presented with Carolyn Enns and Joan Erikson at Beloit College's Asian Studies Teaching Colloquium on Transcultural Asia:  Pedagogies of Borrowing & Trading in Undergraduate Education, Beloit, Wisconsin.  2011.  

Transforming Study Abroad: The Creation of Short Term International Study Courses"  Presented with Carolyn Enns and Joan Erikson at ASIANetwork Annual Conference, Lisle, Illinois.  2011.

"Addressing the Challenges of Short-Term Study Abroad in Japan" Presented with Carolyn Enns at DePaul University's Japanese Studies conference on Teaching Japan: Pedagogical Possibilities in U.S. Higher Education, Chicago, Illinois.  2010.

 "Feminism and Mad Men" Campus event co-organized with Tori Barnes-Brus and co-sponsored by TWRG, Cornell College. 2010.

"The Role of Faculty Development in Internationalizing the Curriculum" ACM/GCLA conference on Integrating Study Abroad into the Undergraduate Curriculum, Beloit, Wisconsin. 2009.

"Feminist Identities and Ideologies among Contemporary College Students: Is Feminism Just "in the Water?" American Sociological Association Annual Meeting, New York, New York. 2009. 

"Feminist Identities and Ideologies among Contemporary College Students" Cornell Ambassadors Program, Aoyama Gakuin Women's Junior College, Tokyo. 2008.

"Trans-gressions:  The Cultural Intelligibility of Transgender Lives" Women's Roles and Women's Movements in Japan, Waseda University, Tokyo. 2007.

"Integrating Queer Studies into the Sociology Curriculum" Collaborative workshop session with Karin Peterson, Keith Bramlett, and Heather Talley, American Sociological Association Annual Meeting, Philadelphia, Pennsylvania.  2005.

"A Comparative Study of Feminist Meanings, Identities, and Activism" Presented with Christine Smith at the Association for Women in Psychology Annual Conference, Tampa, Florida. February 2005 and at  at the Great Lakes College Association Women's Studies Conference, Kenyon, Ohio. 2004.

"Grrrlz to Womyn: A Workshop on Successful Feminist Mentoring" Collaborative session with Vange Heiliger, Amy Killoran, and Suzanne Smailes, Great Lakes College Association Women's Studies Conference, Kenyon, Ohio. 2004
Select Academic Awards
Fund for Faculty and Curriculum Development (with Kara Beauchamp), Cornell College. 2014.

Campbell McConnell Sabbatical Fellowship, Cornell College. 2011
Student-Faculty Collaborative Research, Cornell College. 2010

ACM Face Grant Phase II (with Carol Enns and Joan Erickson), ACM. 2010

Emil and Rosa Massier Award in the Social Sciences, Cornell College. 2009

Fund for Faculty and Curriculum Development (with Emily Walsh), 

Cornell College. 2008

Individual Travel Grant, GCLA Fund for the Study of Japan. 2007.

Faculty Appreciation Award, Antioch College. 2005.

Community Action Grant, Grrrlz to Womyn Program Technology Initiative, AAUW (American Association of University Women) Educational Foundation.  2002-2003.


Grrrlz to Womyn Grant, KnowledgeWorks Foundation, Cincinnati, Ohio. 2002.

The Martin P. Levine Memorial Dissertation Award, Sex and Gender Section, 

American Sociological Association. 1999-2000.

Zora Neale Hurston Prize for Best Essay (co-winner), Studies in Women and Gender Program, University of Virginia. 1998.