Classical Iowa presents how the Greek and Roman world has influenced and continues to shape the cultural contours of our state.
What's in a Name? Iowa Cities with Classical Roots
It is not unusual for people to think that Iowa is a rather homogeneous state. And it is sometimes a challenge to get people to look a little more deeply at the diversity of Iowa's first settlers. Yet take a look at the names of Iowa cities, and one quickly realizes that the names of Iowa's towns and cities reflect Iowa's diverse heritage.
For example, Maquoketa and Muscatine, Oskaloosa and Ottumwa reflect Iowa's first inhabitants. Belle Plaine, Bellevue, and Bonaparte point to the importance of French fur traders and explorers in Iowa's early history. Names like Luxemburg and Luzerne are a sign of settlers' desire to establish a little piece of the Old country in this new land. Even the gods Thor and Woden have given their names to Iowa towns!
Yet no one should overlook the importance of Latin and Greek in the naming of Iowa towns. Nearly 50 Iowa towns have their names rooted in the Classical world—not to mention another dozen and a half possibilities. Towns have been named after famous Greek and Roman leaders, such as Alexander and Numa. Or mythological figures, such as Arion and Clio. Many take their names from places in the ancient world ranging from as far west as Atlantic, north to Batavia, south to the ( Nile?) Delta, and east to Persia. Others have their roots in Greek or Latin words, such as Albion and Floris.
When one looks at the list, some questions arise. In fact, one could easily construct a top ten list.
10. Does Alta have a higher elevation than Superior?
9. Is Cresco's population increasing faster than the rest of the state's?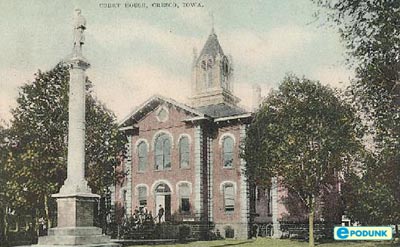 Cresco, Iowa, county seat of Howard County, est. pop. 3840
8. Which town can claim being the center of the state, State Center or Mediapolis?
7. Why is Marathon's cross country team so rarely represented at state? Is a cross-country course too short for them to run?
6. Are the farmers around George as upstanding as Georgos in Menander's Ill-Tempered Man?
5. Are the people of Urbana particularly well-bred?
4. Who would win in a football game between Victor and Vincent?
3. Was Tripoli formed as the result of a synoikisis of three cities?
2. Is the mascot of the Central Decatur Junior-Senior High School in Leon a Lion?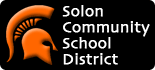 1. And the number one question is: Why does Solon, presumably named after the Athenian lawgiver, use "Spartans" as its team nickname?
If your students can answer these questions or can discover more about these towns and their connection to their Latin and Greek roots, send the results to John Gruber-Miller, Amicitia Editor, and I will post their findings in the spring Amicitia newsletter.
There are 947 cities in Iowa of which more than 870 belong to the League of Cities. Population sizes range from quite small ( Beaconsfield, pop. 11) to quite large ( Des Moines, pop. 198,652).
Iowa League of Cities, http://www.iowaleague.org/
Iowa Cities with Classical Names

Akron
Albion
Alexander
Alta
Andrew
Arcadia
Arion
Atlantic
Aurelia
Aurora
Batavia
Calamus
Carbon
Castalia
Castana
Chariton
Cincinnati
Clio
Colo
Corydon
Crescent
Cresco
Cylinder
Delta
Diagonal
Etna
Floris
Geneva
George
Gravity
Iconium
Ionia
Leon
Macedonia
Marathon
Marcus
Mediapolis (or State Center)
Milo
Minerva (NE of State Center)
Minerva Valley
Numa
Panorama Park
Pella
Persia
Rhodes
Rome (pop. 113; west of Mount Pleasant)
Solon
Superior (pop. 142, on MN border)
Tripoli
Urbana
Valeria
Victor
Vincent

Iowa Cities with Possible Classical Names

Albia
Alta Vista
Alton
Anthon
Arispe
Atalissa
Avoca
Centralia
Clare
Clarion
Delphos
Dike
Elgin
Eldora
Fertile
Fontanelle
Meriden
Panora
Ventura