Demeter and Persephone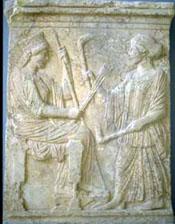 Demeter and Persephone

As Archidamos and Peloponnesians ravage the countryside around Attica, they pass through the site of Eleusis and the Thriasion Plain, the home of a major cult to Demeter and Persephone. Read about the goddess and her daughter, as the story is told by a Greek mythographer of the 1st or 2nd century:
Greek text of the Story of Demeter and Persephone
Notes to elucidate the story
You can also find the text in Perseus: Library of Apollodoros 1.5.1-3. If the link does not work, copy this link into your browser window: http://www.perseus.tufts.edu/cgi-bin/ptext?lookup=Apollod.+1.5.1
Photo credit: Marble relief sculpture, Archaic, courtesy of ArtServ at the Australian National University: http://rubens.anu.edu.au/index.html.