Sociology & Anthropology Off-campus Study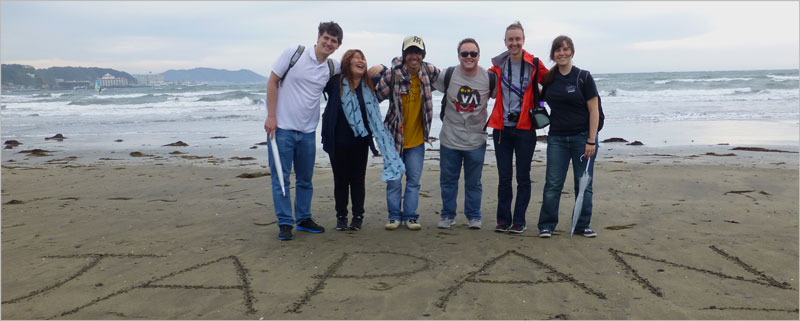 Off-campus courses in sociology and anthropology provide you with opportunities to immerse yourself in an unfamiliar culture, to meet directly with community organizations and non-profit groups, or to work in the field.  
Sociology off-campus courses
In two sociology courses (Families and Family Policy; and Community Organizing, Public Policy, and Change) you have the opportunity to spend 1-2 weeks in Chicago learning from community leaders and organizers working on issues of poverty, violence, education, housing, and community development.
You can also travel to Japan for a block with professor Erin Davis to learn about Japanese culture, human rights, and public policy issues. Learn more and view photos
Closer to campus, students also participate in a wide range of field trips, such as visiting a local Community Supported Agriculture Farm, the Willis Dady Emergency Shelter, the women's center at St. Luke's Hospital, and the BodyWorlds exhibit at the Minneapolis Museum of Science.
Anthropology off-campus courses
In Archaeological Field Methods, you can conduct daily archaeological fieldwork at a local field site under the guidance of Iowa State Archaeologist John Doershuk. Following the course, students frequently assist Doershuk in his Iowa City research lab during independent study blocks or for summer research.
In Anthropological Field Methods, you take what you've learned in the classroom and conduct original ethnographic research on the cultures and histories of the people of the region. Recent anthropology field trips include visits to Hindu temples in Chicago, a mosque in Cedar Rapids, the Race exhibit at the Science Center of Iowa in Des Moines, the clinic of a local acupuncturist, area ethnic grocery stores, University of Iowa Hospital, and a regional ayurvedic medical facility.
You may also choose to join Professor Misha Quill, who joined the Cornell faculty in 2015, for anthropology courses abroad. During Anthropology of Tourism, students observe the effects of tourism, development aid, and other social forces in the Bahamas. Professor Quill  is currently developing additional block-long study abroad courses in the Republic of Ireland and India.
Semester opportunities
Semester-long off-campus options, such as those offered by the Associated College of the Midwest (ACM), are also an option for off-campus study.
ACM study abroad semesters
ACM Botswana: Development in Southern Africa

ACM Brazil: Culture, Community, & Language

ACM Costa Rica: Field Research in the Environment, Social Sciences, & Humanities

ACM India: Culture, Traditions, & Globalization

ACM Tanzania: Ecology & Human Origins