368. Environmental Politics
October 2013
Dr. Craig W. Allin, Instructor
Meaghan Yamanishi, Consulting Librarian
Laura Farmer & Shawn Doyle, Writing Consultants
Jessica Johanningmeier, Quantitative Consultant
The interactive widget above estimates a wide variety of environmental indicators in real time. Check it out.
On Friday, September 27, 2013, the IPCC released its "Summary for Policy Makers" of its Fifth Assessment Report, the first since 2007. Click here to read the summary. [Note: All graphics referenced in he text are grouped at the end of the summary.] Click the image to visit the IPCC web site.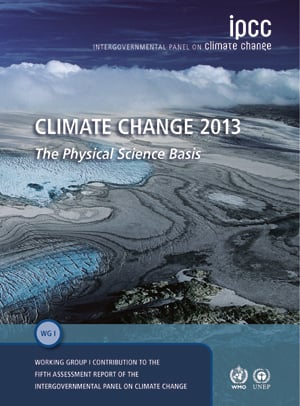 For regular updates on how this issue plays in Washington, check in with Coral Davenport, the National Journal's Energy & Environment Correspondent.

EDUCATIONAL PRIORITIES AND OUTCOMES
Knowledge: Students will integrate and apply knowledge from disciplinary and interdisciplinary perspectives in the humanities, sciences, and social sciences to questions of environmental politics and policy.

Inquiry: Students will respond to the complexities of contemporary and enduring environmental problems using information literacy tools, research skills, creative thinking, and analysis.

Reasoning: Students will evaluate evidence; interpret data; and use logical and statistical problem-solving tools.

Communication: Students will speak and write clearly, listen and read actively, and engage with others in productive dialogue. Students will present their own work and the work of others both orally and in writing.

Intercultural Literacy: Students will connect with diverse ideas and with people whose experiences differ from their own and that may be separated from them by time, space, or culture. Students will consider issues of environmental justice in national and global contexts and in intergenerational terms.

Ethical Behavior: Students will recognize personal, academic, and professional standards and act with integrity.

Vocation: Students will discover and prepare for the range of environmental opportunities and challenges that await them beyond their college experience.
---
ADMINISTRATIVE MATTERS
Feedback: Whether or not you are asked to complete a standardized course evaluation, I am interested in your comments and suggestions for improving the course, the readings, the assignments and this course description. Feel free to send comments as you think of them. E-mail: callin@cornellcollege.edu.
Instructor: Craig W. Allin, Room 113, College Hall. Telephone: Office, (319) 895-4278; Cell, (319) 431-1100. E-mail callin@cornellcollege.edu. Appointments may be scheduled with faculty secretary Cheryl Dake 895-4283, cdake@cornellcollege.edu.
Classroom: South 300.
Class Hours: Class meets every afternoon from 12:30 -3:00 and some mornings. For details refer to the Course Calendar & Assignments page. It is possible that this class may fall short of the 50 hours of classroom contact normally associated with a four credit-hour course on the OCAAT calendar. It will, nevertheless, more than meet the Department of Education's credit hour requirements, which specify "an amount of student work for a credit hour that reasonably approximates not less than one hour of class and two hours of out-of-class student work per week over a semester." See the section on Requirements (below) for a rough estimate of the minimum out-of-class effort required by this course (about 120 hours).
Office Hours: If I'm not in class with you, you can probably find me in my office. Feel free to make an appointment or just show up.
Core Texts: The following books are available for purchase at the Cornell College Bookstore. Each is assigned in its entirety.
Walter A. Rosenbaum. Environmental Politics and Policy. 9th Edition. Washington, D.C.: CQ Press, 2013. ISBN: 9781452239965

Norman J. Vig and Michael E. Kraft, eds. Environmental Policy: New Directions for the Twenty-First Century. 8th Edition. Washington, D.C.: CQ Press, 2012.
ISBN: 9781452203300
Supplementary Texts: The following books are also available for purchase in the bookstore. The class will be divided into panels, and each panel will be responsible for reporting on one book. Do not purchase any of these books until you have your panel assignment. These books approach environmental politics from sociological, political and economic perspectives. They are selected because they are recent, provocative, relatively short, and relatively inexpensive. Two of the four focus on the politics and policy of energy use and climate change. Panel assignments will be made on the first or second day of the course. I recommend that you think about your preferences before the class starts. (If you are registering for this class to fulfill a requirement for Ethnic Studies, plan on choosing Environmental Refugees.) To find our more about each of the supplementary texts, just click on the book's cover below.
| | |
| --- | --- |
| | |
| | |
| --- | --- |
| | |
Internet Resources: The Home Page for the Politics Department contains a wealth of valuable information including programs and requirements of the Department of Politics; information about Politics Courses; and research links for politics, government, and law. There are also free Internet News Services that can be very helpful if you have your own computer connected either to the Cornell Network or to an Internet Service Provider. For this course I recommend the Environmental News Network at http://www.enn.com/ . You can subscribe for free delivery of environmental news daily by e-mail. ENN also maintains searchable archives.
.
---
COURSE OUTLINE
Introductory Case Study -- The Politics of Planetary Health: video on the science and politics of global warming. This quick start should serve to get us in the mood for environmental politics and remind us that the stakes are rather high.

Introduction to Environmental Politics -- Using Rosenbaum as our guide, we will explore the history and structure of environmental politics in the United States. This is a standard text for courses in environmental politics and policy. We will read it over a four-day period. You will not be able to absorb all it has to offer in that short span of time, but you will get a broad foundation on which to build. Completing this book quickly will introduce you to the wide variety of topics that fall within the environmental politics rubric and introduce a large number of policy issues that you might want to explore in your individual projects.

Excursions in Environmental Policy -- Panels of students will present and evaluate the arguments made by authors of our supplementary texts. This portion of the course will allow us to learn from each other and to hear from authors representing a variety of approaches to a variety of issues. During this period you have no formal reading assignments. If you are wise, you will take advantage of this time to put major energy into your policy paper and/or read ahead in the Vig & Kraft book.

Issues of Environmental Policy -- Following Vig & Kraft, we will explore a variety of issues in environmental policy for the 21st cenury. This anthology is often used in graduate as well as undergraduate courses in environmental policy, and these somewhat more sophisticated articles will provide an opportunity to refine our understanding of the policy process and some of the issues raised by it.

Cases on Point -- Students will share the results of their own individual research and analysis. These presentations will allow each of us to learn from someone who has developed relative expertise on an environmental issue of her/his own choosing. Selected members of the class will evaluate each presentation.
---
Students are expected to attend all classes and to complete all assignments prior to class time on the day for which they are assigned. You should read carefully and be prepared to discuss all the assignments intelligently. You should also be on the look out for relevant news. One portion of the course grade will reflect the instructor's evaluation of your attendance, participation, and effort. Assigned reading approximates 1,000 pages of fairly technical material, approximately 60 hours including notetaking.
Each student will participate in a panel report during the second week of the course. See Group Study & Report for details. Both the performance of your group and your contribution to that performance will count for a portion of the course grade. Group meetings, planning, writing, slide preparation, and rehersals will likely consume 10 hours in addition to the required reading.
There will be a comprehensive final examination covering all the course's assigned reading and the panel reports. For the purposes of the exam you may bring and use unlimited notes so long as they are composed by you and written in your own hand. Study groups and group preparation for the exam are encouraged, but duplicated or "group notes" may not be used in the exam. Preparation time approximately 5 hours.
Each student will complete a major research project on an approved topic. See Individual Project Assignment for details. To encourage you to exercise your quantitative skills, individual projects that involve original data analysis will receive a grade boost on the initial submission. Bonuses may range from 5 to 20% depending upon the sophistication of the data analysis and its importance to your project. This project is subdivided below with projected minimum hours. Term Project: Research Question and Bibliography = 6 Hours
Term Project: Research and Outline of Contentions = 20 Hours
Term Project: 12 Page Policy Paper = 12 hours
Term Project: PowerPoint and Oral Presentation = 4 Hours
Term Project: Policy Paper Rewrite = 2 Hours
Classroom Contribution

Panel Report

Final Examination

Policy Paper

Seminar Report

Policy Paper Rewrite

Total
---
"He who knows only his own side of the case, knows little of that."
--John Stuart Mill, On Liberty (1859)
Learning Objectives:
To enhance your knowledge of a specific area of environmental policy.

To enhance the class's knowledge of a specific area of environmental policy by means of your report.

To improve your knowledge of research methods and materials including government documents and specialized indexes.

To improve your skills in persuasive writing including grammar, punctuation, spelling, mechanics, usage, and documentation using a recognized style sheet.

To improve your writing through your responses to constructive criticism.

To improve your confidence and skill as a public speaker.
Assignment: Your job is to write a policy paper of 2,500 to 4,000 words in length exclusive of abstract, illustrations, notes, bibliography, appendices, etc. Your paper must deal with a significant environmental policy question about which you have not previously written a college level paper and which is, or ought to be, on the agenda of American politics at the national, state, or local level. If in doubt, consult.
Public Policy & Policy Papers: A "policy" is regular practice or a clear course of action. (E.g., it is the policy of Cornell College to issue grades once a month.) A "public policy" is any policy adopted by a government. (E.g., it is the policy of the United States to prohibit hunting in national parks.) A "policy paper" is a concise document that recommends a public policy and argues for the adoption of that policy. Your policy paper--and the seminar report, which will be produced from the same materials--will be developed through five stages. The deadlines for each stage are listed on the Course Calendar and Assignments page.
Stage I -- RESEARCH QUESTION & BIBLIOGRAPHY: Send an e-mail attachment (with a copy addressed to the consulting librarian for social sciences) describing your research question and providing a properly documented working bibliography for that topic.
Selecting a research question requires that you identify a topic appropriate for inquiry and susceptible to a public policy recommendation.

So what's a good topic?

One that is consistent with assignment: Your paper must deal with a matter of public policy within the Constitutional power of some officer, agency or institution of the United States federal, state or local government.

One that is interesting to you.

One where you have no preconceived bias to blind you.

One that is narrow enough to allow relatively thorough research.

Exactly how narrow more art than science.

If your topic is too broad, your research will be unfocused and superficial.

If your topic is too narrow, you won't find the information you need to proceed.

You need to strike a balance based on preliminary exploration of your topic.

In this wired world, it is probably easier to be too broad than too narrow.

Here are some topics that are too broad:

Endangered species

Environmental protection

National park policy

Yellowstone National Park

Federal wolf management

Ranchers' rights

Threats to livestock

Economics of cattle ranching

And here's one that has something to do with all of the topics above but is apropriately narrow:

Whether the Yellowstone wolves should be protected when they leave the park.

Notice that the formulation above is more than just a topic: it is a research question. Should they be protected or shouldn't they? Let's go examine the evidence and reach a conclusion. Doing the hard work of answering your policy question will result in the policy recommendation required in Stage II.
Make sure your research question begins with the word whether and raises a specific issue.
Your bibliography will continue to evolve throughout your research and writing, but the working bibliography you submit at this time should demonstrate that you have located and have access to high-quality information relevant to your research question. In most cases your working bibliography should include some mix of scholarly books, articles in scholarly journals, and primary sources such as laws, court cases, census data or polling results. If the sources you can locate are primarily secondary and non-scholarly, i.e., journalistic, seek help in finding better sources or choose a new research question.
Choose one of the approved style sheets and label your working bibliography to indicate which one you have chosen.

This assignment is not graded, but failure to complete it in a timely fashion will negatively affect your class participation grade.
Stage II -- POLICY RECOMMENDATION & CONTENTIONS: Prepare a document stating your policy recommendation with precision and setting forth an outline of the contentions you intend to make for it. Print two copies and bring them to your individual paper conference on Monday.
The policy recommendation is the paper's thesis. The outline of contentions previews your paper's anticipated structure.

Please note that articulating a good policy recommendation requires that you have done the research required to answer your research question with some specificity. For example: "The wolves that have been introduced to Yellowstone National Park should have the full protection of the Endangered Species Act as they spread beyond the park's boundaries."

Remember your policy recommendation must be within the legal power of some officer, agency or institution of national, state, or local government in the United States.

This is the point at which trouble most often arises, so before you submit your policy recommendation and contentions, examine them carefully using the criteria set forth in Getting from Research Question & Bibliography to Policy Proposal & Contentions.
Before you organize your contentions into an outline, consult A Good Argument Is a Hierarchy of Contentions.

This assignment is not graded, but failure to complete it in a timely fashion will negatively affect your class participation grade.
.
Stage III -- POLICY PAPER: Send an e-mail attachment presenting your recommendation and supporting arguments in a formal paper with appropriate manuscript format, proper citations, etc. Remember, you are being asked to take a position and make a case for it. A good policy paper consists of a clear policy recommendation supported by strong arguments supported by unimpeachable evidence. A good policy paper will be:
Persuasive: You must state a conclusion and back that conclusion with reasoned argument. Your mission is to persuade the reader, and the better the argument, the higher the probability of success.
Well Researched: Your arguments must be firmly rooted in careful research. You must have a command of the relevant facts. You must understand your own position, the positions of those with whom you disagree, and the relationship of the facts to each.
Concise: A good policy papers is not always brief, but it must be concise. That means no padding and no B.S. The typical audience for a policy paper is a judge, a corporate executive, or a high government official. If your policy paper does not get to the point quickly and move the argument forward relentlessly, you are unlikely to get and hold the attention of your target audience. If you want to persuade a busy person, do not waste her time. The assigned length of your paper is short in part to force you to be concise. If you don't have to struggle some to reduce your arguments and evidence to the number of words permitted, you probably have not done the research you should have done.
Hierarchically Organized: It will organize the arguments to be made into the strongest possible hierarchy of contentions. Refer again to A Good Argument Is a Hierarchy of Contentions.
Appropriately Documented: Documentation is important for both ethical and practical reasons. Ethically, documentation gives credit where credit is due. Practically, documentation enhances the credibility of your work by demonstrating its reliance on and relationship with credible sources of information. I expect you to use one of the approved styles of documentation and to follow it with care throughout your paper.
Well Written: I will be looking for clear organization of the ideas and arguments; effective use of paragraphs, and subheadings if you like, to orient the reader; good transitions from one part of the text to the next; a conclusion that is both substantive and relevant; and sound grammar, punctuation, spelling and usage.
Professionally Presented: I will also be looking for a paper that has all its component parts appropriately formatted, in proper order, and in the form of a single e-mail attachment.
Consult POLICY PAPERS: How to Succeed for more detailed instructions.
For a sample of a real policy paper written by a real Cornell student that earned a grade of A, please click here.
Stage IV -- Policy Presentation: Your research and recommendation will also be shared with the class in the form of a seminar report. You will have 15 minutes to make your presentation. You will not have sufficient time to read your paper, nor would it be appropriate to do so. You will want to rework your material, including text and illustrations (if any), for the most effective possible oral presentation. See POLICY PRESENTATION: How to Succeed.
Selected classmates will provide you with critiques of your oral presentation. So will I.


Note: the Cornell College Student Symposium is an excellent opportunity to showcase your best work to a larger and more diverse audience. It also looks good on your resume. If you have made yourself proud on this assignment, consider submitting your project for next year's symposium. You've already written the abstract and prepared the oral presentation! Consult the Student Symposium web site for deadlines and details.

Stage V -- Policy Paper Rewrite: After receiving a written critique of your policy paper, you will rewrite and resubmit the paper making as many improvements in substance and presentation as you can manage. The rewrite should be better than the original paper. After all, you will have had the benefit of expert editorial advice. As a practical matter, a conscientious effort to address the technical problems that have been identified in your paper will preserve your grade. More substantive improvements will enhance your grade.