Rho Zeta Omicron – ΡΖΟ – Rhozes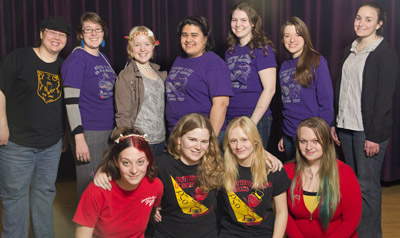 The youngest sorority on campus, Rho Zeta Omicron was chartered in 1999 with eight values and a strict abstinence from alcohol policy. However, after a few years the alcohol policy was amended, allowing members to drink, but not at official Rhoze events or in letters and never in violation of their Personal Responsibility Statements, individualized conduct guidelines drawn up and signed by each member every pledge period. 
Today, they are a non-drinking sorority dedicated to responsibility, individuality, creativity, health and well being, peaceful action, academics, leadership, and service. Under their motto "Be Nobody but yourself," the Rhozes encourage members to pursue outside interests as well as group goals. Although the Rhozes accept only women as active members, men can become honoraries. 
The Rhozes' service projects tend to be centered around the passions and values of their current membership, with their most recent projects benefiting Out of the Darkness (a suicide and depression awareness campaign) and Relay for Life. Past projects have included fundraising and donations to Heifer International, Gems of Hope, and Angel Tree.
Contact: Maeve Ward or email them at rhozes@cornellcollege.edu