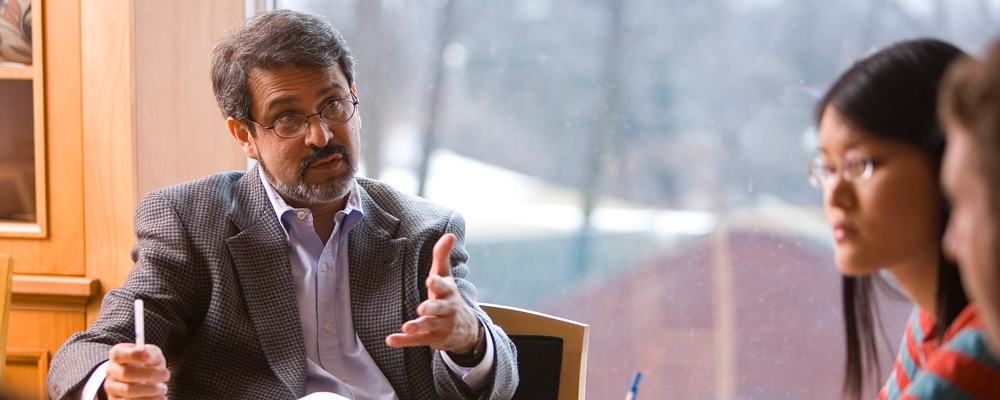 When you pursue a business major at Cornell you will complete a common set of core courses in economics, accounting, and statistics. From there you will choose from one of three concentrations:
You can explore business courses throughout your first year at Cornell, and then start down a pre-professional path early into your second year.
Developing business leaders for the 21st century
Modern businesses require leaders with a range of skills, a broad worldview, and the ability to adapt quickly to new challenges and opportunities. Rooted in the liberal arts and taking advantage of Cornell's One Course At A Time curriculum, you will develop skills and experiences that are essential for your first job, and that prepare you for greater responsibility as your career thrives.
In Cornell's business program, you will:
Learn multiple ways of framing problems, not just bottom-line calculations.
Develop strong writing, teamwork, and presentation skills in small classrooms.
Become a responsible decision-maker, with a complex understanding of the global community.
Become career-ready in emerging and high-demand business fields, while gaining solid preparation for nationally recognized business certifications.
Apply mathematical ideas to a range of social and business problems, frequently using real-world business cases or simulations.
Business major concentrations
The specialized business tracks are perfect for students wanting a deep dive into specific business functions. If you are intrigued by the movement of money and data within and across businesses, the business major is a great place to start your course of study. As you explore, you may find that you are drawn further into the budgeting and pricing area and focus on finance. Digging into the data behind consumer, supplier or investor behaviors may pull you into the business analytics track. An even deeper interest in numbers and risk analysis may lead to the study of actuarial science.
Degree options in business
Business major: finance
Business major: business analytics
Business major: actuarial science
Business minor
Business careers
Students who pursue a business track find themselves in a variety of careers. According to a study by PayScale, average mid-career salaries for these positions can be:
Accountant, $49,172
Actuary, $81,000
Business operations manager,$71,053
Financial manager, $69,496
Financial analyst, $58,022
Financial advisor, $57,676
Compliance officer, $64,957
Fundraiser, $48,480
HR specialist, $48,026
Loan officer, $44,619
Logistician/supply chain analyst, $57,027
Management analyst, $64,220
Market research analyst, $50,679
Medical and health-services manager, $64,952
Operations-research analyst, $99,054
Statistician, $70,435
Mentoring and career preparation
Throughout your college career, your advisor will be your advocate. Your advisor will help you determine your ongoing course of study and evaluate your academic progress and options. Your advisor will also push you to engage with the resources of the Berry Career Institute. There you can receive personalized career guidance as well as find internships and job shadowing opportunities. The institute will also help you prepare for graduate school placement exams, interviews, and networking opportunities with alumni in your chosen field.
Benefits of One Course At A Time
Because of the distinctive block calendar, you have the opportunity to experience aspects of economic and business life that are outside the reach of most undergraduates. Textbooks come alive when you meet the people, visit the places, and directly observe the processes being studied. In addition to venturing off-campus for your studies, you'll get to meet business leaders, best-selling authors, and scholars in on-campus classes. 
Block-long, off-campus study opportunities are offered in Argentina, Chicago, Shanghai, and Dallas.