Oral Interview Project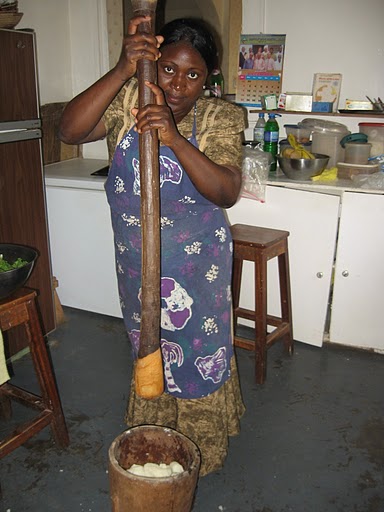 Martha pounding yams for lunch
Nigerian Women Interviewed
| | | | | | |
| --- | --- | --- | --- | --- | --- |
| | Name | Status | Urban vs. Rural | Education | Age |
| 1 | | Domestic Staff | Urban | Medium | 33 |
| 2 | | University Administrator | Urban | High | 51 |
| 3 | | High School Student | Rural/Urban | In progress | 16 |
| 4 | | Village: Widow | Rural | Low | 70? |
| 5 | | Village: Mother | Rural | Low | 30 |
| 6 | | Village: Girl | Rural | In progress | 15 |
| 7 | | HIV+ Second wife | Rural/Urban | Medium | 29 |
| 8 | | Completing University Degree | Urban | High | 33 |
| 9 | | HIV+ Divorce | Urban | Medium | 21 |
| 10 | | University student | Urban | High | 29 |
| 11 | | Male Driver | Urban | Low | 41 |
| 12 | Mary | Bature Missionary | Urban | High | 55 |
More photos from Nigeria (Katrina Korb)
Goals of the project
Get to know a grandmother, aunt, or older woman (older than 60) and her experience growing up as a woman in an earlier era
Create communities--the women interviewed, the members of your small group
Recognize similarities and differences among women from different cultures, eras, and geographical locations
realize that individual women, even in a particular culture, experience the world in different ways and that they do not all share the same world view
begin to hypothesize the reasons for cultural patterns
recognize the importance of particular factors in a woman's life (e.g., education, positions of authority, legal rights, ownership of property, female-to-female relationships, historical and life events) in shaping their experience
Learn how to interview others and create a podcast
Part 1: Preparing for an oral interview
Read quickly through 4-5 of the Nigerian women interviews above to get a sense of how interviews may have different emphases, evoke personal responses and anecdotes, and reveal different types of experiences, based on the personality, sense of decorum, and life story of the woman. Then read the interview questions and think about how you might phrase your own questions to get at this information and how might you follow up on these questions and develop a connection with the woman you plan to interview.
Each group will submit one set of approximately 10 interview questions that you think will help you address your larger topic, e.g., religion, women's bodies, foundation stories, etc. You may also include questions that may ease you into the topic or you may also add follow-up questions. These questions are meant to function as a rough guide to the actual questions that you may ask your subject and help your group in getting interviewees all speaking to the same issues. Due: 1st Friday
Part 2: Recording the interview
Before the actual interview, contact the woman you plan to interview and explain the project with them. Ask for their permission to use the interview with the rest of the class and/or the world via the Internet. On the day of the actual interview, begin with a conversation like you might normally have with your subject to set them at ease and help them open up to your questions. Due: 2nd Thursday or Friday
Part 3: Creating a Podcast
After listening to the three women that your group has interviewed, listen for patterns among their responses. Then begin to collect your favorite moments, stories, and quotations that reveal each women's personality. Finally, consider how you might organize their stories, and reflections into a whole. Before editing the actual sound files, write up a script that shows where you are headed, along with the time markers for each quotation so that you have an idea how much time all these clips add up to.
In the end, you will post the transcript alongside the podcast. There should be a short introduction with the topic and general questions discussed. The Intro should also name the women interviewed, their hometown/background, and age. Please be sure to include the names of the speakers throughout the podcast so that listeners and readers can hear whose voice is speaking. It is also possible to include headings of various sections in square brackets to help the reader of the transcript follow along. Draft transcript due: 3rd Tuesday. Ten minute Podcast due: 3rd Friday. Final Transcript due: 3rd Friday.
Part 4: Letter to Woman Interviewed
As you interviewed an older woman and got to know her better, you undoubtedly discovered her interests, attitudes, and experiences as a woman growing up in the early to mid 20th century. You also asked her if there were any aspects of the lives of ancient women that she wanted to know more about. In this stage of the project, it is time for you to respond to her with a long letter that answers her questions and responds to her interests, attitudes, and experiences.
In writing this letter (4-5 pages, double-spaced), it is important to have a clear outline of where the letter is going and a clear way of unifying what you are saying, all the while not being too formal or pedantic. Remember, this is a letter to someone you know and care about! Write it so that she will find it interesting, informative, and responsive to her life. By referencing her experiences, you can then segue into a discussion on the same topic as experienced by ancient women. Draft due: 3rd Thursday or Friday before conferences. Final version due: 4th Monday.
Part 5: Reflection on the Project
Now that you have worked through the first four stages, it is time to reflect on the successes and challenges of the project. In 2-4 pages, think about how the interview went, what you learned from it, and how it might have been better. How did formulating questions to ask in the interview help you translate your research topic into language that addresses the same basic questions today? How did making the podcast help you understand this topic from multiple viewpoints? Think about what you learned, finding similarities (and differences) in the lives of women from different eras, cultures, experiences, backgrounds, and geographical locations. Re-examine the article by Amy Richlin, "The Ethnographer's Dilemma," and situate yourself within the various epistemological and attitudinal frameworks that she lists. Has your position changed since the beginning of the course? Why or why not? In short, why should someone study women in antiquity? Finally, evaluate your role and the other members of the group. What did each of you contribute? How well did you work together? Due: 4th Tuesday.