CLA 2-216A-2005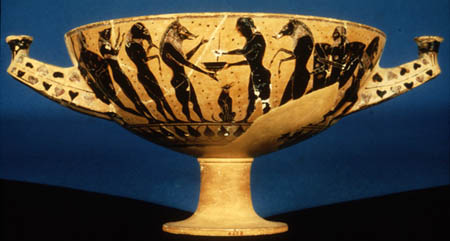 Odysseus and his men encounter Circe
Instructors: John Gruber-Miller, 312 College Hall; phone: x4326; email: jgruber-miller@cornellcollege.edu
Mariah Steele, Writing Consultant, 124 Cole Library; phone: x4509; email: msteele@cornellcollege.edu
Jennifer Rouse, Arts and Humanities Consulting Librarian, 307 Cole Library; phone: x4466; email: jrouse@cornellcollege.edu
Holly Martin Huffman, Academic Media Consultant, 212A Cole Library, phone x4125; email: HMartinHuffman@cornellcollege.edu
Class meetings: M-F 9-11:15 a.m. and 1-3 p.m.
Office Hours: M W F 11:15-12 noon and always by appointment.
Required Texts:
Stepahnie Dalley, trans. Myths from Mesopotamia. Creation, The Flood, Gilgamesh, and Others. Oxford, 1989.
Stanley Lombardo, trans. Hesiod. Works and Days and Theogony. Hackett, 1993.
A.D. Melville, trans. Ovid. Metamorphoses. Oxford, 1986.
Susan Shelmerdine, trans. Homeric Hymns. Focus, 1995.
Stanley Lombardo, trans. Homer. Odyssey. Hackett, 2000.
David Grene and Richmond Lattimore, eds. Greek Tragedies. Vol. 3 (Aeschylus Eumenides, Sophocles Philoctetes and Oedipus at Colonus, Euripides Bacchae and Alcestis. Chicago 1960.
Naomi Iiuka. Polaroid Stories. Dramatic Publishing, 2000.
Goals:
Introduction to the some of the most famous and most important myths, legends, and folktales of the ancient world.
Introduction to the literature of ancient Greece and Rome.
Understanding of how to read various types of literature and how to interpret myths, legends, and folktales.
Understanding of the relationship between ancient and modern myth, and why myths continue to speak to us today.
Opportunity to explore important human questions about divinity and humanity, life and death, female and male, rational and irrational, freedom and necessity, etc.
Development of your ability to write well
Ability to gather, use, and evaluate materials both from the library and the World Wide Web.
Ability to create and design functional webpages.
Course Format
In general, mornings will be devoted to examining and discussing the assigned texts we are reading. Getting used to Homer's oral style, the conventions of Greek tragedy, Ovid's wit and allusive style, and becoming familiar with the many gods and goddesses in Greek and Roman mythology can be challenging, but I will assist you with handouts and brief lectures to orient you. Along the way, we will be concerned with what it means to be a hero, both in ancient Greece and today, why mythology is concerned with creation, and finally, why myths are so susceptible to change and transformation, being told and retold.
Some days, we will focus on topics related to writing and research, such as reading critically, writing strong thesis statements, or locating reliable sources on the internet or the library, or creating webpages. On these days, Cornell's Writing Associate, Mariah Steele, or Cornell's Humanities Consulting Librarian, Jen Rouse, or Cornell's instructional technology specialist, Holly Martin Huffman, will facilitate these classes.
Throughout the course, you will learn to share and express ideas clearly and effectively, to collaborate, to critique others' ideas, and to give and receive criticism about your own ideas and writing.
Course Requirements
Class attendance and participation: We learn from many sources: our common readings, each other, our discussions, workshops, and our research. Since much of what we learn comes through sharing our ideas with others, it is crucial to the success of the course to come to class every day and to participate actively, collaboratively, and respectfully.
Response Papers: Three of the hardest things about writing well is choosing a topic, finding evidence from the text, and developing your ideas. Twice a week, I will ask you to write a 1-2 page response/discussion/reaction to the assigned reading. These papers are designed to help you choose a topic or question you have about the reading and to explore how this idea affects your understanding of the text. You may write about a particular scene, character, theme, image, or simile. Or you may wish to compare it to another part of the text, to another text we have read, or to your own personal life. You may answer one of the study questions or you may come up with your own idea. These response papers may even provide the springboard for one of your papers. They need not be polished essays, but they should focus on one topic and demonstrate that you have asked good questions about the readings and that you have supported your ideas from the text.
What They Are Not:
What They Are:

Hurried.

Thoughtful and engaged with the text.

Rambling without a clear focus.

On one main topic; coherent.

1-2 pages of plot summary.

Only a paragraph.

1-2 full, letter-sized pages of writing, asking good questions, and pushing the ideas as far as you can.

Illegible.

Typed.

Response papers are always due at 9:00 a.m. on the day they are due. All papers should be typed, 1.5-spaced, Times or Times New Roman, 12 point font. Sources should be documented in MLA format. Please include page numbers. On the first page indicate which draft (e.g., first, second, or final) you are submitting and the date submitted. Please submit your response paper in two formats: bring a hard copy to class and an electronic copy via email (subject line should be "response paper 1"). To insure anonymity, do not type your name on the first page of the paper, but (hand)write your name and date on the back of the last page. Thanks!
Drafting, Revising, and Workshopping papers are essential parts of the composing process--the same process that all good writers use. We'll spend some time reading and responding to each other's response papers and webpages. In peer workshops, we'll begin by examining a model paper to illustrate the process of critiquing a paper. We'll also discuss ways of responding to papers and webpages that are helpful for writers. Finally, we'll break up into small groups and read other students' papers. In the process, you'll learn to read and respond to each other's work and hopefully apply the same techniques to critique and revise your own writing.
Metamorphoses Project on the transformation of myth through time. In order to understand mythology in antiquity and its enduring relevance, groups of three students each will research one divinity or hero. More detailed instructions will be handed out later, but basically the project will involve the following steps:
research (both in the library and on the WWW) and analysis of the various Greek myths concerning a particular divinity or hero;
research (both in the library and on the WWW) and analysis of the various later transformations of myth concerning the same figure;
creative project by the group showing their response to the divinity or hero they have researched. It may take the form of artwork, drama, music, story, video, etc. Ideally, it should engage one's mind, heart, and spirit.
Grading
Class preparation, class participation, in-class writing, workshops 10%
Response papers 40%
Metamorphoses Project 40%
Writing Portfolio (3 response papers, 1 analysis section from the Metamorphoses project, one peer review of someone else's work, and a self-reflective essay on your writing in the course) 10%
Policies
Attendance: Since our class format is based primarily on discussion and workshops, it is essential that you come to class every day, prepared and ready to participate actively. Any absence after two missed class periods will harm your final grade.
Drafts and Model Papers: Learning how to revise papers is an important element of becoming a successful writer, and peer workshops are an important element in honing your reading and writing skills. The failure to submit a full-length draft when due, submit a model paper when due, or attend a peer workshop, will automatically result in a grade of C or below for that particular paper.
Deadlines: no late work will be accepted. If an emergency or illness occurs, please let me know immediately so that other plans can be arranged.
Academic Integrity: According to the Cornell College Student Handbook, plagiarism is "is the act of taking the work of another and presenting it as one's own, without acknowledgement of the original source." In other words, using others' ideas, words, even sentence structure, without crediting them is a serious academic offense. Plagiarism also includes writing a paper for another person, borrowing or buying an essay and submitting it as your own, or paraphrasing an article but forgetting to document it. Click here for Cornell's policy on Academic Honesty.

Image Credit: Black-figure vase Boston 99.51 Side A: Odysseus and the sorceress Circe. Photograph courtesy of the Museum of Fine Arts, Boston