Web Resources on Ancient Slavery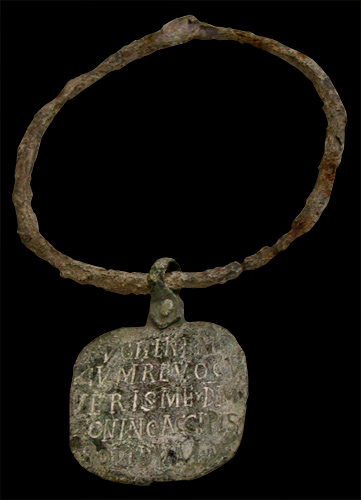 Iron slave collar, Roman, fourth-sixth century CE
The inscription says "I have run away; hold me. When you shall have returned me to my master, Zoninus, you will receive a gold coin (solidus)"
Writing and Citing Sources
OWL Purdue Online Writing Lab has help ranging from getting commas right and forming parallel phrases to dealing with writer's block and forming a thesis to evaluating and citing sources.
Diana Hacker and Barbara Fister, Research and Documentation Online, 5th edition, shows you how to cite sources in MLA, APA, Chicago, and the Sciences
Literature Reviews (UNC Chapel Hill) explains why a literature review and some possible ways to organize one
Helen Mongan-Rallis, Guidelines for Writing a Literature Review (written from a social science perspective, but still quite useful since it offers step by step suggestions)
Dictionaries
Lewis and Short, Latin Dictionary (Perseus)
Glossa: a Latin Dictionary, based on Lewis and Short, provides much more thorough definitions for Latin as it was used from antiquity to the middle ages (a third way)
Texts
Inscriptions and Papyri
Introduction to Greek and Latin epigraphy: an absolute beginners' guide
American Society of Greek and Latin Epigraphy
Browsing Texts about Slaves (Duke Papyri)
Center for Epigraphical and Palaeographical Studies (Ohio State University)
Centre for the Study of Ancient Documents (CSAD), including Inscriptiones Graecae I-II, Oxyrhynchus Papyri, Vindolanda Tablets
Corpus Inscriptionum Latinarum
Epigraphic Database Heidelberg features transcriptions of inscriptions as well as photographs
Elizabeth Meyer, "A New Interpretive Study of the Evolution of Slavery in Hellenistic and Roman Greece," focuses on Greek manumission inscriptions
Latin Abbreviations (common abbreviations in Latin inscriptions)
Prosopographia Imperii Romani, the biographical lexicon of the Roman Empire's ruling classes (Research Centre for Primary Sources of the Ancient World)
Links to other epigraphical and papyrological sites
Archaeology
Digital Augustan Rome (David Gilman Romano) is based on the reearch done originally for the book Mapping Augustan Rome, but is envisioned as a living resource that continually adds new information. It includes maps at 1:6000 and 1:3000 that inlcude over 150 sites. Each site has a separate entry describing it during the time of Augustus.
Imperial Fora Virtual Tour. Tour the fora built by Caesar, Augustus, Trajan, and others (Capitolium.org)
Ostia: Harbour of Ancient Rome
The Rome Project. A vast collection of resources about the Roman world, including archaeology, literature, military, politics, philosophy, religion, theater, and maps of Rome.
Lacus Curtius: Into the Roman World. Includes a Roman Gazeteer, list of 1700 RomanSites, texts, atlas, Smith's Dictionary of Greek and Roman Antiquities, and selections from Platner's Topography of Ancient Rome.
Worlds of Roman Women (Judith Sebesta and Ann Raia)
Roman Law
Overview of Roman Law with links to further resources
Searchable E-texts of Roman law - a collection of Roman law texts, University of Grenoble.
Latin texts of Roman law (The Latin Library)
Roman Law Resources (Ernest Metzger)
Bibliography
American Philological Association annual meeting abstracts. Go to Past Meetings, click on a year, and then use Find (Ctrl-F) to look for your topic.
Classical Association of the Middle West and South annual meeting abstracts
Bryn Mawr Classical Review (on-line book reviews)
De Imperatoribus Romanis. Links to biographies of emperors, family trees, atlas, catalogue of historic battles, and virtual catalog of Roman coins.
Ergastulum, A Dictionary of Greek and Roman Antiquities (1875)
John Porter, The Roman Name
John Madden, "Slavery in the Roman Empire: Numbers and Origins," Classics Ireland 3 (1996).
Rome: Republic to Empire (VRoma)
Spartacus: Historical Background (VRoma)
TOCS-IN: Tables of Contents of journals of interest to classicists contains articles from 1992 on; primarily English language periodicals, but also some books that are collections of articles. A nice supplement to EBSCO, JSTOR, or Project Muse.
Film Sites
Spartacus quotes (IMDb)
Spartacus: Behind the Scenes of a Stanley Kubrick Classic (Life Magazine)