Oral Reports
CLA 3-373-10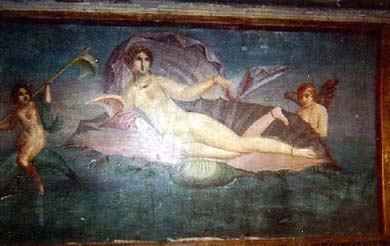 Venus and Cupids, from the Peristyle of the House of Venus, Pompeii
Week 1
for Friday (Rachel Renaud)
Comparing Translations: close reading of Sappho 31 and Catullus 51. How does Catullus transform Sappho's poem? Who becomes the focus? From whose point of view do we hear the poem? How does the relationship among participants change?
Week 2
for Monday
Compulsory Heterosexuality and Lesbian Existence ()
Rich, "Compulsory Heterosexuality and Lesbian Existence," in Blood, Bread, and Poetry (on reserve)
How does Rich define compulsory heterosexuality? To what extent do we see compulsory hetrosexuality in Catullus, Ovid, and Louise Labé? How does Rich define lesbian existence? To what extent do we see lesbian existence reflected in Sappho, Nossis, and H.D.?
for Tuesday
Catullus and his readers ()
Fitzgerald, "Catullus and his Readers,"
How does Catullus place himself in his poems? What audiences are present in his poems? How does he relate to them? What audience can we postulate for his actual readership?
for Wednesday
The Construction of Sexuality in ancient Rome (Sara Sunderland)
Hallett, "Female Homoeroticism," in Roman Sexualities (on reserve)
How is gender constructed in ancient Rome? How does it compare to ancient Athens? How does an understanding of gender in Rome affect our understanding of Ovid, Heroides 15, and Catullus' poems to Lesbia and Juventius?
Contextualizing Love: close reading of Catullus 68 (Emma Meyer)
How does Catullus place the love of Lesbia and Catullus in a larger context? e.g., through myth, ring composition, Roman culture, juxtaposition, etc. What images are linked with this love? How is the relationship valued by each person in it?
for Thursday
The Slavery of Love ()
Kathleen McCarthy in Women and Slaves in Greco-Roman Culture
How does slavery function in Roman culture? How does it function in Propertius' poetry? Why would a man take on the role of slave in relationship in his poems?
Viewing Lovemaking on Roman Vases (Jordan Hite)
Clark, "Representations of Male-to-Male Lovemaking" and/or "Representations of Male-to-Female Lovemaking," in Looking at Lovemaking. Chapters 3, 4. Who is the audience for these images? How might women see them? men? What sort of relationships are depicted? What do they say about Roman attitudes toward lovemaking? How do these compare with lovemaking described in Propertius?
for Friday
Metaphors for Love: a close reading of the journey of love or the soldier of love (Nick)
Choose poems that illustrate either the metaphor of travel (1.17, 2.26, 3.7) or the military (1.6, 2.1, 2.7-9, 2.15, 3.8, 4.8). How does Propertius define the metaphor you have chosen in Book 1? How is the metaphor polyvalent? i.e., have multiple ways of understanding it? How do mythological references in these poems affect your understanding of Propertius' and Cynthia's relationship? How does the metaphor change through the first three books? How does Propertius' relationship with Cynthia get redefined?
Elegiac Mistress: Fiction or Reality? (Rachel Wood)
Either Hallett, "The Role of Women in Roman Elegy," in Women in the Ancient World: The Arethusa Papers, or Wyke, "Mistress and Metaphor in Augustan Elegy," Helios 16 (1989) (on reserve)
Week 3
for Monday
Hermaphroditus and Iphis: Roman ideas of Transgendering?
Zajko, Vanda "'Listening With' Ovid: Intersexuality, Queer Theory, and the Myth of Hermaphroditus and Salmacis" Helios 36.2 (2009) 175-202 and
Ormand, "Impossible Lesbians in Ovid's Metamorphoses," in Gendered Dynamics in Latin Love Poetry.
Gaspara Stampa: a close reading of Elegies 85, 90, 102, 151, 196, and anonymous epitaph (Caitlin Conlon)
Who is Gaspara Stampa's audience? How does she interact with her beloved? To what extent does she echo Catullus and Propertius? How does she negotiate her role as a woman in a male-dominated genre? How do her strategies compare with those of Sulpicia and Louise Labé?
for Tuesday (Miranda Donnellan)
Heracles and Hylas as lovers: a close reading of Propertius and Apollonius
Compare Propertius 1.20 with Apollonius, Argonautika 1.1153-1362. What happens in each? Are they essentially a typical pederastic pair, as we might see in Phaedrus' or Pausanias' speeches in the Symposium? Are there differences due to genre (elegy vs. epic)? Is each version presenting a similar or different view of love? How does their love compare with Jason's and Medea's love for each other?
Medea's Role as lover in Apollonius, Book 3 (Hayley Uzpen)
Clauss, "Conquest of the Mephistophelian Nausicaa: Medea's Role in Apollonius' Redefinition of the Epic Hero," in James J. Clauss and Sarah Iles Johnston, eds. Medea: Essays on Medea in Myth, Literature, Philosophy, and Art
Is Medea a heroine or Jason's helpmate? How do allusions to Odysseus and Nausicaa in the Odyssey help (or hinder) one's understanding of Medea? Does Medea's age (older than Nausicaa) and her actions in the Argonautika perhaps suggest a stronger, more autonomous Medea? Is she Jason's peer? or perhaps better?
for Wednesday (Rachael Campbell)
Ariadne and Medea: a Lover spurned? A close reading of Catullus 64 and Apollonius, Book 4
Compare Ariadne's situation in Catullus 64.52-264 with Medea's in Apollonius, Book 4. How do they help the man just arrived to their land? How do they fall in love? How does the man treat them? How do they respond? What accounts for the differences in the two stories? Is there a generic difference between elegy and epic in the two portrayals?

for Thursday
Who are Chariton's Readers? (John Kinne)
Either Edwards, "Defining the Web of Power," or Egger, "The Role of Women in the Greek Novel: Woman as Heroine and Reader," in Oxford Readings in the Greek Novel
Are we to suppose that Chariton's readers are primarily women, just as they are for modern Harlequins and Gothic romances? What is the ancient evidence for Chariton's ancient readers? What is the evidence from within the novel itself?
for Friday ()
Defining Callirhoe: subject or object?
Either Konstan, "Love in the Greek Novel," differences 2 (1990), or Elsom, "Callirhoe: Displaying the Phallic Woman," in Pornography and Representation in Greece and Rome (on reserve)
Is Callirhoe a new kind of heroine not seen in elegiac poetry? Is she Chaereas' and Dionysius' equal partner? How is her status before the the Great King of Persia defined? How is she viewed by others in the novel? To what extent is she able to act autonomously, at least in her relationship with her husband(s)?