Epic Tradition: Singer of Tales
Instructors: John Gruber-Miller, College Hall 312, jgruber-miller@cornellcollege.edu, ext. x4326.
Laura Farmer, Writing Studio Director, first floor Cole Library, lfarmer@cornellcollege.edu, x4509.
Class Hours: M-F 1-3; 10-11:15 some mornings (see daily schedule)
Office Hours: M W F 11 a.m.-12 noon, and by appointment
Required Texts:
Stanley Lombardo, trans. Homer. The Odyssey. Hackett, 2000.
Sarah Ruden, trans. Vergil. The Aeneid. Yale, 2008.
Joel C. Relihan, trans. Apuleius. The Golden Ass. Hackett, 2007.
Leslie Marmon Silko. Ceremony. Penguin 1977.
Derek Walcott, The Odyssey: A Stage Version. Farrar, Straus and Giroux, 1993.
Goals of the Course
to read with sensitivity a representative sample of epic poems from across the globe (Knowledge, Reasoning);
to explore the performance dimension of ancient epic (Reasoning, Communication);
to come to a definition of epic and its meaning for each community, state, or empire represented in the course (ancient Greece, Augustan Rome, Rome in the second century CE, Laguna Pueblo, the Caribbean) (Inquiry, Intercultural Literacy);
to explore how orality and literacy interact in each of these poems and to what extent orality and literacy shape a culture's way of interacting and interpreting the world (Reasoning, Intercultural Literacy);
to explore questions of heroism, war, time, space, divinity, identity, gender, and ethnicity/community in each work (Inquiry);
to learn to interpret these poems through various lenses: community and identity, power dynamics, gender, orality and literacy, performance, and narratology (Inquiry, Reasoning).
to improve both your verbal and written communication skills (Communication).
Course Format
Discussion, oral and written reports, in-class writing, small group collaboration, workshop, conference. Throughout the course, you will learn to share and express ideas clearly and effectively, to collaborate, to critique others' ideas, and to give and receive criticism about one's own ideas and writing.
Requirements
Class preparation and attendance: For you to get the most out of the course, it is crucial that you come to every class session well prepared. Being well-prepared means not only having read the material, but also having spent time reflecting on it. It also means being ready to participate in class discussion by asking questions, offering opinions, making observations, and trying out arguments.
As you prepare for class, it is a good idea to write marginal notes in your text to remind you of characterization, plot, historical background, recurring themes, significant images, and questions you have about the text. It is also very helpful to get together with others in the class and read the poems aloud to try to understand the action, get into the different characters, etc.
Class discussion: I hope to foster an atmosphere in which students are free to speak their minds. We all (myself included) bring different backgrounds, preparation, theoretical perspectives, and values to this course. We all will learn from many sources: our common readings, each other, our discussions, and our research. It is, therefore, crucial to the success of the course that everyone show respect and courtesy to everyone else in the class, and a willingness to help each other learn and approach this material from new perspectives.
Seven short response papers based on class readings (approximately one every other class day). These essays (no more than 800 words) are meant to be a chance to examine your own views, values and biases within the light of various readings. Each student will write two response papers each of the first three weeks and one the final week. Topics for Response Papers
Reaction papers should involve your ideas, thoughts, and reflections on what you have read. The best ones always attempt to answer a question that is interesting or important to you, the writer, within the guidelines of the topic posed in class. Since they are short, you don't have time to explore all your thoughts on a particular text. Pick one idea and develop it so that it will be clear to someone else in the class (your audience) what your idea is and how you support it. Since these reactions are short, your opening paragraph must get to your main point right away. In the rest of the paper, use examples from the text and your own reasoning to show how you answer this question. They may focus exclusively on the text or they may use the incidents in the text as a springboard to reflections on your own experiences. Rubric for Response papers.
Performance of a scene/oral presentation: Once each week, you will collaborate to perform a scene (3-5 pages) from one of our texts. By looking closely at the scene to be performed and reading it carefully to determine what internal cues are available to determine pace, voicing, intonation, etc., you and your collaborators will discover how the scene should be performed. After the performance, each member of the group must be prepared to explain his/her decisions orally to the class. The performance will initiate a discussion of that scene led by all the members of the group. The group will want to begin its discussion by explaining the structure of the scene, elements of orality or literacy in the scene followed by more specific discussion of one of the following elements, e.g., identity/ethnicity/community, power dynamics, gender, sense of time or space, heroism, friendship, narrative focalization.
If a member of the group knows the original language of the text, they will read a brief portion of the passage (10-15 lines) in meter and comment on significant words, rhthyms, or sound effects in the passage.
Near the end of the course, each group will type a brief written summary of each of three performances. These summaries will help me assess each group, keep a record for posterity, and remind me as I plan the course again. The summary should list a title for each scene, the book and line numbers performed, a paragraph summarizing the highlights of the performance and the goals that the group was trying to accomplish, not to mention any thing that the group wishes it had done better or reconsidered after the performance. It would also be useful if you could comment on how the group grew in its understanding of performance and improved from week to week. These summaries can be turned in the day after your last performance.
Two essays: each essay should be 6-8 pages, typed, double-spaced, documentation in accord with the MLA stylesheet or Kate Turabian. Please read section on plagiarism (pp. 21-22) in the Cornell College Compass. The first will be due the second Saturday and the second will be due on the fourth Wednesday. A rough draft will be due two days before each final draft. (40%; 20% each)
Grading
Three major components will determine your grade:
class attendance, active and sensitive participation in class discussion, oral reports, and oral performances of a scene 25%
seven response papers (800 word limit) 35%
2 papers (6-8 pages, double-spaced) 40%
Policies
Attendance: Since our class format is based primarily on discussion and workshops, it is essential that you come to class every day, prepared and ready to participate actively. Any absence after one missed class period will harm your final grade. If you must miss class, please inform me ahead of time if at all possible.
Drafts and Model Papers: Learning how to revise papers is an important element of becoming a successful writer, and peer workshops are an important element in honing your reading and writing skills. The failure to submit a full-length draft when due, submit a model paper when due, or attend a peer workshop, will automatically result in a grade of C or below for that particular paper.
Deadlines: no late work will be accepted. If an emergency or illness occurs, please let me know immediately so that other plans can be arranged.
Academic Integrity: According to the Cornell College Student Handbook, plagiarism is "is the act of taking the work of another and presenting it as one's own, without acknowledgement of the original source." In other words, using others' ideas, words, even sentence structure, without crediting them is a serious academic offense. Plagiarism also includes writing a paper for another person, borrowing or buying an essay and submitting it as your own, or paraphrasing an article but forgetting to document it. Click here for Cornell's policy on Academic Honesty.
Accomodations for different learning styles: Cornell College is committed to providing equal educational opportunities to all students. If you have a documented learning disability and will need any accommodation in this course, you must request the accommodation(s) from me as early as possible and no later than the third day of the term. Additional information about the policies and procedures for accommodation of learning disabilities is available on the Cornell web site at http://www.cornellcollege.edu/academic_affairs/disabilities/.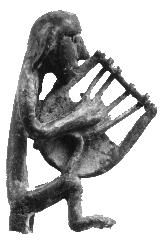 Epic Singer, Cretan geometric bronze figurine, Iraklion Museum