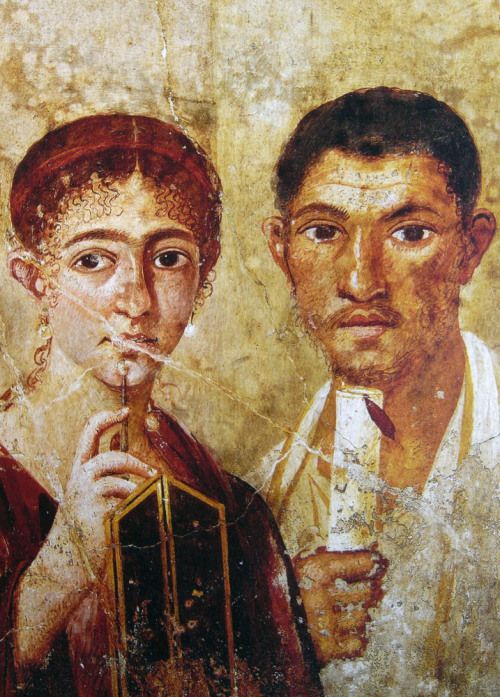 Terentius Neo and his wife
House of Paquius Proculus, Pompeii, 1st century CE
Instructors: Dr. John Gruber-Miller, College Hall 312, Ext. x4326; email: jgruber-miller@cornellcollege.edu
Laura Farmer, Writing Consultant, 124 Cole Library; phone: x4509; email: Lfarmer@cornellcollege.edu
Jennifer Rouse, Arts and Humanities Consulting Librarian, 307 Cole Library; phone: x4466; email: jrouse@cornellcollege.edu
Class Hours: M-F 9:30-11:00 a.m., 1:00-2:30 p.m.
Office Hours: M W F 11-noon and always by appointment
Required Text:
William Johnson and Holt Parker, eds. Ancient Literacies: The Culture of Reading in Greece and Rome. New York: Oxford University Press, 2009.
Additional articles and images on Moodle
This course is devoted to advanced research in Classical Studies. Students will utilize a multi-disciplinary approach to complete original primary research that responds to current research discourse and contributes to an area of specialization in Classical Studies.
Students will be responsible for one original research paper (minimum length twenty pages, or 5000 words). This component of the course will be guided by the instructor, consultants from the library and writing studio, and a colleague chosen from the class. The project will be broken down into several stages (Abstract/Proposal, Literature Review, Thesis Statement, Draft, Oral Presentation, and Final Paper), as indicated in the schedule below. Each stage will aid the student in the completion of this project.
Students are also expected to serve as "respondents" for other members of the course. The responsibility of the respondent is to read and critique each stage of the paper, as well as to initiate discussion on the topic during conferences and presentations. The respondent will meet with you to evaluate your progress each day, and will submit a written evaluation of the project at the end of the block.
Classical and Modern Languages Learning Outcomes
Communicate effectively in the target language.
Explain the complexity and subtlety of language and literary discourse in social and political contexts by analysis of literature, documentary sources, art, film, music, material culture, etc. through creative or research projects.
Analyze cultural narratives, themes, and symbols in the target language
Demonstrate knowledge of research methods, tools, and practices specific to Classical Studies and in the larger fields of humanistic inquiry by formulating research questions, carrying out a research plan, synthesizing primary and secondary sources in a variety of media, and communicating the results and conclusions of this research to others.
Daily Journal
To help you keep on track with your research project, you will write a journal entry (no more than 1 page) each day describing what articles and books you read, a brief indication of their importance for your research. Each entry should also address any challenges you are facing, what actions you have taken to address those issues, and what plans you have for the next day. These should be posted on Moodle each day before 9:00 a.m.
Staging the Research Paper
Week 1: writing an abstract/research proposal. The key this week is posing a significant and narrow research question and finding the sources, primary and secondary, that will lead to an answer of the research question. The abstract will be no longer than one page (300-500 words) contextualizing the research question and outlining the paper.
To find a sample abstract online, you can go directly to the SCS website (classicalstudies.org) or CAMWS (camws.org) and go to annual meetings and then look at the abstracts for individual meetings and do a Search (Ctrl F) and then type in keyterms. Or you can go to Google and type in "scs abstract keyword," such as scs abstract literacy (or ancient libraries or ancient reading communities). Play around with different keywords based off the terms used in the Research Topics handout. Once you find an abstract you like, then send a copy to Laura Farmer and me.
Week 2: writing the literature review, articulating a thesis, and revising the abstract. The key to a literature review is to survey the major research on your topic insofar as it directly connects to your research question/thesis and a discussion of the methodology the paper will follow. The abstract will now be revised to include a specific thesis and outline of the argument. Please include your name, date, and title of your paper. Minimum of 5 pages, double-spaced.
Week 3: now that a draft of the introduction, context, and literature review has been written, it is time to set that draft temporarily aside and focus on the body of evidence that will form the bulk of your paper. This week you will write a draft of the body of your paper analyzing the primary evidence. Please include your name, date, and title of your paper. Minimum of 10 pages, double-spaced.
In order to present your research to the entire class and also receive feedback from your peers, you will share an oral presentation of your research with the class. Each oral presentation will last 20 minutes followed by 10 minutes for questions and comments by the rest of the class. The presentation will very briefly set the context, posing the research question, reviewing the secondary literature, and (tentatively) offer an original claim/approach to the question. The bulk of the presentation (12-15 minutes) will present and analyze the primary evidence relevant for answering your research question. That means that the handout/visual aid will include select examples from your primary evidence as well as an outline of your presentation. It may also include items that the larger paper will address but for which there is no time to present. Finally, the presentation will conclude by indicating what new insights we have learned and discuss implications for understanding slavery in the ancient world.
After each presentation, I will ask two people to act as respondents to the presentation and offer their own comments. In order to be prepared, you may wish to take notes during each presentation.
Based on the evidence presented, do you have any suggestions for refining the presenter's thesis?
Are there approaches/methods we have discussed in class that would help them analyze the evidence in a more nuanced way?
Can you suggest additional evidence that the presenter might want to take into account that would support her/his claim?
Week 4: final draft of your paper. Now it is time to finish writing your analysis of the primary evidence, sew all the pieces together that you have already written--intro, lit review, analysis--and add a conclusion. In re-examining your entire project, it is time to look carefully at your thesis again and make sure that it is in sync with your argument. And then add headings and revise the rest of the paper so that the stages of your argument are clear to the reader.
When you turn in your final paper, you will also include a two page reflection on your development as a writer, researcher, and thinker during the course. Some questions to consider in the reflective essay: How did the research process unfold for you? How did you locate and decide upon the primary evidence for your research project, the secondary literature? How did you settle on a thesis? How did the writing process unfold and what have you learned from it? What challenges did you meet both in your research and in your writing and how did you attempt to overcome them? Finally, comment on your interaction with your research partner and group members. Did you meet regularly? How helpful was their feedback?
Grading:
10% class participation, daily journal, preparation for paper conferences, and contribution to group workshops
20% Class presentations
5% Week 1 abstract, bibliography, and conference
10% Week 2 literature review and revised abstract
10% Week 3 complete draft
15% Week 3 oral presentation
30% Week 4 final paper
Policies
Attendance: Since our class format is based primarily on discussion and workshops, it is essential that you come to class every day, prepared and ready to participate actively. Any unexcused absence after one missed class period will harm your final grade. If you must miss class, please inform me ahead of time if at all possible. If you have a fever and other symptoms of the flu, please do not come to class until you have been fever-free for 24 hours.
Drafts of Papers: Learning how to revise papers is an important element of becoming a successful writer, and conferences are an important element in honing your writing skills. The failure to submit a full-length draft when due will automatically result in a grade of C or below for that particular component.
Deadlines: It is very important that you keep up with assignments as they are due; falling behind will have a negative impact on your performance. Without either prior approval or evidence of a serious emergency, research and papers may not be accepted, paper workshops and presentations will not be rescheduled, and other late work may be penalized. Failure to complete an assignment is grounds for a failing grade in this course.
Academic Integrity: According to the Cornell College Student Handbook, plagiarism is "is the act of taking the work of another and presenting it as one's own, without acknowledgement of the original source." In other words, using others' ideas, words, even sentence structure, without crediting them is a serious academic offense. Plagiarism also includes writing a paper for another person, borrowing or buying an essay and submitting it as your own, or paraphrasing an article but forgetting to document it. Click here for Cornell's policy on Academic Honesty.
Accomodations for different learning styles: Cornell College is committed to providing equal educational opportunities to all students. If you have a documented learning disability and will need any accommodation in this course, you must request the accommodation(s) from me as early as possible and no later than the third day of the term. Additional information about the policies and procedures for accommodation of learning disabilities is available on the Cornell web site at http://www.cornellcollege.edu/academic-support-and-advising/disabilities/index.shtml.
Photo credit: Vienna, Kunsthistorisches Museum. Photograph by Barbara McManus, 2006