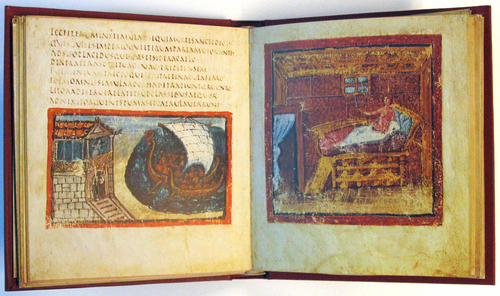 The Abandonment and Suicide of Dido, from the 4th century "Vatican Vergil,"
Vatican, Biblioteca Apostolica, Cod. Vat. lat. 3225, Fol 039v 040r
Instructor: John Gruber-Miller, College 312, x4326, jgruber-miller@cornellcollege.edu
Class meetings: M-F 10:00-11:00 a.m. and 1:00 -3:00 p.m.
Office Hours: M W F 11:00-12:00 noon and always by appointment.
Required Materials:
Randall Ganiban, ed. Vergil. The Aeneid, Books 1-6. Hackett Publishing, 2012.
Sarah Ruden, trans. Vergil. The Aeneid. Yale, 2008.
A. Wallace‑Hadrill. Augustan Rome. Focus Publishing.
Online Resources
The major goals of the course
to become more fluent in reading, speaking, and writing Latin.
to read a representative sampling of Vergil's poetry.
to become familiar with the historical, cultural, and literary background to Vergil's work, i.e. the Age of Augustus.
to learn to read Vergil's poetry aloud and to appreciate the aural dimension in understanding Roman poetry.
to become aware of the influence and reception of Vergil's Aeneid from antiquity to the present
to become more expert in recognizing the characteristics and effects of multiple literacies--print, visual, cultural, and media--by creating a presentation of a substantial scene from the Aeneid that combines visual and aural and textual elements
Course Requirements
Latin reading: Reading a stylistically sophisticated, deeply learned, and intertextually rich poet such as Vergil without preparation is a challenging task for students who are at Intermediate reading proficiency. In order to assist you, we will go through several steps:
Pre-reading activities, such as vocabulary building, grammar review, historical and cultural background reading, are designed to prepare you to read the Aeneid and activate your prior knowledge and develop new ways of approaching a Latin poem.
Reading tiered readings that reduce the vocabulary load, syntactical complexity, and poetic word order. These simplified readings (sometimes called embedded readings) are available at simplified versions of select passages of the Aeneid (Operation LAPIS)
Reading and interpreting Vergil's ipsissima verba in class
Post-reading activities designed to reinforce the vocabulary and syntax, consolidate what you have read, and respond imaginatively to Vergil's text.
Thus, each night for homework, you should re-read the passage read in class and do the post-reading activity (available on Moodle) and then after taking a break, prepare for the next day's reading by working through the pre-reading activities.
Developing precision and fluency: During the second week, we will be working to increase vocabulary, become more automatic at recognizing endings, and gain confidence in recognizing Vergil's syntax, word order, and style. Each of you will prepare a passage so that you are familiar with the grammar, syntax, and notes on that passage so that you can answer the rest of the class's questions. And you will lead the class through an activity that will help the class develop fluency in one of these areas. Possibilities include working with a word wall, creating a semantic map, developing a visually enhanced text that helps your fellow students identify, e.g., noun-adjective pairs or participial constructions, or breaking the text into chunks that reveal the structure of each sentence or paragraph. It may involve reviewing sticky grammar concepts or complex syntax.
To help you review, the vocabulary lists at Most frequent Aeneid Vocabulary occurring 24+ times in Books 1-6 (Quizlet) will help you prioritize which vocabulary is most frequent. In addition, Magistrula's Latin Exercises provides not only ways to practice paradigms of nouns, adjectives, and verbs, but also sentences that incorporate knowledge of cases, demonstratives, and syntax (Anna Andresian). And of course, please use A Student's Latin Grammar to review and answer questions.
The Rhythms and Sounds of Vergil's Poetry: One of the best ways to become more comfortable with Vergil's grammar, syntax, and word order, and style, is to learn to read and hear Vergil's words in the epic meter, dactylic hexameter. Over the first few days of the block, we will gradually learn how to scan and read Vergil's verse. Then throughout the rest of the course, each day we will read aloud. By the end of the course, students will choose their favorite lines to read aloud and explain why they chose them (i.e., what sound effects, rhythms, and poetic devices enhance the passage).
Latin quickwrites: To become better acquainted with Vergil's diction and syntax and to gain agility with writing Latin, five times during the block each of you will write a short summary, description, dialogue, or response to the reading assignment. Specific topics to be announced in class. These quickwrites will be posted in Moodle at least one hour before the beginning of class.
English reading: In order to understand the Age of Augustus, we will read in English three ancient works on Augustus: Tacitus, Annals 1.1-16; Suetonius, Life of Augustus; and Augustus, Res Gestae. We will also read most of Vergil's Aeneid in English as well as secondary literature on the poem.
Age of Augustus--Timeline or Mini-Biography: After reading Andrew Wallace-Hadrill, Augustan Rome, pp. 1-63, and Augustus, Res Gestae, the class as a group will create either a mini-biography of one member of Augustus' family (written by one person) or a timeline of the Age of Augustus (created by a pair of people). The mini-biography (1-2 pages if typed, including illustrations) will include important dates, qualities, accomplishments. Choose from Augustus (to 23 BCE; after 23 BCE), Octavia, Livia, Agrippa, Tiberius, Marcellus, or Julia. It will be illustrated with quotations from ancient sources, coins, and portraits. It should include at least one print source and two quotations from primary texts. Please cite your sources.
The timeline will include the following features: events in Rome, events in the provinces, titles bestowed on Augustus, religious/moral innovations or restorations, major art and architectural monuments, donations to the people, cultural and literary works. In each case you will identify who is the focus of or who initiated each event or monument. The timeline can take the form of a series of large posters, a long sheet of paper, a powerpoint, webpage, a podcast or video or any other suitable medium. The timeline is not meant to be exhaustive, but to identify the major players and their most significant accomplishments. A bonus if either is written in Latin. For links to resources about the Age of Augustus, visit the Riley Collection portrait of Augustus and click on Selected Links. Due: first Friday at 5:00 p.m. Post a copy on Moodle.
Vergil Re-composed: It is not unfair to say that Vergil became a classic in his own lifetime, and his influence on later writers, musicians, and artists is inestimable. Countless people have adapted and re-composed Vergil for their own generation. The project has several stages:
1. Pairs of students explore and then choose one of these re-compositions and find the primary source (the text, score, performance, images) and/or sufficient documentation (descriptions, summaries, reviews) so that the project can be presented to the rest of the class. You should consult online sources as well as the following print sources:
Jane Davidson Reid, Oxford Guide to Classical Mythology in the Arts, 1300-1990s. New York: Oxford, 1993. Ref 700 R272o
Joseph Farrell and Michael Putnam, eds. A Companion to Vergil's Aeneid and its Tradition. Malden, MA: Wiley-Blackwell, 2010.
Charles Martindale, ed. Virgil and his Influence. Bristol 1993.
Brief description of the work and preliminary bibliography: Due Second Monday.
2. During week 2, student duos research their work and consult with Jen Rouse, consulting librarian for the Humanities, and John Gruber-Miller regarding their bibliography and presentation.
3. Pairs of students give a twenty minute presentation, providing historical and cultural background, excerpts, and analysis of the work, including a comparison with the relevant scenes from Vergil. Key questions for you to consider: How is this work a product of its era? How has the creator transformed the Aeneid? How has the different genre or medium affected this new presentation? What new cultural values and perspectives has this re-composition included that were not in Vergil? What are some possible reasons for this transformation? Due: 3rd Monday.
4. After you have seen how earlier writers and artists have transformed the Aeneid for their age, it is time for you to create your own adaptation/re-creation of a scene or passage (150-250 lines) from the Aeneid. It should re-work Vergil's narrative, as much as possible in Latin, through some combination of visual and aural, and both spoken and written text, utilizing Vergil's ipsissima verba or a prose paraphrase of Vergil's text. Superscripts or subtitles in English may be used if you the creators think that such help is needed. The final product may be a dramatic dialogue, a narrated map, a children's story, an interview, a series of images described or that retell/revise the story, a medieval patchwork of Vergilian lines, a new musical rendition, a video, a blog/vlog, etc. It may integrate earlier re-workings of Vergil as well as original material. Each 10-15 minute presentation will be followed by an oral debriefing in which you reflect on what you hoped to have accomplish, how your re-working has transformed Vergil, how various media affected your choices, what cultural values have changed from Vergil's poem to your re-composition, and what earlier works inspired your re-working of the passage. After the presentation, the student duo should submit a written reflection that articulates your thoughts on the same questions as the oral debriefing. Due: 4th Tuesday.
Midterm and Final: the midterm (2nd Friday) as well as the final (4th Wednesday) may include translation of either prepared or unseen passages, reading comprehension, commentary on particular passages (grammatical, historical, cultural, and/or literary), composition in Latin (similar to the quickwrites), and essay (more general questions about the Age of Augustus and literary interpretation).
Grading
40% daily preparation: pre- and post-reading activities, quickwrites, oral reports, fluency presentations, reading Vergil aloud, quizzes
20% Vergil Re-composed creative project
20% midterm
20% final
There will be no make-up quizzes. Exams can be made up only if pre-arranged and with a note from a doctor.
Letter grades will be assigned according to the following pattern:
| | | | |
| --- | --- | --- | --- |
| A 93-100 | B 83-86 | C 73-76 | D 63-66 |
| A- 90-92 | B- 80-82 | C- 70-72 | D- 60-62 |
| B+ 87-89 | C+ 77-79 | D+ 67-69 | F below 60 |
Final Note: Do not get behind at any time. Ask for help before you feel you are slipping. Carpe diem!
Policies
Attendance: Since our class format is based primarily on participation, discussion, and small group work, it is essential that you come to class every day, prepared and ready to participate actively. Since pair work is team-based and collaborative, it is essential that you are flexible and meet regularly. Any unexcused absence after one missed class period will harm your final grade. If you must miss class, please inform me ahead of time if at all possible.
Deadlines: no late work will be accepted. If an emergency or illness occurs, please let me know immediately so that other plans can be arranged.
Academic Integrity: According to the Cornell College Student Handbook, plagiarism is "is the act of taking the work of another and presenting it as one's own, without acknowledgement of the original source." In other words, using others' ideas, words, even sentence structure, without crediting them is a serious academic offense. Plagiarism also includes writing a paper for another person, borrowing or buying an essay and submitting it as your own, or paraphrasing an article but forgetting to document it. Click here for Cornell's policy on Academic Honesty.
Accomodations for different learning styles: Cornell College is committed to providing equal educational opportunities to all students. If you have a documented learning disability and will need any accommodation in this course, you must request the accommodation(s) from me as early as possible and no later than the third day of the term. Additional information about the policies and procedures for accommodation of learning disabilities is available on the Cornell web site at http://www.cornellcollege.edu/academic_affairs/disabilities/.