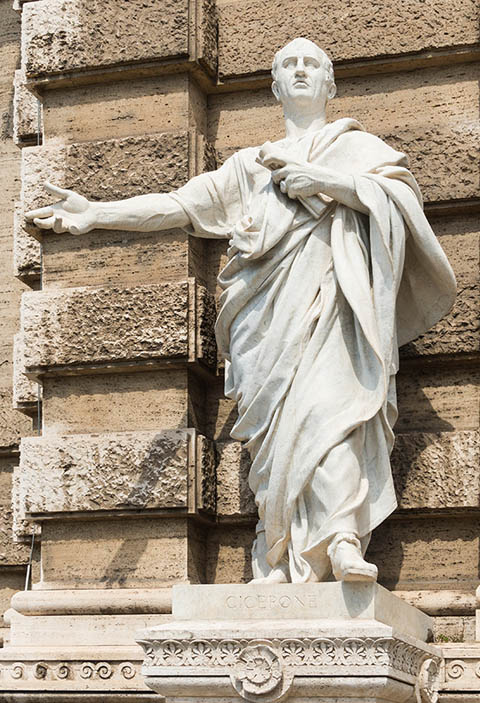 Statue of Cicero in front of the Palace of Justice in Rome, Italy.

Instructor: John Gruber-Miller, College 312, x4326, jgruber-miller@cornellcollege.edu
Class meetings: M-F 10:00-11:00 a.m. and 1-3 p.m.
Office Hours: M W F 11:00-12:00 noon and always by appointment.
Required Materials:
Kaster, R. 2006. Cicero. Speech on Behalf of Publius Sestius. Oxford. (Moodle)
Shackleton Bailey, D. R. 1965-70. Cicero's Letters to Atticus. 7 vols. Cambridge. (Moodle)
-----. 1977. Cicero. Epistulae ad Familiares. 2 vols. Cambridge. (Moodle)
-----. 1980. Cicero: Epistulae as Quintum Fratrem et M. Brutum. Cambridge. (Moodle)
-----. 1991. Cicero. Back From Exile: Six Speeches Upon His Return. Atlanta.
T. Wiedemann. Cicero and the End of the Roman Republic. Duckworth 1994.
Optional Texts
Cicero, Letters to Atticus 3.1ff. (with vocabulary and morphological parser) (Perseus)
Cicero, Letters to Atticus (text only) (Latin Library)
M. Tullius Cicero. Selected Letters. Trans. D.R. Shackleton Bailey. Penguin.
The major goals of the course
This course supports Cornell College's Educational Priorities and Outcomes with emphases on Communication, Intercultural Literacy, Knowledge, Inquiry, Reasoning, and Vocation:
Students will apply their understanding of Latin grammar and syntax to become more fluent in reading, speaking, and writing Latin by reading a representative sampling of Cicero's letters, speeches, and philosophical works. (Knowledge, Communication)
Students will become familiar with the historical, cultural, and literary background to Cicero in exile and more broadly the Age of Cicero by using research tools such as lexica, prosopographies, handbooks of literary terms, etc. (Knowledge, Inquiry, Reasoning)
Students will learn to read Cicero's works aloud and to appreciate the aural dimension in understanding Roman poetry. (Communication, Inquiry)
Students will read secondary literature to understand how the details of Cicero's experience in exile echoes the experiences of current refugees in exile (Inquiry, Reasoning, Intercultural Literacy)
to become more expert in recognizing the characteristics and effects of multiple literacies by creating presentations comparing Cicero in exile with more recent examples (Communication, Vocation).
Outline of the Course
Introduction: Cicero, the first Triumvirate, and Clodius
Velleius Paterculus 2.44-45
Part 1: [58/57 BCE] Exile
Ad Atticum 3.1-3.10, 3.12, 3.20-3.23, 3.26-3.27 (= SB 46-55, 57, 65-68, 71-72)
Ad Familiares 14.4, 14.2, 14.1, 14.3 (= SB 6-9)
Ad Quintum Fratrem 1.3, 1.4 (= SB 3-4)
Part 2: [57 BCE] Return
Ad Atticum 4.1 (= SB 73)
Post Reditum ad Populum
Part 3: [57-56 BCE] Defining and Defending his home and his legacy
Course Requirements
Latin reading: I don't expect perfect, polished translations, but I do want you to work at it diligently, have questions about the reading, and show that you have been thinking about the meaning of the Latin and the meaning of the text. We will begin with a moderate amount of reading while you get acquainted with Vergil's style and vocabulary, and then we will gradually increase the amount of reading as the course progresses.
Developing precision and fluency: during the first week or two, we will be working to increase vocabulary, become more automatic at recognizing endings, and gain confidence in recognizing Cicero's syntax, word order, and style. These pre- and post-readng activities include working with a word wall, creating a semantic map, developing an visually enhanced text that helps your fellow students identify, e.g., noun-adjective pairs or participial constructions, or breaking the text into chunks that reveal the structure of each sentence or paragraph. In addition, Open University's Interactive Latin website will help you recognize and form the endings on nouns, adjectives, and verbs. Another good website is Magistrula's Latin Exercises. A Web of Latin Verb Synopses is a great way to practice verb forms. Finally, the DCC Latin Core Vocabulary is a great way to review the most common Latin vocabulary.
The Rhythms and Sounds of Cicero's language: One of the best ways to become more comfortable with Cicero's grammar, syntax, and word order, and style, is to learn to read and hear his words aloud. Each week, you will present one passage aloud during the course. By the end of the course, students will choose their favorite lines to read aloud and explain why they chose them (i.e., what sound effects, rhythms, and rhetorical devices enhance the passage).
English quickwrites: In order to do research on the 1st c. BCE, you need to become familiar with three types of research: a) prosopography (the study of historical individuals); b) lexica and concordances; c) rhetorical devices (incl. word order, rhythm, or sound effects). Therefore, three times you will have the opportunity of choosing one of these topics and writing no more than one page about what you have come up with. Each analysis will present your research in one of these areas and then explain why this information enriches our understanding of a text of Cicero's. Please cite the sources, both print and web, that you use to come to your conclusions.
Prosopography:
Broughton, T.R.S. Magistrates of the Roman Republic. 3 vols. Atlanta: Scholars Press, 1951. 937.02 B797
Shackleton-Bailey, D. R. Onomasticon to Cicero's Letters. Teubner, 1995.
Stroup, Sarah Culpepper. Catullus, Cicero, and the Society of Patrons. Cambridge, 2010. 274-90, and index.
Lexica and concordances:
Glare, P.G.W. The Oxford Latin Dictionary. Oxford: Clarendon Press, 1982. Ref 473 Ox2
Oldfather, W. A., H. V. Canter, and K. M. Abbott. Index Verborum Ciceronis Epistularum. Urbana: University of Illinois Press, 1938.
Literary Terms, Poetic Devices, and Sound Effects:
Baldick, Chris. The Concise Oxford Dictionary of Literary Terms. Oxford, 1990. Ref 803 C748
Shaw, Harry. Dictionary of Literary Terms. New York: McGraw-Hill, 1972.
Rhythm/Sound Effects:
See entries for alliteration, assonance, consonance, onomatopoeia, rhyme, meter, rhythm in the previous handbooks
Latin Quickwrites: To become better acquainted with Cicero's diction and syntax and to gain agility with writing Latin, several times during the block each of you will write a short summary, description, dialogue, or response to the reading assignment. Specific topics to be announced in class. These quickwrites will be posted in Moodle at least one hour before the beginning of class.
English reading: In order to get an overview of the end of the Republic, we will read in translation Plutarch's Life of Cicero; Sallust, Conspiracy of Catiline; Cicero's speeches To the People after his Return, On his Home, In defense of Sestius, and On the Republic, and selected letters. We will also read selections of recent first person accounts of exile and reflections on the experience of exile.
Textual Commentator: Once during the course you will produce a lexical, syntactic, historical commentary on a letter or set of letters or a passage from a speech that we will be reading (50-70 lines). To prepare for when we first read the text in class, you will gloss the words that do not appear on the DCC Latin Core Vocabulary list. You will also prepare one or two pre-reading activities to prepare us to read the text. You are not being asked to give a presentation (although at times you will present relevant information), but to give first time readers of the text some tools with which to approach the passage.
After we have discussed the text in class, you will add to the commentary notes on grammar and syntax, personal names and places, maps, and historical, social, and political background. To help you prepare these notes, you will read the commentaries of Shackleton-Bailey and others so that you understand the text, its people, and diction. You may also wish to use one to three articles to help elucidate difficult issues or offer a coherent approach to the passage. The format should follow that of Dickinson College Commentaries, i.e., separate files for vocabulary, notes, and media.
Choose the passage (50-60 lines/2-3 pages) by the 2nd Monday. Choose a passage from Letters to Atticus, Letters to Terentia, Letters to his brother Quintus, Speech to the People on his Return, Speech on his House, Speech for Sestius.
Gloss the passage by the 2nd Friday. Each gloss should be in the dictionary form and include the major definitions (not just the one that makes sense in the current context). If it is a compound word, list its parts. If it has an English derivative, add that last.
In a separate file, add the notes on grammar (explaining difficult cases), syntax (explicating challenging constructions), rhetorical devices, people and places, and the historical, social, legal, and political background. Due 3rd Wednesday.
In a third file, each passage should also include a brief introduction (1-2 paragraphs) placing it in its larger historical context as well as the context of Cicero's exile, a set of questions to reflect on (2-4) that point to the passage's significance or lead to its interpretation, and any media files that might illustrate the text. Due 3rd Friday.
Cicero: A Podcast: The second part is to make one of Cicero's texts accessible to contemporary readers. Each podcast (5-7 minutes in length) will begin with a human interest lead idea that pulls us in as listeners, will include portions of the letter or speech read aloud in Latin, your own literary translation of the parts of the text that you quote, plus a brief interpretation and comments on the passage.
Initial script for the podcast, literary translation, and interpretation/comments (approximately 3 pages, double-spaced): Due Third Thursday.
Recording with you delivering the introduction, reading of the poem in Latin, literary translation, and interpretation, in mp3 format: Due Fourth Tuesday.
On the fourth Tuesday in class, we will listen to each podcast, followed by an oral debriefing in which you reflect on what you hoped to have accomplished, how your re-working has made Cicero accessible to a 21st century audience, how sound media affected your choices, what cultural values have changed from Cicero's situation to the present. After the presentation, each student should submit a written reflection that articulates your thoughts on the same questions as the oral debriefing. Due: 4th Tuesday.
Midterm and Final: the midterm (2nd Friday) as well as the final (4th Wednesday) may include translation of either prepared or unseen passages, reading comprehension, commentary on particular passages (grammatical, historical, cultural, and/or literary), composition in Latin (similar to the quickwrites), and essay (more general questions about the Age of Cicero and literary and historical interpretation).
Grading
30% daily preparation: quickwrites, oral reports, reading Cicero aloud, quizzes
15% Commentary project
15% Cicero: A Podcast (vel. sim.)
20% midterm
20% final
Letter grades will be assigned according to the following pattern:
| | | | |
| --- | --- | --- | --- |
| A 93-100 | B 83-86 | C 73-76 | D 63-66 |
| A- 90-92 | B- 80-82 | C- 70-72 | D- 60-62 |
| B+ 87-89 | C+ 77-79 | D+ 67-69 | F below 60 |
Final Note: Do not get behind at any time. Ask for help before you feel you are slipping. Carpe diem!
Policies
Attendance: Since our class format is based primarily on participation, discussion, and small group work, it is essential that you come to class every day, prepared and ready to participate actively. Since pair work is team-based and collaborative, it is essential that you are flexible and meet regularly. Any unexcused absence after one missed class period will harm your final grade. If you must miss class, please inform me ahead of time if at all possible.
Deadlines: no late work will be accepted. If an emergency or illness occurs, please let me know immediately so that other plans can be arranged.
Academic Integrity: According to the Cornell College Student Handbook, plagiarism is "is the act of taking the work of another and presenting it as one's own, without acknowledgement of the original source." In other words, using others' ideas, words, even sentence structure, without crediting them is a serious academic offense. Plagiarism also includes writing a paper for another person, borrowing or buying an essay and submitting it as your own, or paraphrasing an article but forgetting to document it. Click here for Cornell's policy on Academic Honesty.
Accomodations for different learning styles: Cornell College is committed to providing equal educational opportunities to all students. If you have a documented learning disability and will need any accommodation in this course, you must request the accommodation(s) from me as early as possible and no later than the third day of the term. Additional information about the policies and procedures for accommodation of learning disabilities is available on the Cornell web site at http://www.cornellcollege.edu/academic_affairs/disabilities/.