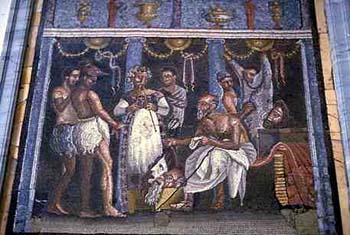 Actors preparing to perform
Instructor: John Gruber-Miller, Armstrong Hall 142, Extension 6364; jgruber-miller@cornellcollege.edu
Class meetings: M - F 1-3 p.m.
Office Hours: M W F 11-noon and always by appointment.
Required Materials:
John C. Traupman. Conversational Latin for Oral Proficiency. 4th ed. Wauconda, IL: Bolchazy-Carducci, 2007.
Selected readings (coursepack)
The major goals of the course:
develop listening and speaking skills in Latin within an integrated approach that also involves reading and writing Latin
explore why and how to teach oral Latin
reflect how to introduce more oral skills into the Latin classroom
Preparation for class:
Errare humanum est. As we all try to listen to and speak Latin, it is important to forgive ourselves and each other when we make mistakes. None of us are native speakers of Latin, and so we will each develop our ability to hear and speak Latin at our own pace. What is most important is to try to keep trying, practicing, and reviewing. You will improve!
Each day there will be an assignment out of Traupman. Listen to the dialogues, then read them, and then read through the chapter vocabulary and think of ways that you might use it in class the next day. In other words, just as actors prepare to go on stage, so we should rehearse. Then listen to the dialogues again. Repititio est mater studiorum.
CAN-8 Materials and Digital Audio:
You'll be introduced to the CAN-8 VirtualLab. You can access the lab from any computer in the Humanities Multimedia Classroom (HMC), College 102. Each chapter consists of several types of exercises that are meant to be done for homework after the new grammar for a particular chapter has been introduced in class.
There are recordings for each chapter of OLC, Part I. Listening to the audio (available on-line from the Latin 101 daily schedule page) will assist you with your pronunciation, help you recognize vocabulary, allow the patterns of the Latin sentence to become intuitive, enhance your reading comprehension, and encourage you to perceive Latin not as a series of puzzles, but as a flowing, connected, contextualized language. Experiment with the reading passages, sometimes following with the book, sometimes alternating listening and speaking the passage aloud, sometimes listening for comprehension without looking at the printed page!
Oral class presentation:
Once this term I will ask you to prepare one class presentation. The oral class presentation (done in pairs) may take several forms: it may be an oral summary of the reading for class; it may be an activity that integrates new vocabulary or grammar into a dialogue or task for the entire class; it may be leading the class through a listening activity by asking questions; it may be a description of something you did or a "news broadcast." It might be an activity that you would like to try with your students. You may use notes on index cards, but it is not meant to be simply reading aloud. The best presentations are ones that engage the rest of the class. Please rehearse your presentation in preparation for class.
Latin Recording:
Once during the Colloquium, each of you will record a short story or other intersting text. It could be from a Latin author. It might be a retelling of a familiar fairy tale or story. It should be no more than 3-5 minutes long. Try to catch the phrasing and meaning of the Latin in your presentation. Don't be afraid to be expressive! Final versions will be presented to the rest of the class and then posted on a website for future Latinists to listen to and enjoy.
Latin Skit:
You (in groups up to four people) will perform a 5 minute skit in Latin for the rest of the class on the last class day. A written draft of the dialogue is due on the fouth day of the Colloquium if you want me to give you feedback on the Latin before you perform. Successful skits in the past have re-told traditional fairy tales, enacted episodes from Roman mythology, or spoofed the story-line and characters of a familiar TV show. You may use your script, but the more you have memorized, the easier it is to act your part(s)!
Helpful Links:
Listen to Latin
Latin texts
Photo Credits: Dioscurides of Samos. Mosaic from the House of the Tragic Poet. Pompeii. Late 1st c. CE. Museo Archeologico Nazionale, Naples.