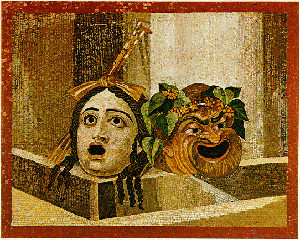 CLA 9-364-2001


Instructor: Cindy Benton, cbenton@cornellcollege.edu
Office: 312 College Hall; x4126
Office Hours: M W 11:00 - 12 and by appointment.
Class Meetings: M& W 12-3; T& Th 9-11 & 1-3; F 9-12
Required Texts:
Greek Tragedies, Vol. 1, Grene & Lattimore eds. (GRTR1)
Greek Tragedies, Vol. 3, Grene & Lattimore eds. (GRTR3)
The Complete Plays of Aristophanes (CPA)
Seneca: Four Tragedies and Octavia (FTO)
Shakespeare, Titus Andronicus
Xeroxed Reader
Several Articles on Reserve
Course Goals: This course will examine some of the most important tragic texts of the Greek and Roman tradition as well as their influence on subsequent drama. Topics to be considered include: the nature of tragedy, conditions of performance in antiquity, adaptations and performances of ancient tragedy in our culture, tragic heroism, drama and society, visual politics and violent spectacle.
Course Requirements:
Response Papers: 2 page discussions of your reactions to the assigned readings. These papers are designed to help you prepare for class discussions and to give you practice in analyzing primary sources before you have to tackle the final essay.. They will be graded on the depth to which you actively engage the readings and the level of thought you put into your reflections. Due every Monday and Wednesday.



Oral Reports: Twice this term I will ask you to give a presentation on a specific aspect of ancient drama (actors, audience, masks, costumes, theatrical space, etc.): one on Athenian tragedy and the other on Senecan tragedy. These reports will be graded on the depth and breadth of your knowledge of the subject as well as the way you present the information. Visual aids are strongly encouraged - there will be a computer with a projector set up so you can create powerpoint presentations or show images off the web. Several images can be found among the links on the course link page.


Essay: This will be a 5-7 page essay due at the end of term. I will present a list of possible topics or you may create a topic of your own after discussion with me.


Final Project/Performances: Since this is a course on drama, throughout the term we will be thinking about the ways tragedys were and could be staged. There will be several opportunities for acting out scenes in class as a means of discussing interpretation. Additionally, the final project will require that you work together to perform of a scene of your choosing with costumes, music, props, etc.


Class Participation: This includes coming to class prepared and participating actively in discussion. This will be a seminar course, and thus requires you to not only to do the reading before class, but to contribute actively to discussion. Do not be shy. The success of the discusisons will depend on each person contributing thoughtfully to the class. By the same token, we all bring different backgrounds and perspectives to the course - this is what makes class interesting. It is, therefore, crucial to the success ofthe course that everyone show respect and courtesy to everyone else in the class, and a willingness to help each other learn and approach the material from new perspectives.
Grading:
15% response papers
25% essay
25% oral reports
25% final project/performances
10% class participation