CLA 6-264-2001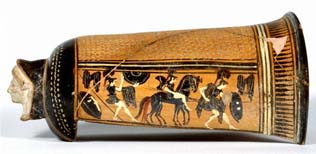 Epinetron: Louvre MNC 624
Instructor: Cindy Benton, cbenton@cornellcollege.edu
Office: 312 College Hall; x4126
Office Hours: M W 11:00 - 12 and by appointment.
Class Meetings: T-F 9-11 & M-Th 1-3 in College Hall 118
Required Texts:
Fantham, Foley, Kampen, Pomeroy, and Shapiro Women in the Classical World
Lefkowitz and Fant, Women's Life in Greece and Rome
Snyder, The Woman and the Lyre:Women Writers in Classical Greece and Rome
Xeroxed Course Packet
Course Goals: The purpose of this course is to introduce you to the Classical sources, methodologies, and the current debates focusing on women in antiquity. We will explore the representations of women in Classical literature and art as well as the place of women in ancient Greek and Roman culture. By analyzing textual, visual and archaeological evidence we will also investigate the legal and social status of women in the ancient world with particular attention to issues of class and ethnicity. Ancient Greece and Rome have often been considered as the origins of Western attitudes toward women. Thus, we will also explore the similarities and differences between ancient and contemporary notions of female identity and the position of women in society.
Course Requirements:
Response Papers: 1 page discussions of your reactions to the assigned readings. These papers are designed to help you prepare for class discussions and to give you practice in analyzing primary sources before you have to tackle the final project.. They will be graded on the depth to which you actively engage the readings and the level of thought you put into your reflections. Due in the morning sessions on each Wed. and Fri.



Short Essay: 4-6 pages based on the assigned reading and class discussions. These essays provide an opportunity to examine the course material in more depth. A choice of topics will be handed out in advance or you can write on a topic of your choice after consultation with me. Due Feb. 23.


Panel Presentation: Each person will be part of a group panel on one of the following topics:



Sappho
Greek Prostitution
Women & Greek Religion
Marriage & Women's Sexuality in Ancient Rome
Elite Roman Women



Each panel will give a presentation on the topic and then lead a discussion on it for the rest of the morning. The panel should not be a series of separate unconnected reviews, but should be a coherent, well-organized presentation and discussion centering on the topic at hand. The group will need to turn in an outline of their presentation detailing which areas will be covered and how the presentation will be divided among panel members along with a list of discussion questions. In addition, each person will turn in an article review from the list of recommended readings. I will also schedule a meeting with each group on the day before the presentation. Individual grades for the panels will be based on your article review, your ability to collaborate with your group (peer evaluations), the amount of effort you put into the panel, and the success of the panel and following discussion as a whole. Factors that will determine the success of the panel include: preparation and organization, how well the topic is covered, integration of individual discussions into the group presentation, visual aids, how well the group generates and facilitates discussion.


Final Project: The final project is an exercise in recovering women's history and trying to see life from the perspective of women in other cultures and time periods. Each person will choose a woman from antiquity and try to reconstruct an account of her life from her perspective. This will involve:
Research on the particular woman and other women of her class and background.
Writing a historical profile of this person that details her life and accomplishments that are representative of her class and status.
Creating a first person narrative based on the historical profile. This narrative should be based on factual material, but add a sense of personality and attitude that the group thinks she might have had. It should also discuss the cultural constraints she might have dealt with.
The creation of a web site devoted to this woman as part of the larger class webpage devoted to recovering women's history and women's voices. This site will include the profile, any images we may have of the woman, the first person narrative, and further links to documentary sources and related materials that illustrate the life of this woman.
On the last day of class, I will also ask you to submit a one or two page report summarizing what you accomplished, what you wished you had done but were not able to do, and what you learned from the experience.
Deadlines:
Feb. 9 - Topic Due
Feb. 12 - Bibliography Due
Feb. 19 - Historical Profile Due
Feb. 27 - Final Draft & Website Due



Class Participation: This includes coming to class prepared and participating actively in discussion. This will be a seminar course, and thus requires you to not only to do the reading before class, but to contribute actively to discussion. Do not be shy. The success of the discussions will depend on each person contributing thoughtfully to the class. By the same token, we all bring different backgrounds and perspectives to the course - this is what makes class interesting. It is, therefore, crucial to the success of the course that everyone show respect and courtesy to everyone else in the class, and a willingness to help each other learn and approach the material from new perspectives.
Grading:
15% response papers
20% short essay
20% panel presentation
35% final project
10% class participation