Hospitality, Homecomings, Mycenae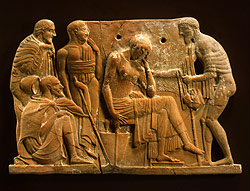 Odysseus, having just returned home disguised as a beggar, approaches his wife Penelope while (L to R) his father Laertes, Eumaios the swineherd, and his son Telemachus look on
When Odysseus first returned to his home in Ithaca, he was disguised as an old man and a beggar. Read how the swineherd Eumaios welcomes him with hospitality (Homer, Odyssey, Book 14.48-60).
How does Eumaios welcome Odysseus? Why does he welcome a stranger? How does Eumaios' actions parallel the actions of the hunter and the shepherd in Chapter 19?
Homer also tells of the homecoming of Agamemnon to Mycenae. In this version of the story, Nestor, king of Pylos, describes what he heard about the event (Odyssey, Book 3.250-275).
Who plotted death for Agamamnon? How does Nestor describe Aegisthus? How did Clytemnestra respond to him a first? What role do you think the bard (minstrel) played in the story? How does Aigisthos break the bonds of hospitality? How does this version of Aegisthus and Clytemnestra compare with the version reported by Dikaiopolis to Philip?
Photo Credit: Plaque with the return of Odysseus, ca. 460–450 B.C.
Greek, Melian; Terracotta; Fletcher Fund, Metropolitan Museum of Art