Mindfulness & Energy Medicine Course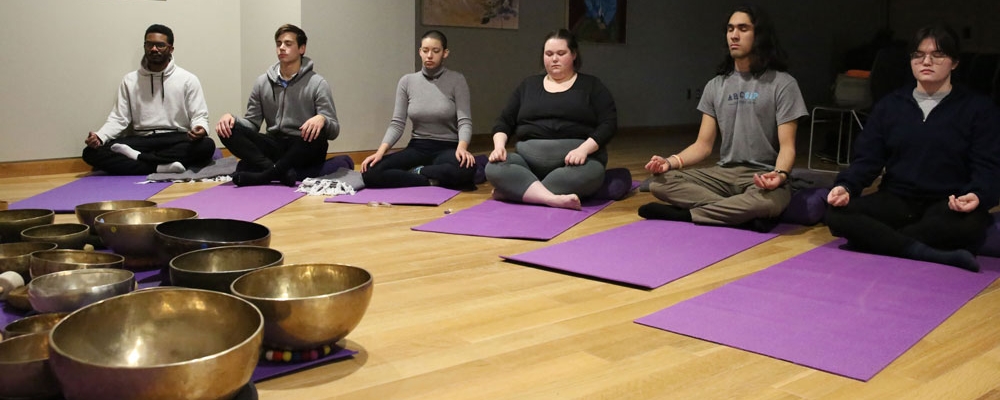 Free faculty/staff MINDFULNESS & ENERGY MEDICINE 4-Week Course
Wed. April 29 – Wed May 20th (3:15 – 4:30pm) via Zoom
Register now for this free 4 week course open to Cornell faculty and staff.  Learning focus: Relieve stress, improve well-being, and cultivate greater self-compassion and skillfulness with fear.  Participants experience four learning & support sessions and commit to a daily practice (10 min. minimum), keep a practice log, and glean personal insight through brief reading. Includes both seated and movement-based, breath & energy centered practices.  Space limited.  Led by certified mindfulness & meditation instructor (CQE). To register, email cquehl-engel by Monday April 27.
MODULE 1: Intro to mindfulness, meditation, breathwork, & energy medicine
Skill-building practices & their benefits: 
1. Breath Awareness Meditation
2. Lower Belly Breathing Meditation (& pre-meditation shifting into healthier lower belly b.)
3. Grounding Cord, Back Body, & Lower Dantian Meditations
4. Open Energy Pathways: Spring Forest Qigong (Contentment) 
MODULE 2:  Relating to monkey mind, self-judgment, sadness & fear. Also shifting from the body's Fight or Flight mode to Relaxation Response

Skill-building practices & their benefits:
Chair yoga (simple & brief pre-meditation)
Grounding: Deep Still Water Meditation (Deeper Self)
Open Energy Pathways for Well-being & Inner Peace (EEM Nine Hearts moving meditation)
Gatha Meditation -- OR --Transfiguration (Inner Light) Meditation 
MODULE 3: Relating to aversions; reducing suffering; what acceptance does & doesn't mean; unclenching vs. softening and becoming vastness
Skill-building practices & their benefits:
Progressive Muscle Relaxation (pre-meditation)
Soften & Unclench Body Scan meditation
Guided Imagery  
Labeling Thought/Feelings Meditation
10 Minute Daily Energy Medicine Routine
MODULE 4:  Evidence-based research on psycho-physical & psycho-social benefits of heart-focused meditation.  Use of this practice with teachers, emergency responders, sports teams, corporations, & collective consciousness projects.  Also simple qigong.
Skill-building practices & their benefits:

Radiant Heart Meditation – seated & version occurring amid daily activities & encounters.
Compassion Meditation
SF Qigong – Moving Yin & Yang Energy & Heaven Touching Earth

Class reading:  Choose one of the following:

Jon Kabat-Zinn's Wherever You Go There You Are,
                               OR
 Holly Rogers' The Mindful 20 Something: Life Skills to Handle Stress….and Everything Else