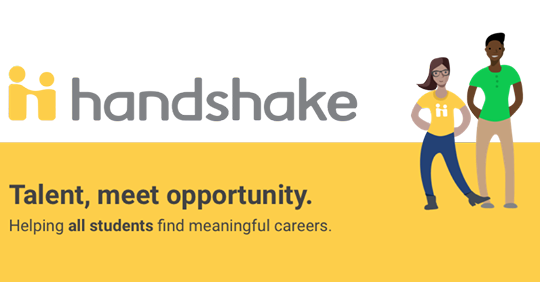 Handshake is Cornell College's network for jobs, internships, volunteer opportunities, and events.  This is an online recruiting system that allows current students and Cornell alumni to create profiles and upload resumes in addition to searching and applying for jobs, internships, and volunteer opportunities. It is also where students can go to make appointments with career coaches, find information on workshops, and learn about various career resources.
While you're on the hunt for your next job, internship, or volunteer opportunity on Handshake, make sure to check out our additional job search resources.
Current students
All current students should be in the system already and have received a welcome message introducing you to the system.  You should use your Cornell username and password to log in. 
Alumni
Alumni wishing to create an account to search current job and internship postings should go to the student portal and either register for a new account or sign into your existing account.
Alumni who wish to post about a job or internship opportunity at their place of employment should create an employer account.
Faculty
If you want to view what job postings are available for students, contact us and we will give you access and then, you can log into the account. 
Employers
We invite you to create a Handshake account where you can post jobs at Cornell College and any institution that works with Handshake - over 500 respected university career centers! Using Handshake is easy, just  set up an account and post jobs to hundreds of colleges and universities!
These posts must be approved by a staff member and are usually approved within 48 hours. Organizations can also search the student and alumni profiles based on graduation year or major and can view resume books for potential applicants.
Disclaimer
The Berry Career Institute at Cornell College, Mt. Vernon, IA maintains this web site as a service to Cornell College students and alumni for their career development and employment-seeking efforts.  Handshake is a service provided to registered students and alumni only. The presence of job and/or internship announcements on this web site does not indicate an endorsement or recommendation from Cornell College or the Berry Career Institute. Students and alumni should take responsibility for all necessary precautions when interviewing for, or accepting these positions. Students and alumni are solely responsible for obtaining necessary information concerning the employer.  The Berry Career Institute is not responsible for any direct or indirect harm, loss, or damage caused to anyone who uses the Handshake system.