Plotter Support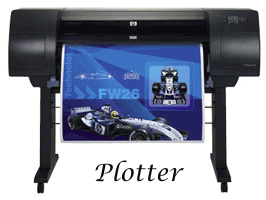 The Academic Media Studio at Cornell College maintains and operates a Hewlett Packard DesignJet 800ps large format inkjet plotter. This photo-realistic printer has a 42-inch wide capacity and can print onto sheets or rolls up to 56 inches in length.
Student Symposium Printing 
For some guidelines on poster design, and the nuts and bolts of creating something visitors can read, check out: Creating a Poster and Scientific Poster Design.
Important things to keep in mind:
We usually recommend PowerPoint; most of you are already familiar with it and it works very well for poster design.  You CAN use other programs, such as Adobe Illustrator or InDesign, but be sure to let the Tech Studio know--file size is sometimes an issue with the plotter.
Remember to set your page size first! Poster size is usually 42"x56", and can be set under Design->Page Setup in newer versions of PowerPoint and File->Page Setup in newer versions.  Posters should be designed to print landscape for Symposium (they fit best on our signboards).
Make sure your images are fairly high quality; using a lower quality will result in pixilated images and a less professional looking poster (sometimes this is unavoidable; if you've got a lower resolution image that you'd like to use, stop by the Tech Studio for help cleaning it up).
The due date for posters for Spring 2014 is WEDNESDAY APRIL 23 @ 4:30 PM.  Please contact the Academic Technology Studio if you are unable to make this deadline. Submit posters to Brooke via e-mail.
Guidelines 
For help on constructing a poster and printing guidelines, please click here: Creating a Poster
If you have a class project or a departmental project that requires plotting an image or poster, please keep these guidelines in mind:
The printing paper used will be matte finish.
The Matte quality paper is 42-inches wide and up to 56 inches in length.
Our preferred printing software for posters is Microsoft PowerPoint. For help with poster design--especially for scientific posters--click here: Scientific Poster Design
We must receive the poster file well in advance of the date needed. Please contact the Academic Technology Consultant if you have any questions or would like us to print a poster for you. 

Costs
Printing costs are determined by the size of the printout and the printing time required. The base costs are determined by the linear foot, along the length of the poster.
Matte finish paper is either—
$ 6 per linear foot for more than 25% color
$ 5 per linear foot for less than 25% color
$ 4 per linear foot for simple line drawings (i.e. very little ink)