Kappa Delta Chi – ΚΔΧ – K-D-Chis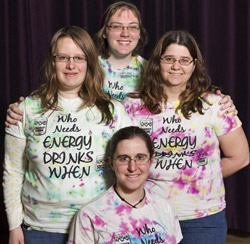 The history of Kappa Delta Chi is a rich and diverse one; it started in 1957 with seven women on campus who saw a need for a new women's social group, and the sisterhood transformed from there. Though a variety of diverse women have since joined the group and changed it to what type of group they saw a need for, the current K-D-Chis embrace the values and traditions of the founding members. Leadership, service and sisterhood are the founding principles of the original group, and the current members have bonded together to uphold those principles.
The K-D-Chis have a strong history of service and have worked closely with the Cedar Valley Humane Society and Habitat for Humanity. They also have worked on large service projects at the Waypoint and Madge Phillips Centers in Cedar Rapids, even throwing Halloween and Christmas parties for the kids at Waypoint one year.
The Kappa Delta Chi motto is "Friendships formed, they never seem to fall," which illustrates the close nature of this sisterhood. The K-D-Chis are a relatively small group, which allows them to bond closely and develop a true sisterhood that lasts long after members graduate. As a group, the K-D-Chis change over time much like the phases of the moon (an important symbol for the group), but the group will move forward under their guiding principles and achieve great things.
Website:
http://orgs.cornellcollege.edu/kappa_delta_chi/index.htm
Contact: