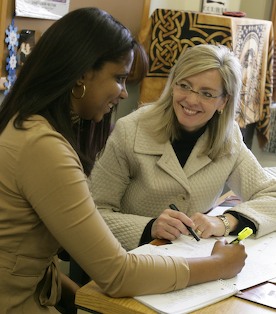 In addition to their dedication to teaching, Cornell faculty members such as education professor Jill Heinrich (right) become mentors to students through close advising relationships.
Academic Support Services
New college students face a unique transition, and even Cornell's talented students benefit from a little extra support. That's why Cornell offers a host of student services to guide and enhance your college experience. Here's some of what you'll find available:
Through an intentional set of first-year courses and other academic experiences, incoming students are guided into college-level, liberal arts coursework.
A hallmark of the Cornell experience is the close relationship that develops between professors and students, both in academic settings and through our advising program. As a first-year student you are assigned an individual faculty advisor, then as a sophomore you can choose an advisor in your area of academic interest. Our Office of Academic Support and Advising coordinates the advising program and also provides support for improving your study skills, finding a tutor, arranging accommodations for documented disabilities, and addressing concerns about academic progress.
Pre-professional Mentoring
If you have a pre-professional interest in business, law, medicine, or similar areas, you may receive additional advising and mentorship from the following programs and offices:
Cornell's faculty-level "consulting librarians," each an expert in a specific discipline, will boost your research skills and help develop your ability to assess information. They'll also work closely with faculty to incorporate research lessons into class assignments. This innovative approach will assist your studies in the following areas:
Housed in Cornell's expansive Cole Library, the Center for Teaching and Learning offers extensive help with writing, math, and multimedia projects. The Center is staffed by friendly, knowledgeable staff and peer consultants and includes the following "studios":
The college is committed to the education and development of all students. To that end, our Counseling Center offers a range of services and supports to help all students excel in and out of the classroom.
The Career Engagement Center will help you explore careers, find a meaningful internship, land your first full-time job, or apply to graduate school. The office also coordinates a range of workshops, professional and graduate school visits, alumni visitors, and off-campus events to help students explore and prepare for various careers or graduate programs.